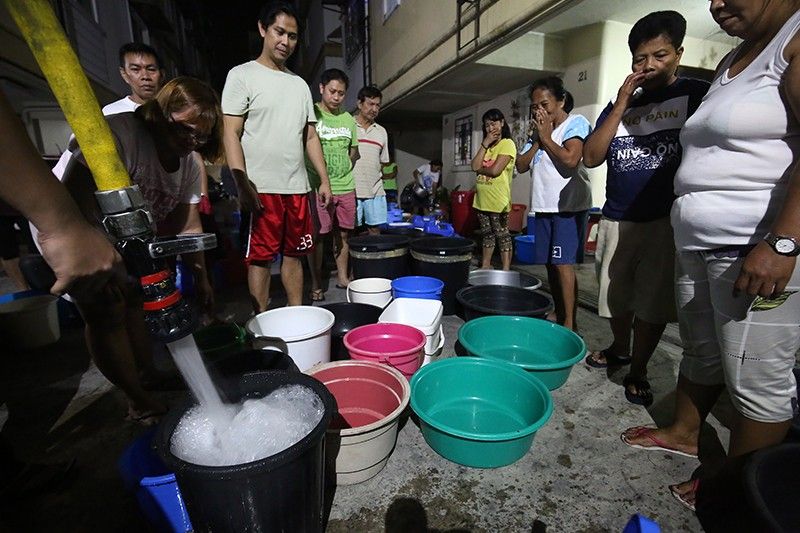 Residents line up for water from fire volunteers in Mandaluyong City amid a 4-day water shortage in several areas of Metro Manila
Miguel Antonio de Guzman/The STAR
Rethink privatization in light of water supply woes, Senate bet says
MANILA, Philippines — A labor leader running for senator called for a review of privatized utilities in light of a water shortage affecting Metro Manila and Rizal and the "disorderly announcements" of hours-long service interruptions.
"The disorderly manner that Manila Water is announcing water service interruptions, and the fact that announcements of pending El Niño were already made last year and no appropriate rationing measures were implemented, makes us seriously question the so-called competence of the private sector in the management of our public utilities," Leody De Guzman of Partido Lakas ng Masa and the Labor Win coalition said on Monday.
He said that this is ironic since power and water utilities were privatized decades ago because of government's supposed incompetence to run them.
"It is difficult to trust the private sector to manage the basic needs of the people, especially in the time of El Niño," he said in Filipino, repeating a point he made during televised debates earlier this month: that utilities and basic services like health should be nationalized.
RELATED: Senate bets bat to reverse privatization of public health, amend TRAIN law
De Guzman said that he is in favor of revoking water concessions by creating a "Department of Water" that would give local governments and agencies the power to operate water services and "directly links centralized watershed management with water distribution."
"In these times, the supply of water and power is no longer guaranteed. Communities, and not business owners, should decide where these (water and power) should go. This is a service and should not remain a business," he also said.
"Climate change should push us to rethink ways be provision our needs. It's about time that power and water resources be categorized by the government as a state obligation and basic necessity and wrest control from private firms," De Guzman also said.
Bayan Muna calls for probe
Water interruptions began over the weekend, with consumers complaining that they had not received proper warnings.
Bayan Muna party-list on Saturday hit the interruptions and called for an investigation, calling for distributors Manila Water and Maynila to be held liable.
"This water interruption should be investigated by regulators and the water concessionaires should be held accountable for their inefficient and sloppy service," Rep. Carlos Isagani Zarate (Bayan Muna) said in a statement over the weekend.
According to the Manila Water, the interruptions may last through the summer due to drought brought about by the El Niño weather phenomenon. The water level in La Mesa Dam, where Metro Manila gets most of its supply, is now below critical level at 68.93.
READ: Manila Water service interruption may last throughout summer
Gutoc: Cotingency planning would have helped
In a separate statement, Samir Gutoc, a senatorial candidate of the Otso Diretso opposition slate, called on affected residents to collect as much water as they can in between service interruptions.
"I also ask the LGUs to send firetrucks to places where there are no water at all. It is your duty to your constituents to provide them with safe water for household use," she said.
She said that the service interruptions, which she said were also caused by upgrades at water pump stations, are understandable but that better preparations could have helped.
"This should have been anticipated and a contingency plan should have been readied with the help of local government units," she said. She said proper water rationing and an adherence to service interruption schedules would have helped.
"People's lives are heavily reliant on water supply. Some cannot go to work, others cannot open their businesses because there is no water," she said.
Environmental group EcoWaste Coalition called those living in Metro Manila to take water conservation more seriously while also calling on establishments to intensify water conservation measures.

READ: EcoWaste urges public to take water conservation more seriously

"We join our water authorities in asking household, businesses and government institutions in Metro Manila to use water more wisely amid the declining water level in Angat, Ipo and La Mesa Dams," Aileen Lucero, EcoWaste national coordinator, said in a statement.