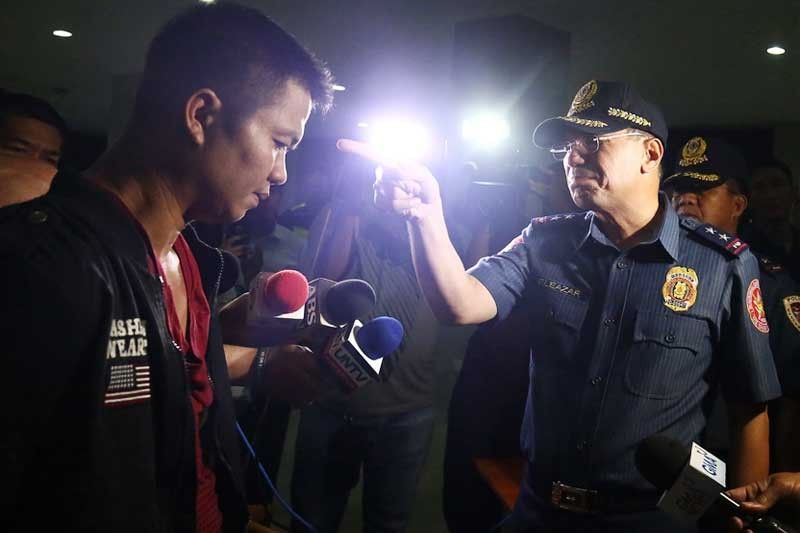 The policeman, identified as Cpl. Marlo Quibete of the drug enforcement unit of the Eastern Police District, was arrested last Tuesday for allegedly demanding P200,000 from the partner of a drug suspect.
Miguel De Guzman
Duterte supports NCRPO chief in shaming cop
MANILA, Philippines — President Duterte has defended National Capital Region Police Office (NCRPO) chief Maj. Gen. Guillermo Eleazar's public shaming and manhandling of a policeman arrested for extortion.
The policeman, identified as Cpl. Marlo Quibete of the drug enforcement unit of the Eastern Police District, was arrested last Tuesday for allegedly demanding P200,000 from the partner of a drug suspect.
When Eleazar met Quibete, he lost his temper, scolded and shook the policeman and even pulled his hair in front of media and other police officers.
Critics claimed Quibete's rights were violated when he was humiliated in public ,but Eleazar insisted the policeman deserved it because he had tarnished the image of the police.
Duterte said he was OK with what Eleazar did, as he stressed that he would not tolerate any wrongdoing by policemen.
"Yung isa was being – ano ni (one was shamed by) Eleazar and he was criticized for that," Duterte said during the first anniversary of the Presidential Anti-Corruption Commission last Wednesday in Malacañang.
"Sir, sabihin mo kay (tell) Eleazar OK 'yon (that's OK). Ay ano ba naman 'yang ganun-ganun? Sumasayaw nga iyan sila na tao (What's wrong with that? It was just as if he was dancing)," he added.
Duterte admitted there are "gangsters" in the police force and the Philippine Drug Enforcement Agency (PDEA) who are involved in the narcotics trade.
"Many are good but there are gangsters... I told you do not do that to me. If you get involved in that, you will go ahead in hell, not me," Duterte said.
Eleazar vowed yesterday to clean the NCRPO of scalawags as he thanked President Duterte for supporting his handling of a policeman caught extorting money from the partner of an arrested drug pusher.
"The President's approval on the way I handled the cops involved in robbery/extortion activity only shows the consistency of our President – how he abhors policemen involved in the illegal drug trade and policemen taking advantage of our war against illegal drugs to make money for themselves," Eleazar said.
Team NCRPO is committed to wiping these kinds of criminal acts and weeding out bad policemen from the ranks, Eleazar said.
"We seek an ideal PNP (Philippine National Police) organization that will be respectable and honorable down to the last uniformed policemen; and where there is no space for scalawag and rogue cops," the NCRPO chief said.
Video footage showing Eleazar berating Quidete went viral on social media and drew flak from netizens.
At a press briefing yesterday, Eleazar asked forgiveness from the public for his actions, claiming he was carried away by his emotions.
"Being the father of policemen here at the NCRPO, I've repeatedly been issuing warnings against those involved in extortion rackets to stop after our salaries were doubled by President Duterte. But I'm puzzled why these few scalawags kept on ignoring my call for them to man up… that is why I kept on asking him what drove him to do his thing," said Eleazar.
He stressed that he too is shaming arrested criminals and it is only proper that scalawag cops would also be shamed in public so he would not be accused of double standard.
Sen. Sherwin Gatchalian said government officials should observe maximum tolerance at all times after Eleazar confronted the erring policeman.
"I think as a whole, pati kami, pulis at sundalo (even us, police and soldiers) should practice maximum tolerance," Gatchalian told reporters.
He was quick to clarify that he could not blame Eleazar who appeared to be frustrated over the situation.
Relectionist Sen. Joseph Victor Ejercito shared Gatchalian's view.
"I can't blame General Eleazar, kumbaga nailabas nya yung kanyang galit doon sa situation. Minsan kailangan gawin mo yung para magtanda yung mga rookie cops," he added, noting it's sometimes necessary to vent one's anger to serve as a lesson to new cops.
Scalawags
Interior Secretary Eduardo Año yesterday ordered the PNP to intensify its internal cleansing operations against scalawags after the arrest of two police officers for allegedly using the government's war on drugs to extort from arrested suspects.
He said the PNP Counter-Intelligence Task Force (CITF) must double its efforts to rid the police force of misfits.
"They are not only a disgrace to their uniform but to the good men and women of the PNP, many of whom have given their lives in the relentless anti-drug campaign of the administration," Año said.
Año gave the order following the arrest of two personnel from the drug enforcement units of the Eastern Police District and the Pasay police station.
EPD director Brig. Gen Bernabe Balba and Pasay police chief Col. Noel Flores were relieved from their posts because of the PNP's one-strike policy.
Police Brig. Gen. Christopher Tambungan was appointed new EPD chief.
PNP chief Gen. Oscar Albayalde warned other police commanders to shape up and monitor their personnel who might be involved in illegal drugs and other nefarious activities or face sanctions.
"The incidents in Metro Manila should already bring a strong signal to them that we are dead serious in our internal cleansing and that commanders will be held responsible for the deeds or misdeeds of their respective personnel," he said.
Latest data from the PNP showed that 8,440 police officers were sanctioned for various infractions since July 2016. Of the number, 2,528 were dismissed from the service for grave offenses.
This includes 441 policemen for involvement in illegal drugs where 119 were found to have sold narcotics, acted as protectors of drug syndicates and even extorted money from drug personalities.
The other 5,912 police officers were meted with other penalties, 4,511 of whom were suspended from work with pay. The remaining lawmen were demoted, reprimanded, restricted to quarters, had their privileges withheld and their salaries forfeited. – With Emmanuel Tupas, Non Alquitran, Cecille Suerte Felipe