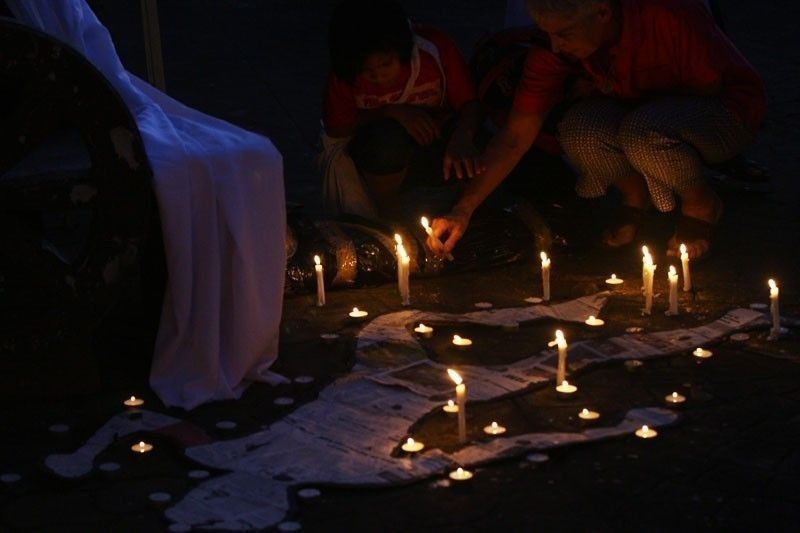 This file photo shows individuals joining a protest against the government's bloody war on drugs.
The STAR/Miguel de Guzman, File
Body cam, anti-EJK law, rigorous training to stop police abuse, killings, Senate bets say
MANILA, Philippines (Updated: 2:34 p.m.) — Disciplining the police ranks and a more efficient criminal justice system would help address abuse on authority, said Senate hopefuls on Sunday.
President Rodrigo Duterte's brutal war against illegal drugs has claimed, and continues to claim, lives — some slain through vigilante-style killings while others were killed in legitimate drug-related operations where cops claimed they were forced to shoot because the suspects fought back or "nanlaban sila."
Eight Senate candidates were asked what they would do to stop police abuse and the killings in the second round of debates at ABS-CBN Harapan 2019 on Sunday night.
RELATED: LIVE updates: 2019 Senatorial Debate
Use body cameras, dash cameras
Former Interior and Local Government Secretary Mar Roxas is pushing for the use of body cameras on police to deter crimes as it would record all operations they conduct.
"If all cops would have body cameras, all police mobiles would have dash cameras, that would not happen again," he said, addressing a mother whose son was allegedly killed in a police operation.
READ: Though already in the works, Roxas suggests body cams for PNP
Human rights lawyer Erin Tañada also said that Congress should legislate the use of body-worn cameras.
Philippine National Police chief Oscar Albayalde said in November last year that some local police stations are already using donated body-worn cameras but they still need to purchase more than 12,000 of the device.
A budget of P334 million has been allotted for the PNP's body-worn cameras in 2018, but technical requirements pushed back the purchase.
Former Pagsanjan, Laguna Mayor Abner Afuang was also asked to weigh in but failed to give a direct answer. He instead lamented how police were also killed.
Legislation
Rep. Gary Alejano (Magdalo party-list) is pushing for more rigorous training and recruitment among police.
He also said that police should not be "egged to violate the Constitution," adding that so long as Duterte is the president, the killing would continue.
Former Bayan Muna party-list Rep. Neri Colmenares said Congress should declare a law that would declare extrajudicial killings, specifically state-sponsored killings, as illegal and institute harsh punishment.
The constitutionality of Duterte's "Oplan Double Barrel" is facing a pending challenge before the Supreme Court. The SC has ordered the Office of the Solicitor General to yield the government's voluminous records on the war on drugs, which the government's chief lawyer, Jose Calida, opposed.
In a strongly-worded resolution in 2018, the SC said its order to submit the records is asking the government to "establish its claim of the legitimacy of police operations."
READ: Data on drug war deaths being willfully suppressed? The SC thinks so
The high court also pointed out that the Duterte administration even included drug-related deaths in its 2017 yearend report that "may lead to the interference that these are state-sponsored killings."
Then-PNP spokesman John Bulalacao said in a report in April 2018 that the police's campaign against illegal drugs is constitutional and that the operations enjoy "presumption of regularity... unless proven otherwise in the court of law."
Independent candidate Agnes Escudero meanwhile said that police should have a strong "moral and spiritual foundation." She added that an "evil mind" could push a cop to commit a crime even with several legislations and harsher punishment.
Criminal justice system
Meanwhile, veteran elections lawyer Romulo Macalintal said there is a need to strengthen justice in the Philippines.
Former federalism Consultative Committee spokesperson Ding Generoso lamented that some cases take "up to 30 years" to be closed.
Last year, local courts handed down landmark decisions on alleged extrajudicial killings as a Caloocan court found three cops guilty of killing teenager Kian delos Santos in 2017, while a Manila court cleared Francisco Maneja Jr. — a man who pretended to be dead in a police operation — of the allegation of cops that he fought back against them.
Kian's case is the first case against cops carrying out Duterte's drug war by a local court. Rights group have recorded more than 20,000 deaths.
READ: On Kian's slay, court tells cops: Murder 'never... a function of law enforcement'
Another Manila court also ruled on the case of Diana Yu Uy, daughter of a convicted drug queen Yu Yuk Lai, involving the alleged planting of evidence by the Philippine Drug Enforcement Agency.
The judge found the PDEA's version of events "absurd, against common experience of mankind, not at all in the natural course of things," and unworthy even of being a "movie plot, not even if the same belongs to the fantasy comedy genre."
Lawyer Krissy Conti of the National Union of Peoples' Lawyers was quoted in a STAR report that Manila RTC Judge Daniel Villanueva's decision should help less privileged victims of such a practice in the drug war.
READ: YEARENDER : Drug war on trial in lower courts
The SC has also set rules for authorities, prosecutors and courts over drug-related cases in a move to help decongest court dockets.
Despite strong criticisms, Duterte said last week that his signature war on drugs will be "harsher in the days to come" amid claims that an international drug cartel is behind floating cocaine packages found in the country's waters.