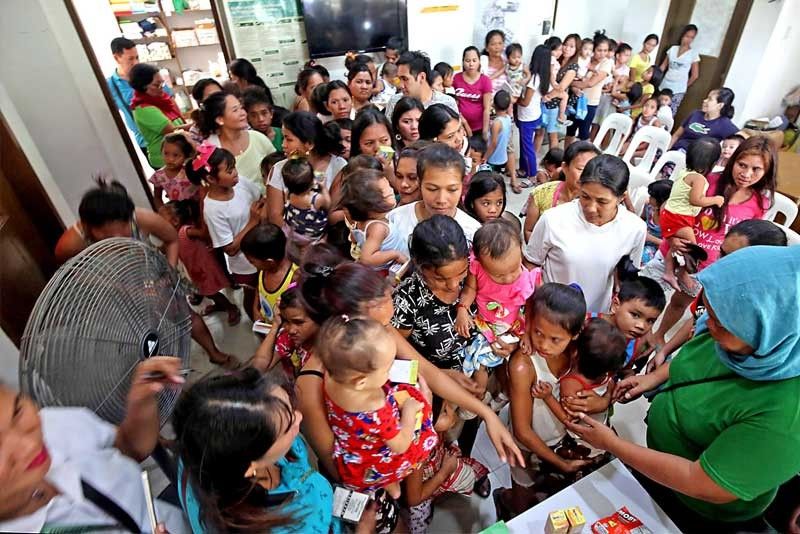 Parents with children line up for measles vaccination at a health center at the Baseco compound in Tondo, Manila yesterday. Health Secretary Francisco Duque III, who visited the health center, called for the strict implementation of an executive order issued in 2007, which requires the immunization of children before they enter elementary and pre-school.
Krizjohn Rosales
DOH eyes mandatory vaccination for children
MANILA, Philippines — With the measles outbreak raging in the country, the Department of Health (DOH) is looking at the possibility of making vaccination mandatory for all children.
According to Health Secretary Francisco Duque III, some policy interventions may be needed to ensure the protection of children against vaccine-preventable illnesses.
He said there is an existing executive order issued by former president and now Speaker Gloria Macapagal-Arroyo in 2007 that requires the immunization of children before they enter elementary and pre-school.
The policy, however, does not provide for sanctions for failing to comply.
"We are looking at countries where immunization is mandatory. We have no law yet (on this) but this is something that merits serious consideration," he added.
Duque said they are considering legislation that "will mandate, even if selectively, vaccination against measles which happens to be the most contagious, for instance."
He, however, admitted that there is a "myriad of reasons – whether religious or customary" –that need to be considered in making vaccination a requirement.
"There are really these idiosyncrasies that contribute to non-immunization, non-vaccination of certain groups of individuals," the official added.
This week, the DOH had declared an outbreak of measles in the National Capital Region (NCR), Central Luzon, Calabarzon and Central and Western Visayas because of soaring cases of the disease.
The DOH confirmed a measles outbreak after the number rose by 550 percent or 196 cases of measles in Metro Manila from Jan. 1 to Feb. 6 this year compared to 20 cases recorded in the same period last year.
There were 55 deaths from measles at the San Lazaro Hospital in Manila, most of them children from three months to four years old. There are still 248 children being treated for the disease at San Lazaro Hospital.
Dengvaxia scare
The DOH has said low vaccination coverage in these regions was a result of the Dengvaxia fiasco.
"We're very frustrated indeed. We were warning that this was going to happen. That the collateral damage to the DOH immunization program was going to be apparent, and this is what we see now," Duque said.
In NCR, the vaccination coverage for measles was around 39-41 percent, a far cry from the 90 percent target to develop herd immunity where even the unvaccinated are protected.
"Somehow, the Dengvaxia scare, all these drama that they were doing, have really caused damage to the integrity and effectiveness of DOH to conduct and ensure that there will be adequate immunization coverage so that they will be protected from vaccine-preventable diseases," he added.
Health Undersecretary Eric Domingo said the relatively low number of measles vaccinations in the country could be attributed to the aborted Dengvaxia vaccination program that began in 2016.
In 2017, French pharmaceutical company Sanofi Pasteur published clinical trial data showing that Dengvaxia could have unintended consequences in patients who had never been infected with the mosquito-borne virus.
Public Attorney's Office chief Persida Acosta is just doing her job in protecting the victims of Dengvaxia vaccine, Cabinet Secretary Karlo Alexei Nograles said yesterday, after the top public lawyer was blamed for the vaccination scare in the country.
At a press briefing, Nograles said Acosta should not be blamed for the vaccine scare that caused the outbreak of measles among many children and left about two-million infants at risk for lack of measles vaccine.
"But as far as the PAO is concerned, I would agree with the statements of Secretary (Salvador) Panelo, that obviously the PAO chief is doing her job as far as representing the victims of Dengvaxia is concerned, and I don't think it has anything to do with torpedoing the DOH immunization program," Nograles added.
"It's just that perhaps because of her personality – chief PAO Acosta is just very vocal about her passion for protecting the Dengvaxia victims," he said.
President Duterte has ordered the DOH to step up the vaccination campaign nationwide.
"As far as the Department of Health is concerned, they made a presentation at the Cabinet meeting and the President agreed that the DOH must pursue more aggressive action on addressing this outbreak," he said.
In line with this, the President also tapped the Presidential Communications Operations Office led by Secretary Martin Andanar to "help in information dissemination and communicating to the people the importance of vaccination."
Nograles said the President saw the urgency to have a national campaign on the vaccination program of the government, putting aside insiuations that the DOH was remiss in its job.
Vice President Leni Robredo and Save the Children Philippines appealed to parents to have their kids immunized.
"To all the parents who are listening now, I appeal to you to pay attention to your children's health and have them vaccinated against measles," Robredo said in a video message posted on YouTube last Thursday night.
Robredo said more than two million children remain unvaccinated.
The Vice President has assured parents that the government's vaccines available for measles and other infectious diseases are safe for use.
Lawyer Albert Muyot, chief executive officer of Save the Children Philippines, said yesterday children need not die of preventable diseases such as measles.
He called on community health workers to intensify information drive to reach out to parents and guardians.
Muyot said the First 1,000 Days law enacted in November last year mandates national agencies, including the DOH and local government units, to ensure children's proper health and nutrition, including complete immunization.
"The law is already in place to make sure children are given a healthy start in life through interventions such as complete immunization, including measles vaccine," Muyot said.
Amado Parawan, health and nutrition advisor of Save the Children Philippines, said complete immunization is highly critical to a child's survival in the first 1,000 days of his life, which is up to two years old.
"Failure to complete immunization could cause a child's death before reaching two years old, which is happening now to children with measles," he said.
Robredo said it is not the time to politicize and bicker over the matter as millions of children are at risk.
"To all the parents who are listening, we are urging them to immediately prioritize the vaccination of their children and the rest of their families against measles. The lives and safety of our loved ones are on the line," she said in Filipino. – With Helen Flores, Janvic Mateo, Paolo Romero, Christina Mendez