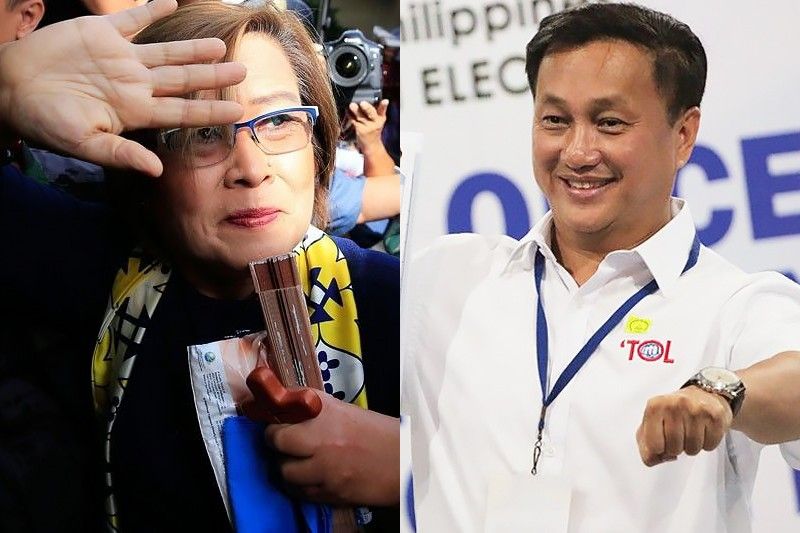 President Rodrigo Duterte's former political adviser Francis Tolentino contested Sen. Leila de Lima's win in the 2016 national elections before the Senate Electoral Tribunal.
Composite photo, File and Philstar.com/Efigenio Toledo IV
De Lima asks tribunal to release results of Tolentino's poll protest against her
MANILA, Philippines — Sen. Leila De Lima urged the Senate Electoral Tribunal to release the results of former political adviser Francis Tolentino's poll protest assailing her win to stop the latter's "misinformation" of the public.
In a statement on Wednesday, De Lima's camp said they filed a five-page plea before the tribunal, urging it not to grant Tolentino's motion and dismiss the entire protest. It also called on the tribunal to release the results of its initial determination of the concluded revision of pilot precincts.
This was after Tolentino reportedly told the tribunal that he "voluntarily" withdrew his protest last month to focus on his senatorial campaign.
Tolentino earlier asked the tribunal to suspend the proceedings and archive his protest citing his senatorial campaign for the 2019 midterm elections, but the PET junked his plea saying that it was prohibited in 2013 SET Rules.
But De Lima said that the SET could prove that Tolentino was defeated in the last elections "after the completion of the revision and appreciation of the contested and claimed ballots from the pilot province precincts."
In 2016, Tolentino filed an electoral protest against De Lima to contest the senator's win. He placed 13th in the 2016 national elections and accused De Lima of cheating in the automated polls, a claim that the senator denied.
"As will be confirmed by the Honorable Tribunal, [T]olentno neither had a significant vote recovery nor was there a discovery of any fraud or irregularity that could substantiate his preposterous accusation," De Lima said on Wednesday.
She added: "When these official results are out in the open, Tolentino can finally make peace with the fact that he was not cheated. He was defeated, and there should be no shame in that."
The SET is chaired by Senior Associate Justice Antonio Carpio. Its members are Associate Justices Mariano Del Castillo and Marvic Leonen, and Sens. Richard Gordon, Nancy Binay, Joel Villanueva, Manny Pacquiao, Franklin Drilon and Antonio Trillanes IV.