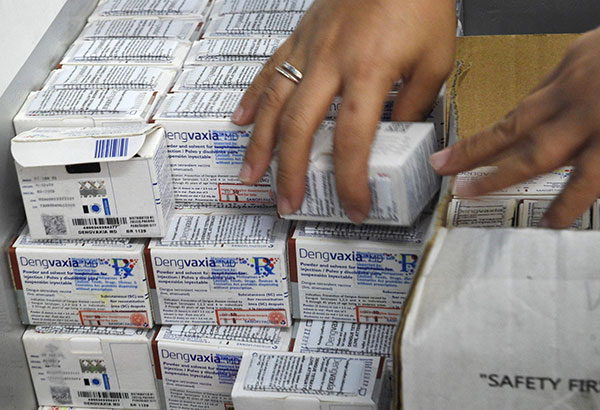 The Department of Health says it will not lift the ban on the controversial vaccine anytime soon
AFP
No green light for Dengvaxia anytime soon, DOH says
MANILA, Philippines — The one-year ban on controversial dengue vaccine Dengvaxia will not be lifted anytime soon, Dr. Eric Domingo, Department of Health spokesperson said.
Distribution of the vaccine was suspended in December 2017 after manufacturer Sanofi Pasteur, said that vaccinating those without prior exposure to dengue potentially put them at risk of contracting dengue.
WATCH: DOH spokesman Dr. Eric Domingo says one-year ban on Dengvaxia vaccines that is set to expire on Dec. 29 will likely be extended. | @shecrisostomo pic.twitter.com/kOkNVD0E0g

— The Philippine Star (@PhilippineStar) December 11, 2018


READ: DOH suspends dengue immunization program over potential health risk

The ban was set to expire on December 29 this year. "We still have a lot of pending issues with the vaccine, and at this time we do not see it being registered and being allowed for marketing in the Philippines," Domingo said. "Di lang iyan (it is not only) regulatory issues, but cases in court."

Public Attorney's Office chief Persida Acosta filed murder raps against officials of the Philippine Children's Medical Center (PCMC) on December 3, for the acquisition of Dengvaxia vaccines without approval from the Food and Drug Administration. The PAO directly linked the officials to children who took the vaccine.

As early as February, Acosta had already linked the deaths of at least 39 children around the country to the vaccine despite not being a doctor and despite objections from forensics experts.

READ: Raps filed vs Philippine Children's Medical Center doctors over Dengvaxia

Raymundo Lo, a doctor named in the suit, denied signing the purchase order and rebuked Acosta and PAO's forensic team leader Erwin Erfe's conclusions linking Dengvaxia to the deaths.

Lo said Acosta's timing was "obvious" and that she was trying to intimidate him after he testified in the House of Representatives, citing the "incompetence" of Erfe's autopsies, which Lo said he performed "without any training."

Parts of the country have been seeing a resurgence in measles — an infectious disease that is preventable with vaccination.

READ: Acosta urges public to get vaccinates amid measles outbreak

The DOH said in March that the Dengvaxia vaccine scare was "partly" to blame for the resurgence in measles cases.

READ: Dengvaxia seen to get EU accreditation

Prior to Acosta's statement agreeing with Health Secretary Francisco Duque III — that the public should get vaccinated to avoid getting infected with measles — the health secretary said in April that the PAO chief made a "circus" out of the Dengvaxia issue.
"It's really embarrassing that we are both in government and yet we are fighting. Attorney Acosta knew the situation and even at the Senate, my name never came out (as involved)," he said then. — with reports from The STAR