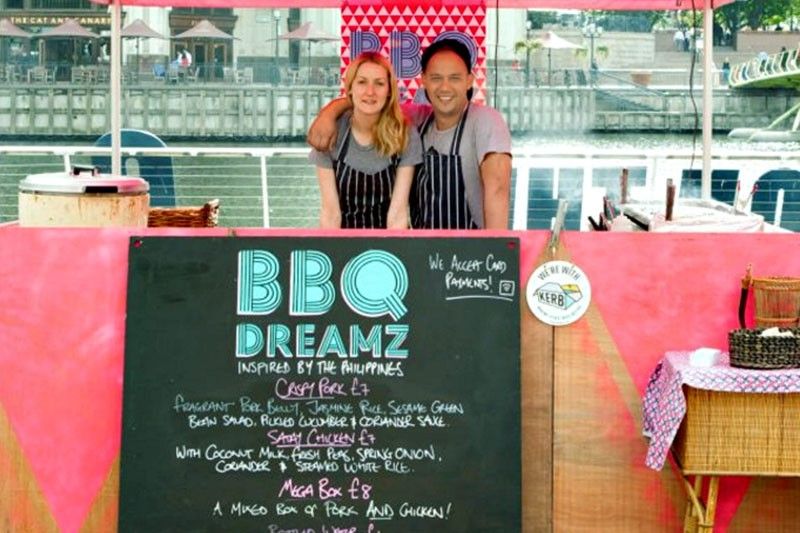 BBQ Dreamz operator Lee Johnson, a Filipino who moved from the Philippines to the UK, and Irish partner Sinead Campbell impressed investors in BBC's reality show 'My Million Pound Menu' with their signature lechon kawali, sticky adobo chicken wings and vegan adobo-glazed crispy cauliflower and sesame green beans.
File
Filipino street food stall in London bags £350,000 investment
MANILA, Philippines — A London-based Filipino street food operator has secured a £350,000 investment after impressing and winning the admiration of a panel of investors in a British Broadcasting Corp. (BBC) reality show.
BBQ Dreamz obtained a hefty investment in the first episode in the second series of BBC Two's "My Million Pound Menu," a reality show that aims to give emerging businesses a big boost in the competitive food industry.
BBQ Dreamz is founded by Lee Johnson, a Filipino who moved from the Philippines to the United Kingdom when he was eight, and his Irish partner Sinead Campbell, who hails from Tuam, Galway.
The two met 13 years ago in university and have been running BBQ Dreamz for the past four years.
"In a business investment, you need more than a good idea," said bar and restaurant investor Charlie McVeigh, who invested in BBQ Dreamz. "At the very least, you need a good idea, a great team and, in this case, we already got what we already know is a sensational product. So to put money behind that doesn't feel like that great a risk."
The other prospective investors during the episode included Nando's Group strategy director Jane O'Riordnan, bar and restaurant investor behind the success of big take-out brands such as Domino's Maurice Abboudi and MEATLiquor managing director Scott Collins.
After a preliminary round and a two-day road test in Manchester, McVeigh and Abboudi each offered to invest in BBQ Dreamz. Owners Johnson and Campbell eventually took McVeigh's offer to establish a permanent restaurant.
During the show, Johnson and Campbell impressed the investors with their signature lechon kawali – a crispy pork belly cooked 24-hour with radish, coriander and celery, grilled satay duck hearts, sticky adobo chicken wings and their vegan adobo-glazed crispy cauliflower and sesame green beans.
"When people first saw me, an Irish girl, do Filipino food, they were quite judgmental. They would ask me straight out, why are you cooking this food? And that's why I used to hide a lot behind Lee. But over time, now I can say that I've worked really hard and I know what I'm doing," said Campbell, who has developed a deep familiarity with Filipino cuisine over the years.
Since the establishment of BBQ Dreamz, the couple has been innovating Filipino dishes from traditional recipes Johnson learned from his mother and grandmother when he was growing up.
"Filipino food is sort of difficult to nail down because it comes from a lot of different cultures," said Johnson when asked to describe Filipino food.
In an interview with the Evening Standard, he echoed the opinion of the investors that Filipino cuisine is only starting to become popular in the UK.
"Filipino Food is virtually unknown in the UK. The public needs educating and that's a big task," said the show's presenter Fred Sirieix.
In the past year, the Philippine embassy in London through its cultural diplomacy unit promoted Filipino food through partnerships with the Filipino Food Movement UK, a group of foodies and Filipino-British chefs who are keen on pushing Filipino food into the mainstream.
"Food is a powerful way to tell the story of culture," said Ambassador to the UK Antonio Lagdameo.
"It becomes the starting point of a conversation and for many, a springboard towards knowing more about the culture that shaped that cuisine. Every time people dine at a Filipino restaurant or experience one of the many monthly Filipino supper clubs, they often emerge knowing a little bit more about the Philippines," he said.
BBQ Dreamz can be found at the popular KERB street food markets all over London. People can get their Filipino food fix from BBQ Dreamz at their Paddington site on Wednesdays, West India Quays on Thursdays and King's Cross Granary Square on Fridays. On Saturdays, BBQ Dreamz cooks at Brockley Market.