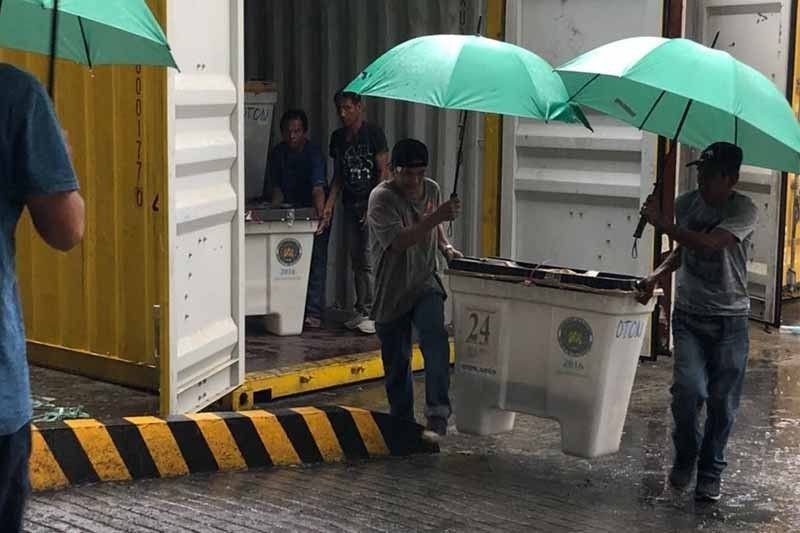 Ballots are transported to the staging from different districts of Iloilo province as rain continues to pour.
Office of the Vice President, File
PET: Ballot recount in VP poll protest nearing end
MANILA, Philippines — The Supreme Court, sitting as Presidential Electoral Tribunal, said that recount of the "remaining few ballots" in the three pilot provinces of former Sen. Ferdinand "Bongbong" Marcos Jr.'s electoral protest against Vice President Leni Robredo would continue on January 28.
Reports earlier quoted lawyers of the two parties as saying that the tribunal ordered the suspension of the recount. Vic Rodriguez, Marcos' lawyer, said that the suspension was effective "until further notice."
But the PET on Tuesday afternoon said the ballot recount in the three pilot provinces is almost done. Although, it would have to resume the recount on January 28 due to wet and damaged ballots.
"The tribunal directed the Revision Committee to use the decrypted ballot images provided by the Commission on Elections," the statement read.
It was earlier ruled that decrypted ballot images can be used by Head Revisors—head in the three-person committee conducting the recount—when "the paper ballots were wet, damaged or are otherwise unreadable."
"In the interim, the Tribunal shall prepare for the use of decrypted ballot images in the revision proceedings," the PET added.
The recount of ballots from Marcos' identified three pilot provinces, Camarines Sur, Iloilo and Negros Oriental, started on April 1, 2018.
After the recount in the said provinces, the tribunal would proceed on ruling on all objections and claims of both parties during the revision proceeding.
The results of the recount in the three provinces would determine if the tribunal should continue checking ballots in the rest of the clustered precincts in the country.
Under Rule 65 of the 2010 Rules of the PET, "if upon examination of such ballots and proof, and after making reasonable allowances, the tribunal is convinced that, taking all circumstances into account, the protestant or counter-protestant will most probably fail to make out his case, the protest may forthwith be dismissed."