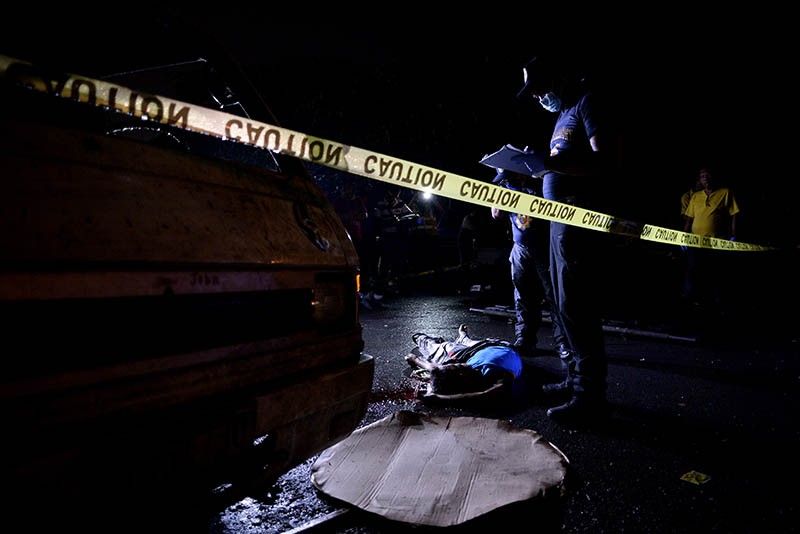 This file photo taken on May 18, 2017, shows police officers investigating an alleged drug dealer killed by unidentified gunman in Manila. The PNP said 3,987 have "died in police operations" from July 1, 2016 to Jan. 17, 2018, suggesting these are drug suspects who engaged arresting officers in shootouts.
AFP/Noel Celis
US NGO's remark that Philippines is a 'war zone in disguise' irks Palace
MANILA, Philippines — Malacañang on Friday accused a United States-based non-governmental organization of echoing allegations critical of the Duterte administration after it described the Philippines as a "war zone in disguise" supposedly due to the government's bloody anti-narcotics campaign.
In its latest report, the Armed Conflict Location and Event Data Project—which analyzes data on political violence and protest around the world—said the Philippines is one of the most deadliest countries for civilians in 2018.
"The Philippines is a war zone in disguise. More civilians were killed in the Philippines in 2018 than in Iraq, Somalia or the Democratic Republic of Congo—highlighting the lethality of President Rodrigo Duterte's 'war on drugs'-cum-state terror campaign," ACLED said.
ACLED also noted that the Philippines is one of the places where civilians were most often targeted and where civilians were most at risk of government repression in 2018.
"The Philippines, for example, while not facing a conventional war on the scale of Afghanistan or Syria, is one of the deadliest places in the world to be a civilian. President Duterte's war on drugs, while past its initial, deadly climax, continues unchecked as the world stands by," the US NGO said.
It, however, noted that the number of organized violence events fell in the Philippines partly due to a "more restrained take on the drug war."
The government's tally as of November 2018 acknowledged the deaths of 5,050 "drug personalities" during anti-drug operations. Rights groups, however, assert that police and alleged police agents have killed thousands more.
Palace: Label 'remarkable in ignorance, bias
In a statement, presidential spokesperson Salvador Panelo called ACLED's findings "remarkable in ignorance and bias."
Panelo even accused the US NGO of basing its conclusions on the allegations made by "groups that are hopelessly and blindly critical of the Duterte administration" such as human rights watchdogs and "partisan" media outfits.
"Describing the war on drugs as a state terror campaign targeting innocent civilians as a government policy is pure hogwash. So is putting the Philippines in its list of the most dangerous places for civilians in 2018," he said.
The president's mouthpiece added: "The report stating that there is an alleged prevalence of state repression tagging the Philippines as a country where civilians are most at risk in 2018 is an infinitely fallacious finding."
ACLED said its data are coded by a range of researchers who collect information primarily from secondary source of information and apply the guidelines outlined in the code book to extract information from news reports.
'Don't lecture us'
Panelo, who is also the president's chief legal counsel, insisted that the government's war on drugs is not state-sponsored and that impunity has no place under the current leadership.
This, despite observations of local and international watchdogs that the human rights crisis in the Philippines had further deepened.
He also claimed that the Philippine press remains one of the freest in the world.
"Political and media detractors continue to hound the president with their reckless and baseless accusations as well as intrigues; yet they are not hailed to court," Panelo said.
According to a report published by the International Freedom of Journalists, the Philippines is the worst in impunity in Southeast Asia.
"To ACLED we say, as we have repeatedly conveyed to other foreign human rights organizations, we do not need lectures from inexpert foreign groups on how to run a nation," Panelo said.
In December, Panelo claimed that "organizations presenting themselves as so-called human rights defenders never had it so good under the Duterte administration."
His predecessor, former presidential spokesperson Harry Roque, earlier claimed without proof that "some human rights groups have become unwitting tools of drug lords to hinder the strides made by the administration."