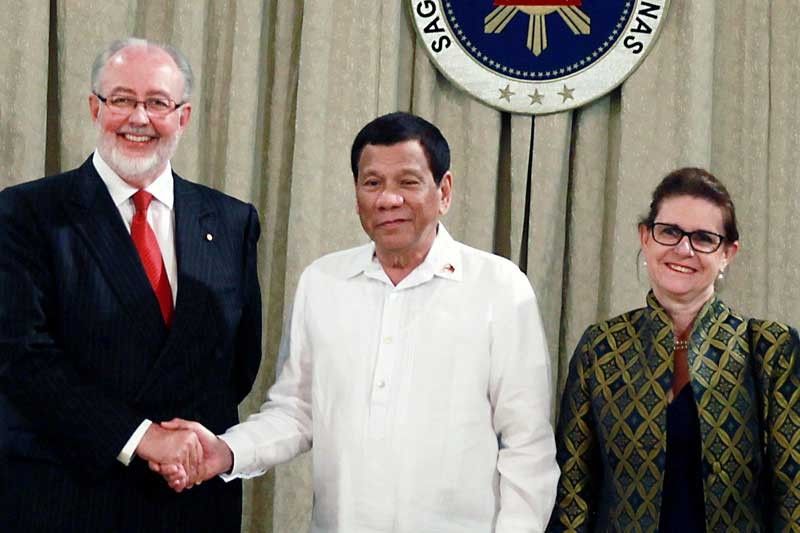 President Duterte poses with Australian Ambassador Steven James Robinson and his wife during the presentation of the envoy's credentials at Malacañang on Tuesday.
Joven Cagande
Philippines-Australia ties 'broad and deep' — envoy
MANILA, Philippines — Australia's new ambassador described his country's ties with the Philippines as "broad and deep," months after President Duterte skipped a Canberra-led forum in Singapore, Malacañang said in a statement yesterday.
Australian Ambassador Steven James Robinson presented his credentials to Duterte at Malacañang last Tuesday and expressed hope that the relationship between his country and the Philippines would become stronger.
In a tweet, Robinson said he was excited to be Australia's envoy to the Philippines, which he described as "a long-standing and important partner."
He also conveyed to Duterte the "best wishes" of Australian Prime Minister Scott Morrison and Australia Commonwealth Governor-General Sir Peter Cosgrove.
Robinson assumed his post two months after Duterte skipped Australia's breakfast forum with the Association of Southeast Asian Nations (ASEAN) in Singapore.
Czech Republic Ambassador Jana Sedivá presenting her documents to Duterte. JOVEN CAGANDE
Duterte justified his absence by saying that he does not eat breakfast and even joked about Australia serving kangaroo meat to guests.
"I cannot understand the Australians. The invitation was informal breakfast... I do not eat breakfast... What will they feed us? Kangaroo?" Duterte said in a meeting with the Filipino community in Port Moresby last November.
In 2016, then Australian ambassador Amanda Gorely criticized then presidential candidate Duterte for joking about the rape and murder of Australian missionary Jacqueline Hamill in 1989.
Gorely had said rape and violence should not be trivialized, prompting Duterte to threaten to cut ties with Australia if he becomes president.
Duterte eventually apologized for the joke but maintained that ambassadors should not meddle in Philippine politics.
Also last Tuesday, Duterte received the credentials of Czech Ambassador Jana Šedivá.
The envoy extended to Duterte the warmest regards of Czech President Miloš Zeman.
Accompanying Šedivá were Jana Peterková, deputy head of mission and second secretary, Benjamin Žiga, first secretary and head of economic and trade relations, Veronika Hirzel, head of consular affairs and second secretary, Jan Vi?eck, head of finance and administration and attaché, and Martina Matuliková, consular attaché.