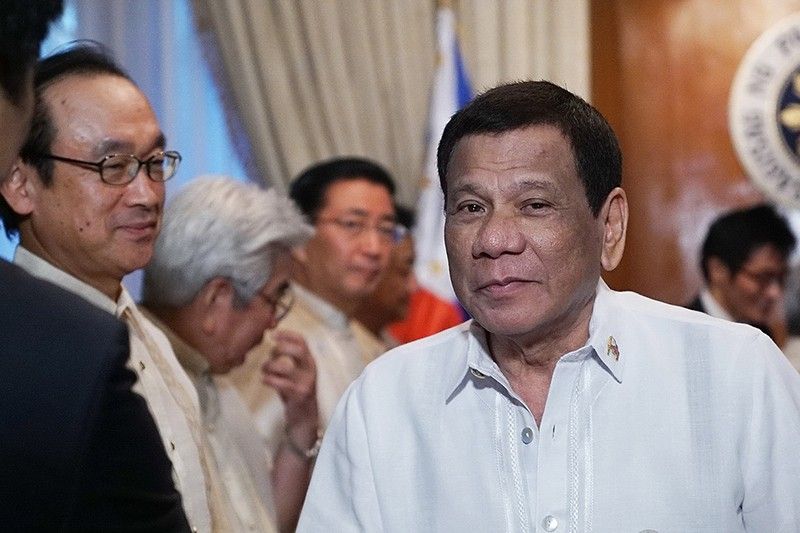 Duterte ends the year with an 81-percent approval rating from Pulse Asia
Presidential Communications Operations Office
Duterte ends 2018 with higher approval ratings in Pulse Asia poll
MANILA, Philippines — President Rodrigo Duterte ended the year with a high approval rating of 81 percent in Pulse Asia's latest survey released on Friday.
The survey fieldwork was conducted from December 14 to 21 using face-to-face interviews, where they asked respondents if they approve of the performance of the country's top elected official.

Duterte's rating is a six-point increase from the previous quarter. Only 13 percent were undecided over the president's performance in the last quarter, while 7 percent disapproved.
Duterte's approval ratings are the highest in Mindanao with a 96 percent rating; followed by the Visayas at 86 percent; then Luzon at 74 percent, and 69 percent in the National Capital Region.
Some of the big current events leading up to the survey period include the graft conviction of former First Lady Imelda Marcos; the acquittal of former Sen. Ramon "Bong" Revilla Jr.; the House of Representatives' approval of the federal charter; and the conviction of three police officers involved in the 2017 killing of teenager Kian Delos Santos.

Meanwhile, Vice President Leni Robredo scored a 62-percent approval rating and Senate President Vicente Sotto III ended the year with 74 percent.
Speaker of the House Gloria Macapagal Arroyo scored a 27 percent approval rating, the only top official to score below 50 percent.

According to Pulse Asia, there was improvement across geographic areas and socio-economic classes in the approval ratings of President Duterte (increase of eight percentage points), Vice-President Robredo (increase of eight percentage points), and Senate President Sotto (increase of eight percentage points) occur in the rest of Luzon.
"These are the only notable changes as far as these government officials' performance ratings are concerned," they survey said. "In terms of their trustworthiness, Senate President Sotto enjoys an increase in his trust score in the rest of Luzon by eight percentage points, but Vice-President Robredo's rating declined in the Visayas by 16 percentage points.
Trust rating also improves
Duterte's trust ratings also improved by four points from 72 percent in September, to 76 percent in the December survey. Robredo and Sotto's trust ratings remained unchanged from the last survey at 56 and 66 percent respectively.
Arroyo's trust ratings slightly improved from 19 percent to 21 percent.
The survey firm pointed out that Arroyo was the only top four elected official not to have majority approval and trust ratings in the survey. "The only majority figure obtained by the House Speaker is her 52 percent distrust rating in Metro Manila," they said.
The survey was conducted nationwide and is based on a sampling size of 1,800 representative adults 18 years old and above. It has a +2.3 percent margine of error at a confidence level of 95 percent.