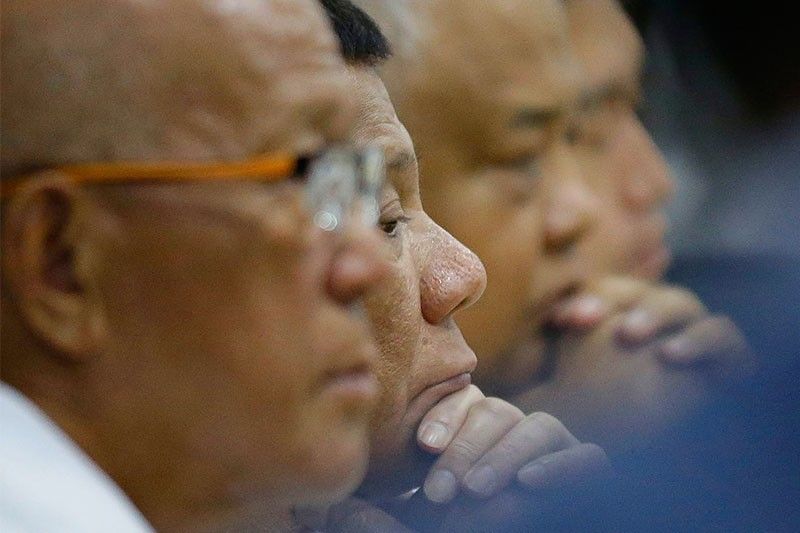 Philippine President Rodrigo Duterte, second from left, attends a command conference on Typhoon Mangkhut, locally named Typhoon Ompong, at the National Disaster Risk Reduction and Management Council operations center in metropolitan Manila, Philippines on Thursday, Sept. 13, 2018.
AP/Aaron Favila
Duterte's approval, trust ratings fall – Pulse Asia
MANILA, Philippines — President Rodrigo Duterte's approval and trust ratings dropped in the third quarter, according to a Pulse Asia survey released Tuesday.
The latest poll showed that the president obtained a 75-percent approval rating and a 72-percent trust score, a significant decrease from his 88 percent and 87 perent approval and trust ratings in the previous quarter.
"At the national level, President Duterte experience a decline in his approval ratings (-13 percentage points) and a rise in indecision (+5 percentage points) during the period June to September 2018," Pulse Asia said.
Despite this plunge, Duterte remains the most approved and most trusted top national official.
Vice President Leni Robredo scored 61 percent and 56 percent approval and trust ratings, respectively. She recorded majority approval and trust scores in nearly all geographuic areas, except Metro Manila.
"With regard to vice-presidential performance, majority approval ratings are posted across geographic areas and socio-economic classes (53 percent to 68 percent) but when it comes to vice-presidential trustworthiness, only those in Classes D and E give Vice-President Robredo majority trust figures (56 percent to 66 percent)," Pulse Asia said.
Senate President Tito Sotto also enjoyed majority approval and trust ratings with 73 percent and 66 percent, respectively.
Acting Supreme Court Chief Justice Antonio Carpio posted a similar approval (42 percent) and indecision (40 percent) figures. Robredo registered the highest disapproval rating (17 percent).
Meanwhile, House Speaker Gloria Macapagal-Arroyo scored the lowest trust rating of 19 percent, the lowest among all top five national government officials.
The survey also showed that Duterte and Sotto obtained majority ratings across geographic areas (66 percent to 90 percent and 69 percent to 76 percent, respectively) and socio-economic groupings (72 percent to 81 percent and 67 percent to 79 percent, respectively).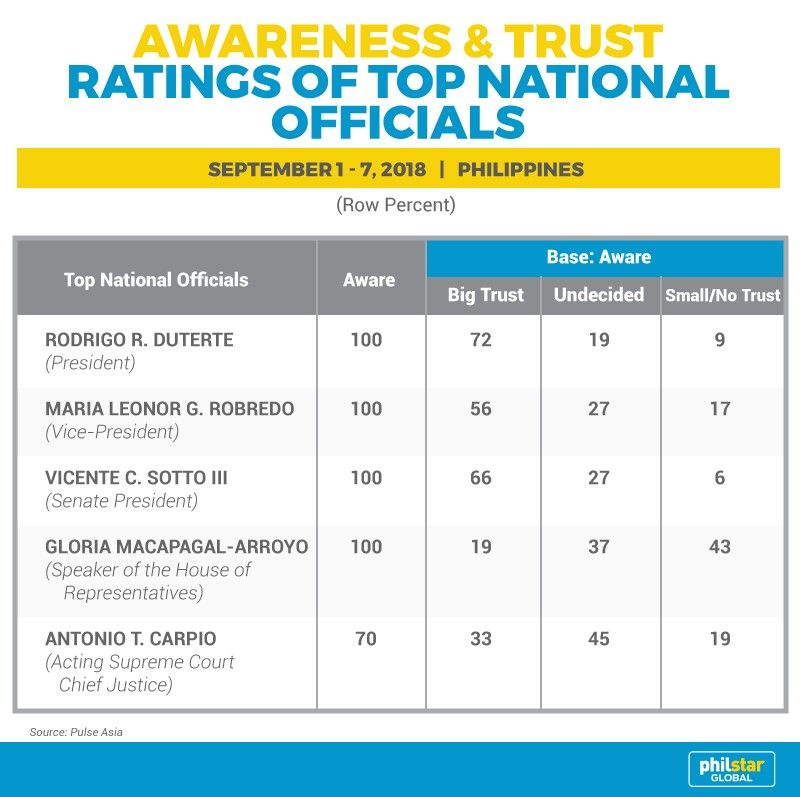 <
>
Filipinos approve Congress, Supreme Court
The latest poll also showed that majority of Filipinos approve the work done by the Supreme Court (52 percent), the House of Representatives (56 percent) and the Senate (63 percent).
The Senate posted a 7-percent disapproval rating while the Supreme Court received a 10-percent disapproval score.
Both chambers of Congress enjoyed majority approval ratings in various geographic areas and socio economic classes.
The nationwide survey was conducted from September 1 to 7 using face-to-face interviews among 1,800 registered voters. The poll has a + 2 percent error margin at the 95 percent confidence level.
"Pulse Asia Research's pool of academic fellows takes full responsibility for the design and conduct of the survey, as well as for analyses it makes based on the survey data. In keeping with our academic nature, no religious, political, economic, or partisan group influenced any of these processes," it said.