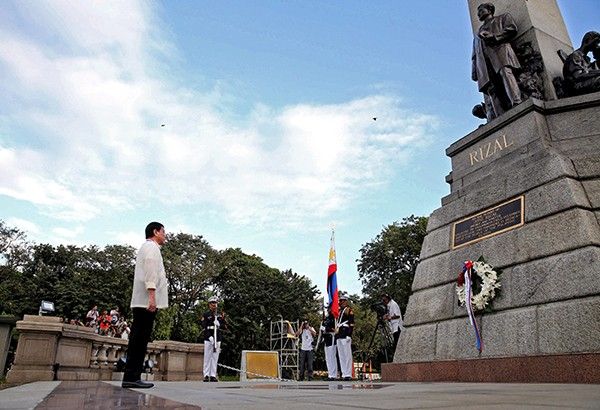 In this 2017 file photo, President Rodrigo Duterte pays tribute to the country's national hero Dr. Jose Rizal by visiting his monument at the Rizal Park, Manila. The Palace said Duterte would lead commemoration activities in Davao City this year.
File
Duterte to Filipinos on Rizal Day: Embody his patriotism
(Philstar.com) - December 30, 2018 - 2:36pm
MANILA, Philippines— President Rodrigo Duterte on Sunday joined the Filipino people in commemorating the 122nd anniversary of the martyrdom of the country's national hero, Dr. Jose Rizal.
In his Rizal Day message, Duterte wished the Filipinos a meaningful commemoration and asked the public to "embody Rizal's patriotism."
Duterte said the national hero's death anniversary "marks an auspicious occasion" to reflect on Rizal's legacy. He cited that Rizal's "courageous life and inspiring works have been instrumental in awakening our collective consciousness to foster our Filipino identity and take a stand against our oppressors."
"We remember him as a beacon of valor and solidarity at a time when darkness, injustice and tyranny prevailed over our land. Even in death hi, his example continues to encourage us as we pursue ways to address the social ills that confront us up to this day," Duterte said.
"Let this be an opportunity to honor Rizal for shaping our history as a nation. Together, let us embody his patriotism in all our endeavors as we build the society that he envisioned for the Filipino people," he added.
Earlier, Malacañang also issued a statement remembering and honoring the martyrdom of Rizal.
Palace said the legacy of Rizal's life and death is a "walking statement to a person's magnificent and consuming love for his country that sparked a leap for freedom and an assertion of national dignity."
It urged Filipinos, especially the youth, to take inspiration from Rizal and emulate the principles that made him the country's greatest hero.
"In these challenging and crucial times, we need equally courageous and principled Filipinos, stripped of apathy and selfishness, to become modern day heroes to sustain our fight for freedom from all the ills of society," the Palace said.
Duterte is slated to pay tribute to Rizal in ceremonies in Davao City on Sunday. —Rosette Adel