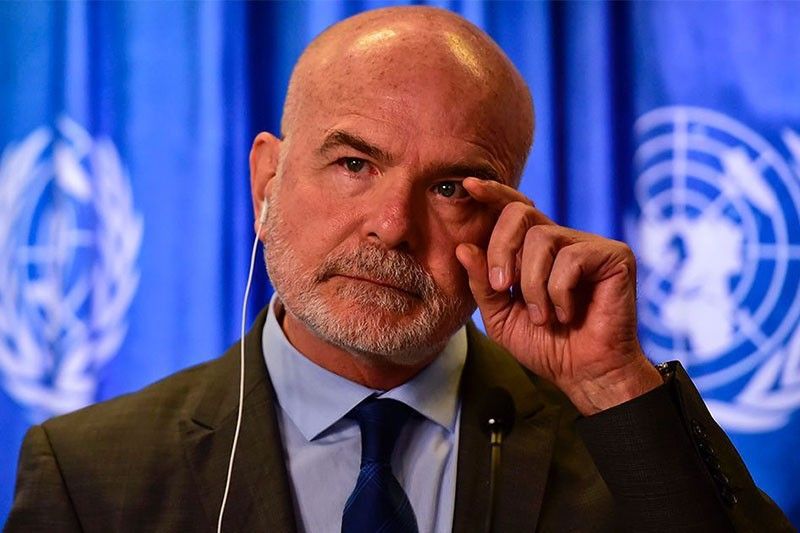 United Nations special rapporteur on the situation of human rights defenders French Michel Forst offers a press conference in Mexico City, on Jan. 24, 2017.
AFP/Ronaldo Schemidt
Philippines seeking clarification on UN rapporteur's report
MANILA, Philippines — The Philippine government is seeking clarification on the views of a United Nations special rapporteur over the situation of human rights defenders in the country.
Michel Forst, UN special rapporteur on the situation of human rights defenders, recently released a world report on the occasion anniversary of the UN Declaration on Human Rights Defenders.
The report, however, was shared through his personal Twitter account as it was not published in the official website of the UN Office of the United Nations High Commissioner for Human Rights.
Happy to share w/ you my world report on the occasion of the 20th anniv. of the #UN Declaration on #HRDs. It provides an in-depth analysis of the situation of HRDs in 140 countries. It is only available on my website as OHCHR did not accept to publish it https://t.co/nSMZ65l3KO

— Michel Forst SR HRD (@ForstMichel) December 18, 2018
"As we are currently seeking clarification on the nature of report of the Special Rapporteur to enable us to respond more properly, we would like to reiterate the full commitment of the Philippine Government to upholding the rule of law and ensuring that human rights violations are properly investigated, including those allegedly committed by state actors, to make the perpetrators accountable," the Department of Foreign Affairs said in a statement.
In his report, Forst called on the Philippine government to end all forms of violations against human rights defenders such as extrajudicial killings and enforced disappearances.
Citing the 2017 Universal Periodic Review, the UN rapporteur stressed that the Philippines should develop mechanisms that would protect and support human rights defenders.
"In doing so, the government should recognize the specific needs and circumstances of groups of defenders facing high risks, such as women human rights defenders, indigenous human rights defenders, land and environmental rights defenders, and journalists," the report read.
Forst also recommended that the Philippines review its laws that restrict freedom of opinion, expression, assembly and association.
"The government should review and desist from employing counter-insurgency measures which result in extra-judicial killings, enforced disappearances, and human rights violations," the rapporteur said.
The UN special rapporteur also urged Manila to strengthen its witness protection program to encourage victims and witnesses to provide testimony without fear of reprisals.