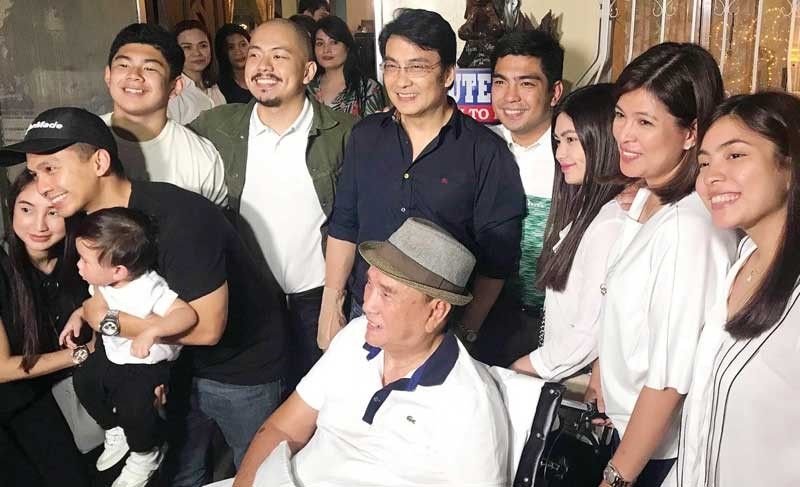 Former senator Ramon Revilla Jr. reunites with his father, former senator Ramon Revilla Sr., and other family members on Friday night in Bacoor City in Cavite.
Joven Cagande
Sandigan justice defends Revilla verdict
MANILA, Philippines — Their decision to acquit former senator Ramon "Bong" Revilla Jr. may have been "unpopular," but it was "based on the evidence," according to the Sandiganbayan magistrate who acted as ponente or writer of the controversial ruling.
"It's an unpopular decision. I would have loved to be a heroine, that I convicted him, but at the end of the day we are bound by our conscience to rule based on the evidence," Associate Justice Geraldine Faith Econg told reporters hours after the court's issuance of its verdict on Revilla's case.
Those who also voted for Revilla's acquittal were Associate Justices Edgardo Caldona and Georgina Dumpit-Hidalgo.
Associate Justices Efren dela Cruz and Ma. Theresa Dolores Gomez-Estoesta voted for conviction.
In its decision, the majority said "not a single evidence" was presented by the Office of the Ombudsman's prosecution panel to prove that Revilla received rebates, commissions or kickbacks from the allocation of his Priority Development Assistance Fund (PDAF) or pork barrel to bogus non-government organizations of businesswoman Janet Lim-Napoles.
The magistrates who voted to acquit Revilla also gave weight to the recantation of whistle-blowers Marina Sula and Mary Arlene Baltazar. The two testified early this year that Revilla was not aware of the forging of his signatures on various endorsement letters for the release of his PDAF to the Napoles-linked NGOs.
Sula added that it was pork scam star witness Benhur Luy who forged Revilla's signature.
Only Revilla's co-accused, former staff member Richard Cambe, and Napoles were convicted and sentenced to long prison terms.
Justices De La Cruz and Estoesta said their three fellow magistrates should not have given too much weight on Revilla's forgery claim, especially as the prosecution was able to present as evidence Revilla's confirmation letter to the Commission on Audit dated dated July 20,201 attesting to the authenticity of his signature on the endorsement letters.
"On this point, I take exception to the ponente's reliance on Sula's and Baltazar's casual recantation in support of the claim of Revilla that his signature on the endorsement letters was forged, giving an impression that it was Luy who authored the forgery," De La Cruz said.
In his testimony on Aug. 7, Luy maintained that he "did not sign any of the endorsement letters relating to the PDAF of senator Revilla." Luy said he only prepared draft documents that Cambe finalized.
"I find that Luy, the principal witness for the prosecution, is a credible witness and his testimony believable in itself. It is in the details that a fabricated story will crumble in the mouth of a rehearsed witness. But Luy unwaveringly testified to the minutest particulars of the scheme," De La Cruz said.
Ombudsman Samuel Martires reiterated an earlier position that the acquittal would no longer be appealed.
"The policy is based on double jeopardy or the prohibition 'against being twice put in jeopardy.' This doctrine has its roots in Roman law that an 'issue once decided cannot be tried again'," Martires said in a statement.
Ray of hope
With the acquittal of his friend and former fellow senator, Jinggoy Estrada said he believes his own acquittal for the same offense is not far behind.
Estrada, out on bail for plunder, was all smiles as he emerged from the courtroom on Friday, after attending the promulgation of the verdict on Revilla's plunder case by the Sandiganbayan First Division.
"I cannot express the words. Talagang masayang masaya kami at ang kanyang pamilya sa naging hatol sa kanya (We and his family are really happy about the ruling)," Estrada told reporters.
Asked if Revilla's acquittal would boost his chances of getting cleared of his own plunder case also in connection with the pork scam, Estrada said: "I really hope so. But of course, I do not want to pre-empt the decision of the Sandiganbayan."
In a later television interview with CNN Philippines, Estrada revealed his lawyers are planning to file a demurrer to evidence on his plunder case early next year.
"Probably early next year we'll file a demurrer to evidence. If the court will grant the demurrer to evidence then that's already tantamount to acquittal," Estrada said.
A demurrer seeks the dismissal of the case halfway through the trial without having the need for the accused to present his counter-exhibits, supposedly due to weak evidence presented by the prosecution.
Estrada said he hopes that if his camp would be able to file the demurrer by early next year, a decision by the Sandiganbayan would be ready before the start of the campaign season in February 2019.
"I will leave my fate with the Sandiganbayan, but it's a big boost that my friend senator Revilla was acquitted and I hope to follow suit," he said.
Meanwhile, in a motion filed on Dec. 6, Estrada asked the Sandiganbayan Fifth Division to allow him to leave the country for six days or from Dec. 26 to 31 for a vacation with his family in Hong Kong. – With Cecille Suerte-Felipe