Military to recommend another extension of Mindanao martial law
November 13, 2018 | 8:55pm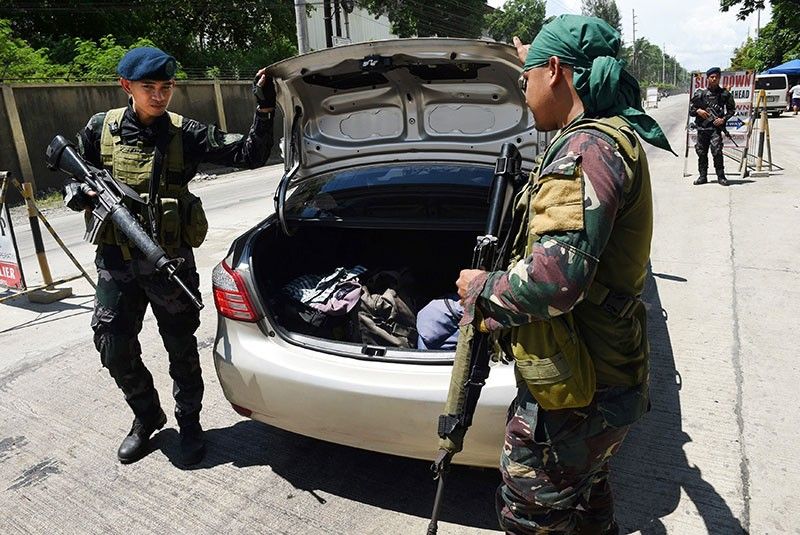 ZAMBOANGA CITY, Philippines — Gen. Carlito Galvez Jr., Armed Forces chief of staff, will recommend that President Rodrigo Duterte again extend martial law in Mindanao.
Galvez, who was in Zamboanga City for a briefing, said most local government officials he had consulted want martial law, meant as a temporary emergency measure, to stay.
He said that based on the assessment of the military's Eastern Mindanao Command, "the LGUs are recommending for the extension because they saw the impact has been very positive in terms of tourism, investments."
He said areas in Eastern Mindanao have been relatively peaceful in terms of attacks by the communist New People's Army. The declaration of martial law in May 2017 was premised on an attack on Marawi City by the Islamic State-inspired Maute Group but the president has since declared the Communist Party of the Philippines and NPA as terrorist groups.
Congress has readily agreed to two extensions of martial law in Mindanao. With supportive supermajorities in both chambers, another extension will likely be approved when the current declaration expires on December 31.
"We were shown the sentiments of the different provincial governors and majority said they wanted martial law stay in the whole of Mindanao," Galvez told media minutes before his security assessment meeting officers of the Western Mindanao Command.
"We will bring this up to the president," Galvez, a former Westmincom chief, said.
Galvez said he is also expecting similar feedback from the LGUs in Western Mindanao.
The AFP chief said last week he would meet with the Department of Interior and Local Government and Department of National Defense on the sentiments local executives from Lanao del Norte, Lanao del Sur, and Maguindanao, who he said also support continued martial law.
"Yes, we will recommend it," Galvez said, referring to the expected extension. The Philippine National Police has already said it will support another extension.
Human rights concerns
Business groups and chambers of commerce were quick to welcome the declaration of martial law in 2017, saying the checkpoints and curfews would lead to a better environment for commerce and investment.
The experience of martial law has not been the same across Mindanao, the Philippines' second-largest island after Luzon, although measures like curfews and "No ID, No Entry" policies are common.
Parts of Mindanao where rebel groups and terrorists operate had been militarized long before martial law was declared.
Rights groups claim to have documented cases of abuses and extrajudicial killings since the declaration in May 2017.
In September, lawmakers at the House of Representatives called for an inquiry into the deaths of seven young men in Patikul, Sulu whom the military said were Abu Sayyaf militants but a local activist group said were "husbands of Pantawid Pamilya beneficiaries in Patikul who were shot" while picking fruits that they had asked for permission to harvest.
RELATED: How martial law is being implemented in Mindanao's cities
'Extension needed because of NPA, terrorists'
The AFP chief maintained that the reason of extending martial law is the persistent threat of terrorism and the NPA.
He said martial law has also diminished the terrorist threat, citing the near collapse of the Anzar Khalifa Philippines, a local terror faction allied with the Islamic State of Iraq and Syria.
He also said 11,333 NPA rebels have surrendered in Mindanao. He said 786 of those who have surrendered were regular armed members.
Galvez said the Eastmincom has also recovered more than 1,000 firearms from the rebels. He said that is progress continues "by the mid of 2019 our gains will be irreversible gains against the CPP-NPA."