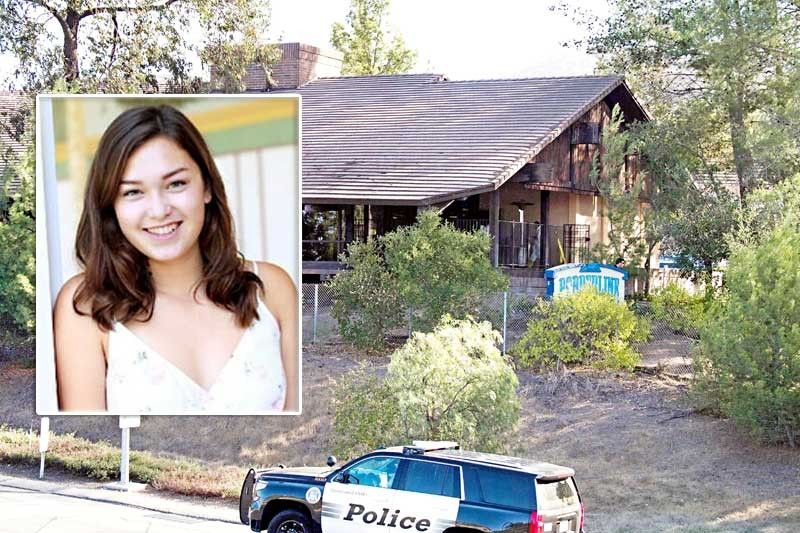 A police car is seen near the scene of a mass shooting at the Borderline Bar & Grill in Thousand Oaks, California on Nov. 8. Inset photo shows Filipino-American Alaina Housley, an 18-year-old freshman at Pepperdine University, who was among those killed. AFP
AFP
Fil-Am student among dead in California bar shooting
Helen Flores
(The Philippine Star) - November 10, 2018 - 12:00am
MANILA, Philippines — An 18-year-old Filipina-American was among those killed in a mass shooting in Thousand Oaks, California last Wednesday, her relatives, Malacañang and the Department of Foreign Affairs (DFA) confirmed yesterday.
"I love you. I love you. I love you. You are gonna make one gorgeous angel. My heart and prayers are with every victim of this tragedy," American actress Tamera Mowry-Housley wrote on Instagram to mourn the death of her niece Alaina Housley during the incident at the Borderline Bar & Grill.
Tamera, star of American television sitcom Sister Sister and her husband, Adam Housley, said their "hearts are broken" with the death of Alaina.
Adam, a former Fox News correspondent, also posted on Twitter a statement released by Alaina's parents, Arik and Hannah, who noted that "words can't describe our grief over losing our daughter."
"She (Alaina) was everything we could hope for in a child – kind, smart, beautiful and respectful," the victim's parents said.
"She continued the family's tradition of attending Pepperdine University. She was so happy to be a Wave. We are grateful to the Pepperdine community for their support during this difficult time," they added.
Alaina's parents said they would honor their daughter by focusing on how she lived her life.
"She would have enjoyed the public debate that is certain to happen after this tragedy. But she would have insisted that it be respectful with an eye toward solving these senseless shootings," the parents said.
Heartbreaking
Adam and Tamera described Alaina as "an incredible young woman with so much life ahead of her" and that they were "devastated that her life was cut short in this manner."
Tamera posted on Instagram: "Alaina. My sweet, sweet Alaina. My heart breaks. I'm still in disbelief. It's not fair how you were taken and how soon you were taken from us. I was blessed to know you ever since you were 5. You stole my heart. I will miss our inside jokes, us serenading at the piano. Thank you for being patient with me learning how to braid your hair, and I will never forget our duet singing the national anthem at Napa's soccer game."
A suitemate of Alaina at Pepperdine University said on Twitter earlier Thursday that Housely was among a group of women who went dancing at the bar and had not returned.
Alaina's parents also expressed their sympathies to the family and friends of the other victims and thanked the family of Sgt. Ron Helus of the California Sheriff's office for their sacrifice.
Helus was killed when he confronted the gunman identified by authorities as Ian David Long, 28. He served in the Marine Corps from 2008 to 2013.
Long reportedly shot himself after the massacre. – With Charmie Joy Pagulong, Christina Mendez