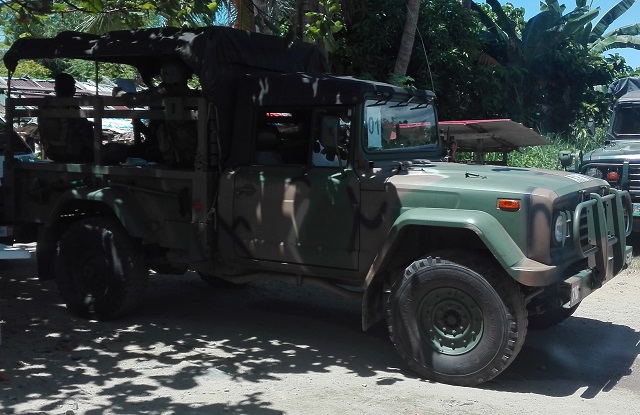 A Philippine Army KM-450 utility truck. Philstar.com/Jonathan de Santos, file
Karapatan: Women nabbed in Nueva Ecija are activists, not NPA
BAGUIO CITY, Philippines — Human rights group Karapatan said Monday that four women detained in Nueva Ecija on Sunday afternoon are peasant advocates, not communist rebels.
The group also said the four may have been tortured, according to relatives who have been allowed to visit the women.
The 7th Infantry Division said soldiers and police caught the four women conducting communist propaganda and pressuring villagers to shell out money for the underground movement.
Personnel sent to verify reports of guerrilla presence in Rizal, Nueva Ecija allegedly found two women NPA guerillas recruiting residents.
One of them was reportedly caught with a rifle and two other female rebels were caught with firearms, various ammunitions, explosives and Improvised Explosive Devices as they were coming out of a nearby hut.
The military identified the women as Yolanda Diamsay, alias "Ka Mariz"; Eulalia Pangkaliwangan Ladesma; Rachel Acana Galario, alias "Ka Rose"; and Elaine Edzel Amocling, alias "Ka George".
Lt. Col. Julio Osias, spokesman of the 7th ID, said troops recovered a 9mm sub machine gun, bullets, hand grenades, IEDs, gadgets and accessories, and "subversive documents" during the operation.
'Women beaten in custody'
Karapatan however protested that the four women peasant advocates were illegally arrested insisting that (Diamsay) Ortiz, 46, and Ladesma, 44, are members of Anakpawis and Gabriela Women's party-list respectively while Emocling, 23, and Galario, 20, are both youth activists and peasant advocates.
Ortiz and Ladesma were badly beaten by their captors, with visible bruises on their faces, Karapatan also claimed.
Karapatan paralegals claimed they were not allowed access to the four women.
Ladesma's daughter, meanwhile, said her mother told her she was grabbed by her hair and forced to the ground when police Criminal Investigation and Detection Group nabbed her. She was allegedly kicked while her hands were tied to make her admit to being "Ka Mariz."
Ladesma's daughter also told Karapatan she saw Ortiz with a bruised face and strangulation marks on her neck.
"Karapatan strongly condemns the illegal arrest, detention, and torture undergone by the four women human rights defenders in Nueva Ecija. This is indefensible. This is precisely what happens when you have security forces that have no respect for human rights. This is the kind of police and military that we have – uniformed men with no integrity and not the slightest respect for women and their rights," Karapatan Secretary General Cristina Palabay said.
She said abuses are being "justified under the blanket label of 'terrorist', 'NPA sympathizers', or 'enemies of the State'."