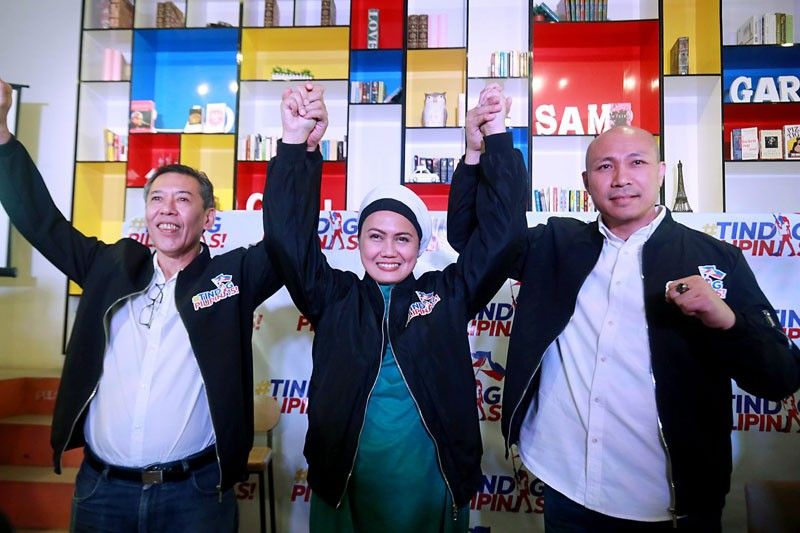 Human rights lawyer Jose 'Chel' Diokno, Bangsamoro leader Samira Gutoc-Tomawis and Magdalo Rep. Gary Alejano are endorsed by the opposition Tindig Pilipinas in its senatorial ticket at a press conference in Quezon City yesterday.
Michael Varcas
Tindig Pilipinas rallies opposition candidates
MANILA, Philippines — Cause-oriented group Tindig Pilipinas officially endorsed yesterday three senatorial bets from the opposition: Magdalo party-list Rep. Gary Alejano, human rights lawyer Jose Manuel Diokno and Marawi civic leader Samira Gutoc-Tomawis.
"We have chosen Samira 'Sam' Gutoc-Tomawis, Jose 'Chel' Diokno and Gary Alejano after a long process of assessment and discernment. We have full faith in their probity," Tindig Pilipinas said in a statement.
Former presidential spokesman Edwin Lacierda said the group will also endorse reelectionist Sen. Paolo Benigno "Bam" Aquino IV and former Quezon representative Lorenzo "Erin" Tañada, stalwart of the opposition Liberal Party.
Former solicitor general Florin Hilbay also announced his decision to run for the Senate.
On Twitter, Hilbay said he will run for the Senate as a response to the challenge to serve the nation and continue the fight for democracy.
"It is simple: we fight for what is right," Hilbay said in Filipino. "This principle is the strongest foundation to protect and further welfare of the people."
Gutoc, for her part, thanked the organization for its support and belief that she can become the first Maranao senator of the country.
"For today, Tindig is believing that I can be the first Maranao woman senator… (An) indigenous person who could gather as much as 15 million votes that could be heard from any remote area in the Philippines," Gutoc said.
Gutoc was the first opposition candidate to file a certificate of candidacy (COC) on Thursday.
Diokno, for his part, reiterated his commitment to fight for rule of law and democracy in the country.
Diokno, who will be running under the opposition Liberal Party, said he will file his COC early next week.
As the opposition gears up for the elections next year, trolls are stepping up their game against some of them.
Facebook in particular has been rife with fake articles and quotes of Sen. Bam Aquino, which were clearly meant to deceive the public with its use of the names and logos of popular news organizations.
Many of the news organizations have already called out the posts as fake.
"A huge percentage or around 80 percent of the fake news that Filipinos are seeing are probably about me," Aquino said in a statement.
Aquino said he would remain focused on his work in spite of these efforts to discredit him.
The cousin of former president Benigno Aquino III is among opposition members barely landing in the top 12 of a Social Weather Stations survey on senatorial candidates.