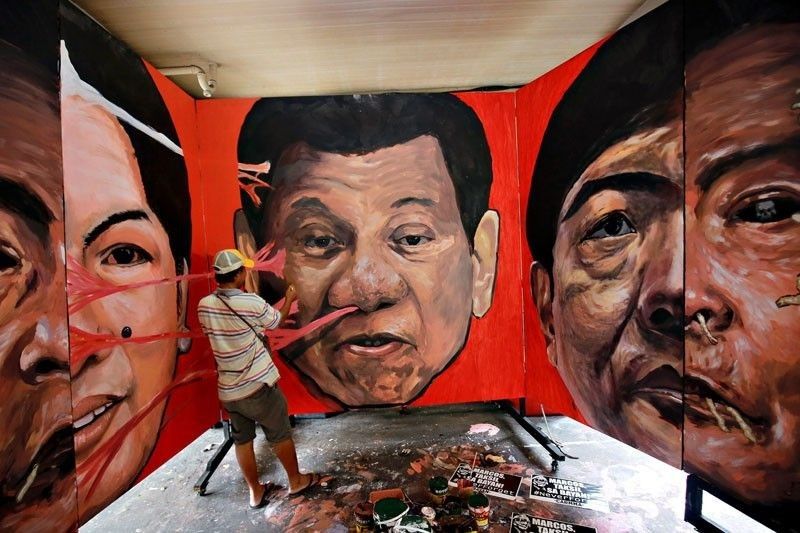 An artist puts finishing touches on panels featuring the images of President Duterte, the late strongman Ferdinand Marcos, Speaker Gloria Macapagal-Arroyo and former senator Ferdinand Marcos Jr. yesterday. The artwork will be used for a rally to mark the 46th anniversary of martial law today.
The STAR/Michael Varcas
Martial Law 46th anniversary met with protest rallies
(Philstar.com) - September 21, 2018 - 7:05pm
MANILA, Philippines — Protesters flocked to Luneta Park on Friday afternoon as mass demonstrations were held to commemorate the declaration of martial law.
Ousted dictator Ferdinand Marcos Sr. appeared on television on September 23, 1972 to announce that the entire Philippines is placed under martial law, following Proclamation 1081. The document however was signed on September 21.
At past 4:00 p.m. protesters coming from different points converged at the Luneta Park for the United People's Action against Dictatorship.
Here are some of the photos taken from Mendiola on Friday morning: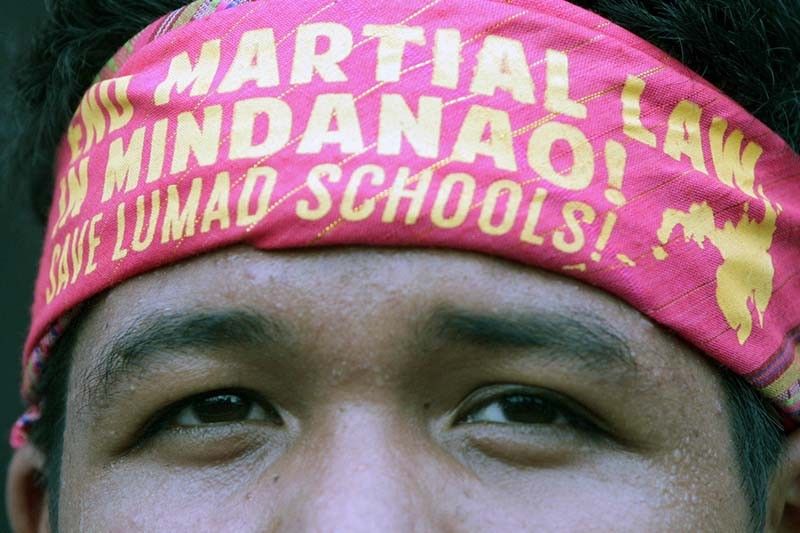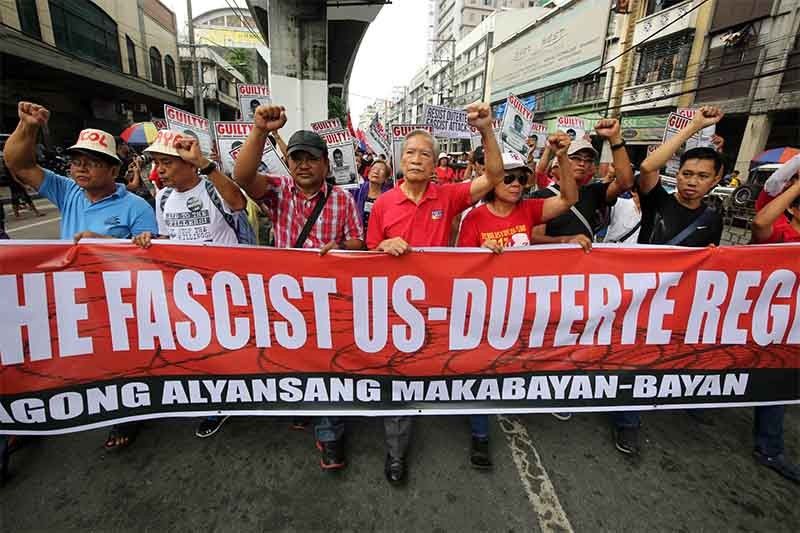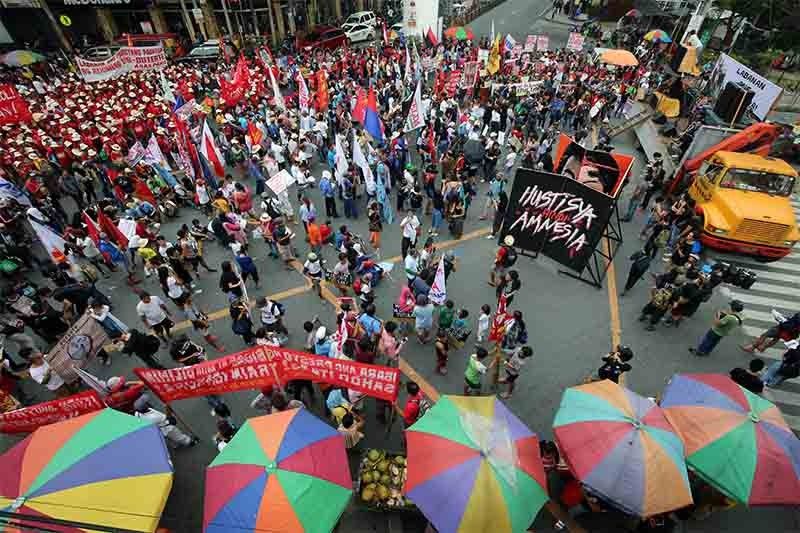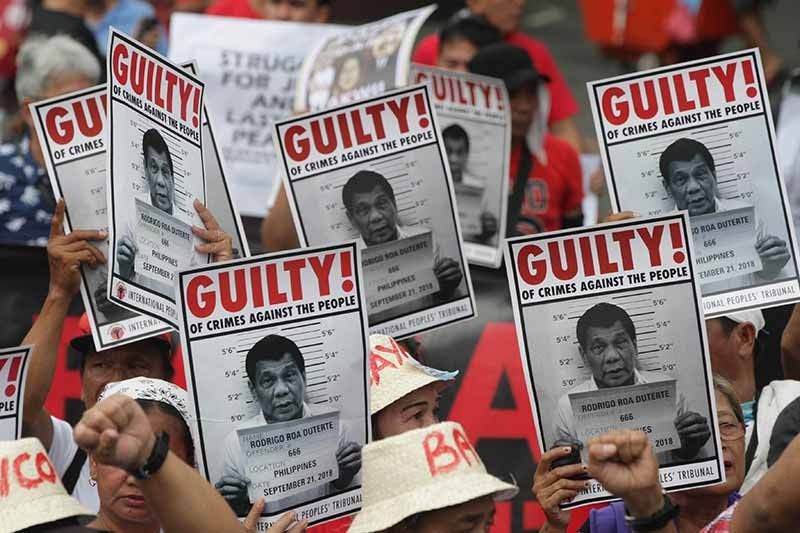 <
>
Liberal Party attends Mass for Peace
Members of the Liberal Party, including Vice President Leni Robredo and former President Benigno Aquino III attended a Mass for Peace at the De La Salle University.
In her message, Robredo said that under martial law "blood was spilled and institutions fell."
"We will never let the many lives laid down and sacrifices it brought to our nation be forgotten," she added.
The mass was attended by over a thousand, the STAR reported.
Over a thousand attend today's Mass for Peace at De La Salle University in Manila to mark the 46th anniversary of martial law declaration. pic.twitter.com/PQ7W3FkW2A

— The Philippine Star (@PhilippineStar) September 21, 2018
Sen. Paolo Benigno "Bam" Aquino IV said that martial law was marked by hunger and poverty. "Now that the nightmares of the past are happening again, it is time to wake up to the truth that martial law will never be the answer to the country's problems," he added.
University rallies
On the eve of martial law commemoration, Ateneo de Manila University and De La Salle University presidents issued a joint statement urging students and the academic community to dig deeper into the history of martial law under ousted dictator Ferdinand Marcos at a time when some are "creatively" distorting it.
A signing of the Memorandum of Understanding between the University of the Philippines and Human Rights Violations Victims' Memorial Commission was also held at UP Palma Hall in the morning. The memorandum made UP the home for a planned memorial for victims of human rights violations under the regime of ousted dictator Ferdinand Marcos.
Students also held protests in different universities on Friday.
Hindi kailanman makalilimot ang buong komunidad ng Unibersidad ng Pilipinas sa lahat ng karahasan noong Batas Militar. Muling saksi ang AS Steps sa patuloy na pagtindig ng mga estudyante, kaguruan, at ng buong UP laban sa diktadura. #NeverAgain #NeverForget #NoToMartialLaw pic.twitter.com/rJlr9eMJZW

— Rebel Kulê (@phkule) September 21, 2018
NOW: Martial Law Commemoration Program in UPLB at the Carabao Park #NeverAgainToMartialLaw #NeverAgain pic.twitter.com/6JRZe30VXM

— UPLB Perspective (@uplbperspective) September 21, 2018
LOOK: Thomasians, UST Simbahayan staff arrive at the Rizal Park to join the mass protest this afternoon on the 46th anniversary of Martial Law declaration. pic.twitter.com/W4yrhNA3xv

— The Varsitarian (@varsitarianust) September 21, 2018
Pro-Duterte groups picket
Earlier on Friday, members of Die-hard Duterte Supporters also gathered in Luneta on muddy grounds, reported by News 5.
They were clad in red and held their program.
Die-hard Duterte Supporters (DDS) gather in Luneta and hold their own program despite heat of the sun and muddy grounds from the rain earlier also in time for #MartialLaw46 @News5AKSYON pic.twitter.com/DAInHZwCCq

— Pat Mangune TV5 (@PatMangune) September 21, 2018
WATCH: Pro-Duterte groups picket at Quirino Grandstand in Manila on Friday to show support for the President. (Video by Ernie Panaredondo/The Philippine STAR) pic.twitter.com/b57ppSTrFA

— The Philippine Star (@PhilippineStar) September 21, 2018
Meanwhile, former Sen. Ferdinand "Bongbong" Marcos Jr., son of the late dictator, released a video with former Sen. Juan Ponce Enrile to put forth a narrative that attempted to clean the Marcos patriarch's name.
Enrile was Defense minister to President Marcos but withdrew support for him in 1986, prompting a standoff that led to the People Power Revolution.
Enrile's claims have been debunked by documented history.
READ: Fact-checking Enrile's tete-a-tete with Bongbong Marcos
— Kristine Joy Patag