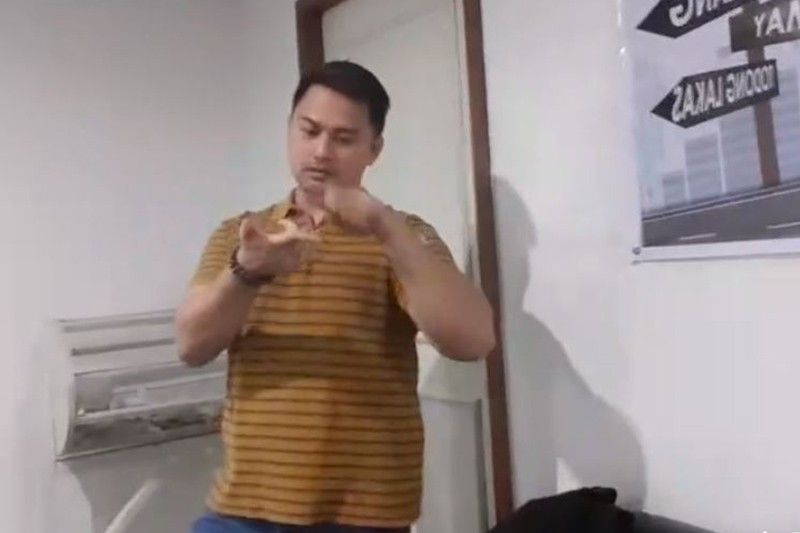 In a video posted on Uson's Facebook page, Olivar, imitating a deaf and speech-impaired person, could be seen doing a comical version of sign language.
Screenshot of Mocha Uson Blog's video
Why imitating sign language as a joke is wrong and unfunny
MANILA, Philippines (Updated 3:33 p.m.) — A new video of Presidential Communications Assistant Secretary Mocha Uson and blogger Drew Olivar using sign language as a joke disrespects and insults individuals with speech and hearing impairments.
Advocates of an inclusive society stressed this point, noting that no one—not even a government official—should make fun of persons with disabilities.
"It is disrespectful to the sizeable deaf/mute community who already struggle in airing their concerns and aspirations," Sen. Nancy Binay, author of a Senate bill to adopt Filipino Sign Language as an official language of instruction and communication in the Philippines, said.
"Such discriminatory actions set back our efforts to make our society more inclusive by providing a more conducive environment for deaf Filipinos to exercise their right to expression without prejudice," she also said.
"I wish to remind Asec. Mocha that as a public official, it is paramount that she refrain from mocking the people she serves."
The University of the Philippines-Diliman College of Education Student Council said it is not acceptable for anyone to use the sign language of the deaf community for fun or entertainment.
"It is blatantly disrespectful and is an outright form of discrimination to the culture and to the culture and to the members of the deaf community," it said. The UP College of Education in Diliman offers a Special Education program.
In a video posted on Uson's Facebook page, Olivar, imitating a deaf and speech-impaired person, could be seen doing a comical version of sign language. Uson could be heard laughing off camera.
Uson then remarked, "Para kang unggoy dyan (You're like a monkey there)."
The United Nations Convention on the Rights of PWDs declared sign language as a human right of deaf people. Sign language is an official language and an official form of communications used by deaf communities all over the world, with variations.
The same UN convention obligates nations to "promote, protect, and ensure the full and equal enjoyment of all human rights and fundamental freedoms of persons with disabilities" as well as "eliminating all forms of discrimination in all public interactions and transactions, thereby ensuring their full and effective participation and inclusion in society."
The Senate and the House have passed bills to recognize Filipino Sign Language as the official mode of instruction for deaf learners and of communication with deaf persons.
The adoption of FSL is meant to "ensure that deaf and hard of hearing Filipinos enjoy their equal human, legal, linguistic, and cultural rights," Sen. Binay said in the explanatory note to Senate Bill 1455.
Republic Act 9442
There is a law that prohibits ridicule, both verbal and non-verbal, against persons with disabilities, which can intimidate them or make them lose their self-esteem.
The law is Republic Act 9442, which amends an earlier enacted Magna Carta for Disabled Persons.
Section 39 of the said law defines public ridicule as "making fun or contemptuous imitating or making mockery of persons with disability whether in writing, or in words, or in action" because of their impairment.
"Section 39 of RA 9442 must be applied. We believe that even those working for the government and the few under the protection of officials must answer to the law," advocacy group PWD Philippines said in Filipino.
'Fire Mocha'
The UP College of Education Student Council said that Uson should issue a public apology.
"Such seat in the government should not be carelessly given to people who do not take precedence and give value to the importance of a community's language and culture," it said.
The student council also called on the administration to make the two—supporters of President Rodrigo Duterte—accountable and be imposed with appropriate sanctions.
Olivar is not a government official and it is unclear what business he has in Malacañang, the official workplace and residence of the president of the Republic of the Philippines.
"We cannot let government officials, who are supposed to protect and advance the rights of his or her constituents, regress our fight toward acceptance, equality and inclusion," it said.
The UP College of Education Student Council added: "How do we like our Mocha? Fired!"
Uson and Olivar earlier drew flak for the "pepederalismo" video, which critics and even allies of the president said maligned the cause of federalism.