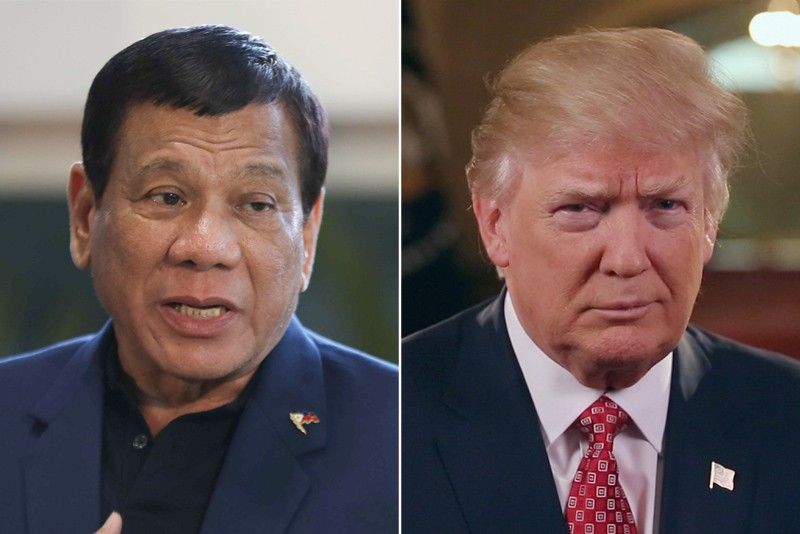 President Rodrigo Duterte did not explain how the US trade policy affected Philippine prices. He made the statement after the US slapped tariffs on several Chinese goods because of the alleged intellectual property violations of China, a major trading partner of the Philippines.
File photo
Fact check: Is Trump to blame for spiraling Philippine inflation?
(Philstar.com) - September 8, 2018 - 7:49pm
MANILA, Philippines — President Rodrigo Duterte on Saturday insisted that US President Donald Trump's protectionist trade policies stoked Philippine inflation, which hit a nine-year high in August.
Facing public backlash, Duterte — who rarely talks about the economy — even stressed that no president was spared from inflation.
"When America raised [tariff] rates [imposed on Chinese goods] and interest rates, everything went up," Duterte explained.
Duterte's claim, however, contradicts the Bangko Sentral ng Pilipinas' view.
Moreover, Duterte's finance chief, Carlos Dominguez III, has said that the Philippines is "sort of insulated" from the trade war that Trump ignited.
What data, BSP say
Inflation rose for the eighth consecutive month to 6.4 percent in August, the fastest pace since the 6.6 percent posted in March 2009.
The August print exceeded July's 5.7 percent and topped the BSP's worst case scenario estimate for the month. In the first eight months, inflation averaged 4.8 percent, well above the central bank's 2-4 percent target range for the year.
Broken down, prices of food and non-alcoholic beverages surged 8.5 percent while transport costs spiked 7.8 percent last month.
In a statement, BSP Governor Nestor Espenilla Jr. said the faster-than-expected inflation was mainly due to "food supply shocks," particularly in the rice market, that cannot be mitigated by adjusting the central bank's benchmark rates.
Espenilla added that elevated oil prices, a weakening peso and "strong" domestic demand fueled inflation last month.
"An unfortunate confluence of cost-push factors continue to drive consumer price inflation in August beyond the acceptable target range," Espenilla said. "These warrant more decisive non-monetary measures to fully address."
The BSP has raised its policy rates by a cumulative 100 basis points from May to August to discourage bank lending and cool down consumer demand that could have pushed up inflation.
According to government data, average retail prices of regular-milled rice rose 12.76 percent, while that of well-milled rice went up 9.89 percent. Both were the fastest annual increases for the year.
Aside from dwindling rice supply, global oil prices have risen this year, translating to higher local pump prices. As of August 28, energy data showed gasoline prices rose P6.90 per liter, while that of diesel increased P7.15 per liter.
source:
tradingeconomics.com
Higher fuel prices pushed power distributor Manila Electric Co. (Meralco), the largest in the country, to jack up power rates by 0.0265 per kilowatt hour in August.
The country's economic managers on Wednesday presented a list of planned reforms that they said could immediately cool down runaway inflation if implemented this month. — With Ian Nicolas Cigaral