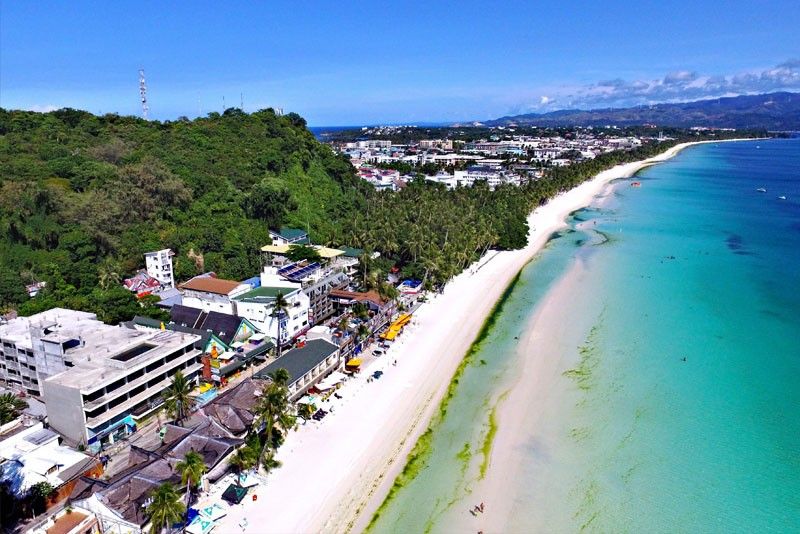 File photo shows establishments along Boracay's White Beach during the period of the island's clean-up and rehabilitation. The Department of Tourism has released a list of accommodations that have complied with the government's permits and clearances. The government is set to conduct a dry run of Boracay's reopening from Oct. 15 to 25 to assess what needs to be done before the island is opened again for tourists on Oct. 26.
Walter Bollozos
25 Boracay hotels, resorts get DOT nod
MANILA, Philippines — Anticipating the Oct. 26 re-opening of resort island Boracay, the Department of Tourism (DOT) has released an initial list of 25 accommodation establishments with a total of 2,063 rooms that are certified compliant with the requirements of the Boracay inter-agency task force and can begin operations when the island begins receiving visitors next month.
The compliant establishments and the number of their rooms are: Luana Hotel/Hue Hotel (122); Astoria Current (156); Boracay Mandarin Island Hotel (52); Boracay Haven Resort (63); Boracay Haven Suites (63); Casa Pilar Beach Resort (82); Boracay Holidays Beach Resort (76); El Centro Beach Resort (44); De Paris Beach Resort (16); Best Western Boracay Tropics (64); Surfside Boracay Resort and Spa (14);
Fairways and Bluewater Beach Resort (700); Discovery Shores (87); The Lazy Dog (26); Red Coconut Beach Hotel (50); Starfire Resort (9); Canyon de Boracay (31); AV Seven Resort (7); Azalea Apartment Hotel (284); Reef Retreat Resort (12); Nigi-nigi Nu Noos'E Nunu Noos Beach (37); The Club Ten Beach Resort Boracay (21); Ferra Hotel (37); Den Pasar Beach Resort (4); and Blue Coral Beach Resort (6).
Tourism Secretary Bernadette Romulo-Puyat said the rehabilitation of the island will go beyond the soft opening date of Oct. 26.
"Despite the soft opening, the government's efforts to rehabilitate (Boracay) shall continue as we rehabilitate the island in stages," Puyat said during her keynote address at this year's Philippine Travel Exchange.
Puyat said completion of the first phase of rehabilitation will be in October, the second phase by the middle of next year and third phase by the end of 2019.
"This is to make sure that all tourism establishments and service providers are compliant with the standards set by the government and that all necessary infrastructure and facilities are in place," Puyat said.
The inter-agency task force earlier said it will be holding a dry run or partial opening of the island from Oct. 16 to 25, to be ready for its full reopening.
"(The dry run) will allow us to assess what else needs to be done before the island is reopened to all tourists, both domestic and foreign, on Oct. 26," Environment Secretary Roy Cimatu said.
Cimatu added that during the dry run, only Filipino tourists will be allowed to enter Boracay, with the locals as priority.
The public is advised to wait for the DOT announcement on what hotels will be opened as only 1,000 hotel rooms will be available on the first day of the dry run, he said.
As this developed, a Department and Natural Resources (DENR) official yesterday said the government has yet to come up with a specific number of tourists that will be allowed to stay in Boracay when it reopens.
DENR undersecretary and deputy spokesman Benny Antiporda said concerned agencies will determine a carrying capacity for the island.
Antiporda made the clarification in response to a news report that the number of tourists will be limited to 19,000.
"The carrying capacity could still either be up or down," he said. – With Robertzon Ramirez, Emmanuel Tupas