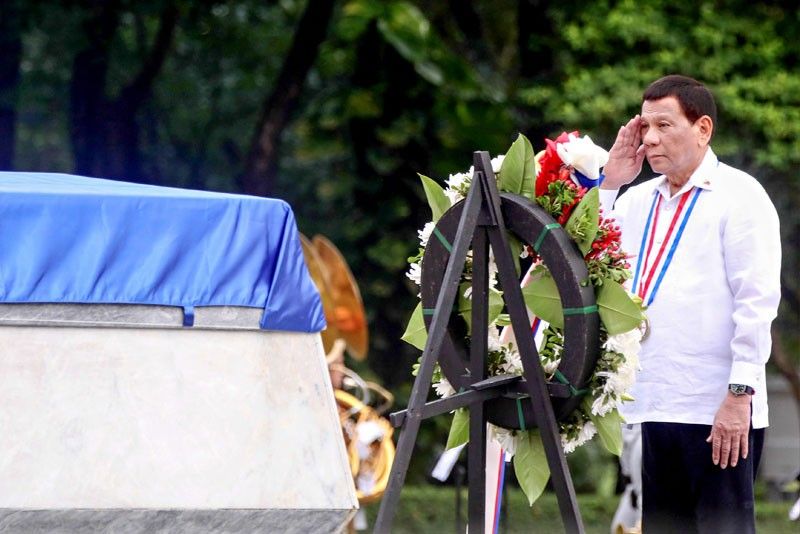 President Duterte salutes the Tomb of the Unknown Soldier at a wreath-laying ceremony during the National Heroes' Day commemoration at the Libingan ng mga Bayani in Taguig yesterday.
Krizjohn Rosales
Retiring police, military officials joining Duterte in Israel trip
MANILA, Philippines — Retiring soldiers and policemen will accompany President Duterte in his visit to Israel next month as a "reward" for their service.
Duterte revealed the travel perks for the retiring military and police officials as he sought to clarify reports he was going to Israel for health reasons.
"I would be going there with some of the retiring military and police officers. Marami kami (There are many of us). That is my gift to them for serving the country well," the President told reporters yesterday after the National Heroes Day rites at the Libingan ng mga Bayani. "We will practice shooting there at Sinai."
Duterte said he would be visiting Israel to look into the conditions of about 28,000 Filipinos in the Jewish state.
"It's getting hotter there. And also on the Lebanese front, there is something brewing. And in Jordan, we have 48,000 Filipinos. That's why I am bringing (special envoy for overseas Filipino worker refugees Roy) Cimatu to prepare for that eventuality and just in case war breaks out there," the President said.
Last Saturday, Magdalo party-list Rep. Gary Alejano tweeted that Duterte's visit to Israel is related to the President's health and not about Filipino migrant workers.
Presidential spokesman Harry Roque has insisted that Duterte is healthy and dismissed Alejano's claim as a "misinformation in aid of election." The lawmaker has bared plans to seek a Senate seat next year.
The 73-year-old Duterte has admitted being in "perpetual pain" because of a motorcycle mishap years ago but stressed that he has no serious ailment. Duterte said in jest that it would be better if he undergoes surgery in Israel.
"If they operate on my brain there, the better. There will be no more problems," he said in Filipino. "And then I can have my stomach open, my chest open and my brain."
When reminded that his statements could create the impression that he is sick, Duterte lashed back at Alejano.
"I will have my stool collected and reserve it for him," Duterte said.
"Sa awa ng Diyos po kaya ko pang umibig (By God's grace I can still fall in love)," he added.
Duterte's aide Christopher Go said Duterte would visit Israel because the Jewish state can help the Philippines in its campaign against terrorism.
"If they (critics) do not stop, Israel has the capability to examine their brains and see if it has ailments," he told radio station dzRB.
Meanwhile, another Duterte critic, Sen. Antonio Trillanes IV, challenged the President to an IQ test "just to settle the matter."
"Give him plus 10 (points) and if his score is higher, I'll resign as a senator," Trillanes said in a statement.
"He's the one who can't find solutions to the problems of the country because he himself admits he has a weak brain," he said.
Trillanes made the remarks when asked about Duterte's comment that the senator has a low IQ.
The President made the comment after he was asked about criticisms on his appointment of Chief Justice Teresita Leonardo-de Castro. Trillanes had not yet issued a statement on De Castro's appointment when Duterte made fun of the senator's IQ.
"They have nothing to show for their time there except to blabber their mouth. You have (Eli) Pamatong, you'd be surprised why he was able to survive UP (University of the Philippines)," the President said. – Paolo Romero