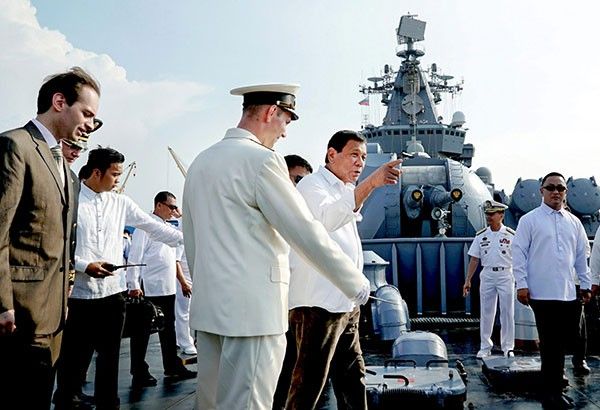 In this April 21 photo, President Rodrigo Duterte is given a tour of the Russian guided missile cruiser "Varyag" that arrived in Manila yesterday for a four-day goodwill visit.
File
Philippine Navy ship to make port call in Russia
(Philstar.com) - August 10, 2018 - 4:07pm
MANILA, Philipines — For the first time, the Philippine Navy will deploy a ship to Russia for a port visit, Defense Secretary Delfin Lorenzana confirmed Thursday.
The scheduled port call in Vladivostok, Russia will serve as reciprocation for the visits of Russian warships in the Philippines last year, state-run Philippines News Agency reported.
"We just like to reciprocate their visit here. Their nearest port from here is Vladivostok," Lorenzana said in Filipino.
In July, the Russian Navy expressed its commitment to the Philippine Navy to continue supporting its upgrade programs in terms of training, maintenance and sustainment of future acquisition.
This commitment was made when Vice Adm. Robert Empedrad, Philippine Navy flag-officer-in-command, met with Adm. Vladimir Ivanovich Korolev, Russian Navy head, met last month.
Empedrad, along with the Philippine delegation, went to Russia to unserscore Manila's commitment for increased interaction with other navies. During the visit, the two navies also discussed a draft memorandum of understanding for deepening security cooperation.
Philippines might buy Russian submarines
Lorenzana also confirmed that Russia has expressed its willingness to provide the Philippines "soft loans," or loans with no interest or below market rate of interest, to acquire submarines.
"If we don't have the money, Russia will lend us soft loans," Lorenzana said, noting that the Philippines does not have funds to buy its first submarine.
According to Lorenzana, Moscow has offered to sell its Kilo-class diesel-electric submarines, which can be armed with torpedoes and missiles.
This type of submarine weighs 2,350 tons, has a length of 73.8 meters and has speed up to 17 to 20 knots. It also has cruising range of around 6,000 to 7,500 nautical miles.
The Philippines is still looking at other possible suppliers for in Europe, such as France, which may be finalized within the next year.
"Maybe within the year, maybe within the next 12 months. Maybe we could finalize this. If this is approved, it will take them four years to make it, so it could be delivered when the term of President (Rodrigo Duterte) already ended," Lorenzana said.
Lorenzana earlier said that the country's defense could be considered incomplete without submarines given that it is an island nation.
An active submarine force would also boost the morale of the Armed Forces of the Philippines and would serve as deterrent for possible aggresors, Lorenzana said.
Among the Philippines' Southeast Asian neighbors, Vietnam is operating six Kilo-class submarines on its fleet. These are the same type of submarines that Russia is selling to the country.
The acquisition of submarines would be part of Horizon Three of the military's modernization which is scheduled to run from 2023 to 2028. — Patricia Lourdes Viray