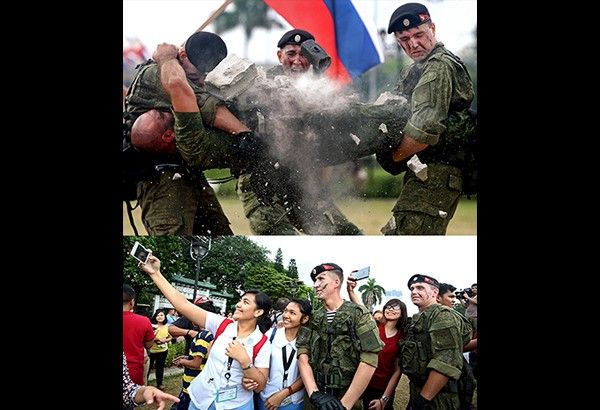 Russian marines attached to the visiting anti-submarine ship Admiral Tributs show their strength and skills using hollow blocks and a sledgehammer during a demonstration in Rizal Park in Manila yesterday. Lower photo shows students taking selfies with the visitors.
MIGUEL DE GUZMAN
Palace: Russian warship visit to boost Manila-Moscow ties
MANILA, Philippines – While the visit of two Russian warships will boost bilateral ties between the Philippines and Russia, the Palace recognized yesterday the need for a formal agreement before the two countries' military forces can engage in joint training and exercises.
Presidential spokesman Ernesto Abella issued the clarification as he revealed that President Duterte was open to joint military exercises with Moscow.
After almost a week on vacation, Duterte is expected to visit today the Russian anti-submarine vessel Admiral Tributs docked at the South Harbor. With Tributs is sea tanker Boris Botuma.
Abella said Duterte has shown keen interest in bolstering ties with Russia. The Chief Executive has also voiced his desire for military cooperation with China.
"The President has said before that he is open to joint military exercises with Russia. The goodwill visit by the Russian navy will contribute to the strengthening of friendship with the Philippine Navy," Abella said in a Palace briefing.
The Palace's statement came a day after the United States downplayed a flourishing military cooperation between Manila and Moscow.
"It is also an indication that our maritime cooperation can further be enhanced to enable diplomacy and camaraderie," the President's spokesman added.
Quoting Defense Secretary Delfin Lorenzana, Abella explained any training or maneuver arrangement with another country requires a legal document such as a Memorandum of Understanding (MOU).
Asked about Duterte's earlier statement that he did not want any foreign troops in the country, Abella said what the President meant was he was against permanent presence of foreign troops.
Lorenzana visited Moscow last month and discussed with Russian Deputy Defense Minister Anatoly Antonov expanding Philippines-Russia defense cooperation.
Russian help
Russian Ambassador Igor Khovaev, for his part, said his country is ready to help the Philippines address the threats of terrorism, piracy and illegal drugs.
He said Russia's "enhancing cooperation with the Philippines is of strategic importance to us" and that his government understands the threat and security challenges in Mindanao.
"Russia also suffered a lot from terrorism, so we know very well what these threats mean, not theoretically, but in practical terms, and we have a lot of experience in this field, both negative and positive," Khovaev told reporters.
"In many cases, the negative experience may be more useful than the positive one, and we are ready to share our experience with the Philippines," he said.
He also said Russia is ready to provide arms to the Philippines. "We need a wish list from our Filipino partners. Russia is ready to become a new reliable partner and close friend of the Philippines," he added.
He also stressed the need for the Philippines to diversify its choice of foreign partners.
"Diversification of partners doesn't mean choosing between old and new but having good relations with many," he said.
Meanwhile, the Armed Forces of the Philippines (AFP) clarified there would be no joint exercises with the Russian navy and that what was being readied was just a send-off ceremony dubbed as passing exercises or PASSEX.
Col. Edgard Arevalo, AFP spokesman, said that PASSEX is a long-revered naval tradition accorded to visiting warships.
"Passing Exercise is a naval term which is just a traditional navy ceremony rendered to visiting foreign navy ships to our country. They are being welcomed upon their arrival and they are being sent off upon their departure," Arevalo said.
BRP Rajah Humabon (FF11) welcomed the two Russian naval vessels upon their arrival at Manila Bay. It has also been designated to render the PASSEX for the departing Russian warships tomorrow. – With Pia Lee-Brago, Jaime Laude