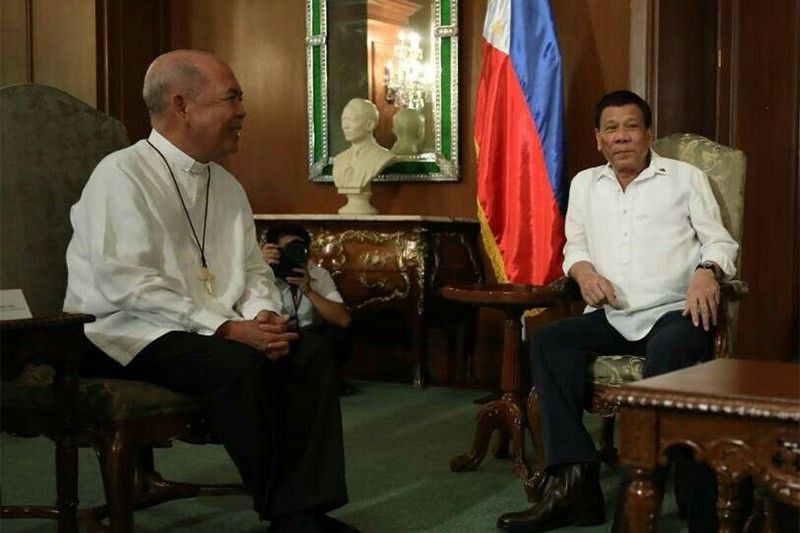 President Rodrigo Duterte and CBCP President Romulo Valles had a private meeting in Malacañang on Monday, July 9, 2018.
Presidential Photo
Duterte attacks church again, this time over money donations
(Philstar.com) - July 26, 2018 - 9:16pm
MANILA, Philippines — President Rodrigo Duterte has resumed his tirades against religious groups in his first speech after his third State of the Nation Address as he questioned what he described as "taxation" imposed by the church on its followers.
Duterte questioned the giving of money to religious groups, a practice that he said is being implemented even if the Philippines is a poor country.
"The fact that Mother Earth has reached 4.5 billion years old, it seems that my God watches over us. I don't know about the God of the others. My God does not need money," the president said during the Asia Pacific Healthy Islands Conference in Davao City Wednesday night.
"There are two kinds of taxation here in this planet — the taxation of government and the taxation of the church. And when they begin to ask, 'Where's the money of the people, guys?' And I said, 'It's government's money, it's the people's money.' Then I asked the same thing, 'What happened to the money of the people that's been given?'" he added.
Duterte, who has been at odds with the Catholic Church over his bloody war on illegal drugs, said he is against the collection of believers because the Philippines is "pretty hard up and we're trying to catch up."
"I thought that we are poor... the Philippines is not yet in parity with the others," he said.
In a speech delivered in Davao City last July 8, the president criticized the Catholic Church for allegedly asking its followers to donate money.
"If you pity the poor, if you really want to help, why do you keep on collecting money? It (collection basket) is passed around three times," Duterte said.
Contrary to the president's claim, the Catholic Church, the religious group of more than 80 percent of Filipinos, does not force its followers to donate money.
A collection basket is passed around two times during masses but the Catholic Church does not compel its followers to provide a specific percentage of their income, unlike other religious groups.
READ: Palace shifts narrative on Duterte's 'stupid God' remark, says Catholic Church should apologize
Last month, Duterte sparked outrage for questioning Christianity's creation account and saying that God must have been stupid for allowing temptation to corrupt his work.
After meeting with Catholic Bishops Conference of the Philippines President Romulo Valles earlier this month, Duterte agreed to refrain from hurling tirades at Catholicism. The president has also apologized for his controversial statements about God but maintained that religious leaders should avoid using the pulpit to lambast him.
Duterte has also formed a panel that would dialogue with Catholic bishops and other religious leaders offended by his remarks. Presidential spokesman Harry Roque said Malacañang is still arranging the meeting.
"We are awaiting word from the CBCP on who would constitute their panel because we have a four-man panel already. But it's not taking a backseat, except that, you know we were all involved in the SONA preparations," Roque said.
"But now that the SONA is over, we will resume particularly this dialogue," he added. — Alexis Romero