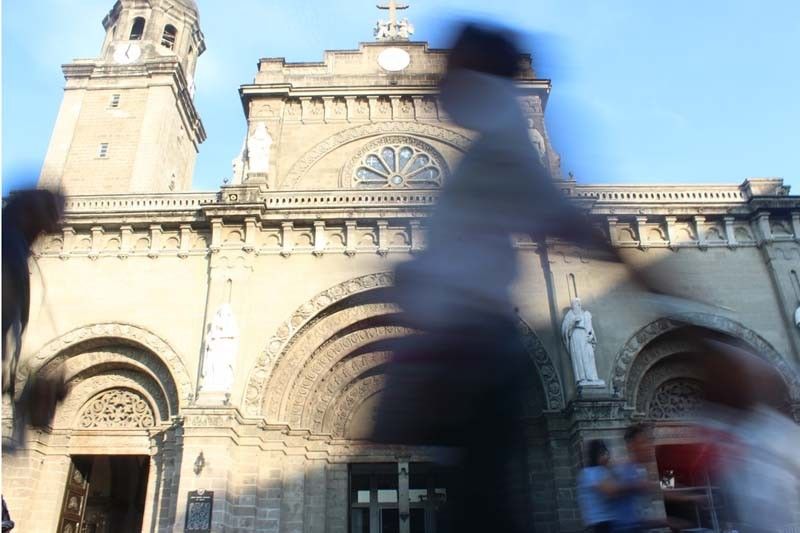 Bishop Pabillo said Catholic schools, which number about 1,500 in the Philippines, should make Christian and human values understandable to students.
Job Manahan
'Stupid God' remarks reflect failures of Catholic education — experts
MANILA, Philippines — Senior high school student Joshleen dela Cruz was in school when she heard from her classmates that President Rodrigo Duterte had called God "stupid" for letting temptation tarnish his work.
Dela Cruz, a choir member for six years in her parish in Bulacan, could not believe that Duterte would use the presidential podium to talk about God, much less question Christianity's account of creation. After all, presidents usually talk about government policies and programs in their public addresses.
All her doubts were erased when she opened her social media account and saw for herself how the president made the controversial remark.
"I was very much affected…I was affected because he (Duterte) was criticizing my beliefs and he said bad things about God. I was sad and angry because he lambasted the Church," dela Cruz, who considers herself a religious person, said.
Dela Cruz is one of the Catholics who felt outrage over the 'stupid God' comment the president made on June 22 and in other speeches.
While Duterte claimed his remark was directed to Australian nun Patricia Fox, who was accused of dabbling in partisan politics, his explanation did little to quell the firestorm he ignited. The president has apologized to God for his statement but insists that religious leaders should not use the pulpit to hit his administration.
READ: 'Rejoice and Be Glad' following truce with Duterte
While the negative reaction to Duterte's speech reflected religion's strong influence in the predominantly Catholic Philippines, some experts believe it also exposed the shortcomings of Catholic education.
They believe that Duterte's flawed theology, including his insistence that God is what one conceives Him to be, should serve as a wake-up call for Catholic educators to strengthen their engagement with the youth, relate lessons to social issues and use technology to explain Church doctrine.
'Something is lacking'
Manila Auxiliary Bishop Broderick Pabillo said the behavior of Duterte, a product of Catholic schools, proves that Catholic education is "not enough."
"There are people who are confused and who are carried away (by Duterte's statements). Duterte himself is peddling wrong views and he is a product of Catholic education," Pabillo told Philstar.com.
"That means, something is lacking, something needs to be strengthened," he added.
Duterte finished his law degree at the Benedictine-run San Beda College and his secondary education at the Holy Cross College (now Cor Jesu College)
Pabillo said Catholic schools, which number about 1,500 in the Philippines, should make Christian and human values understandable to students.
"(Catholic education should present) the faith more clearly to the people so they won't get the wrong ideas…Catholic schools (should) strengthen their (teaching of) educational values (so) that even if the president says something bad, they would not be emulated by people," the bishop said.
"The approach (they) can do is clarity in the teachings...The communication (must be) holistic, not only addressing the mind but also the feelings… so they can live up to their convictions."
Catholic lay leader and educator Rommel Lopez blamed the shortcomings of Catholic educators for the proliferation of anti-Church comments in social media.
"This problem happened because of the failure of Catholic leaders in general and of Catholic educators in particular," Lopez said.
"Unless the Church in the Philippines gets back to the basics of Catholic education, we will continue to have these blind followers who'd attack the Church because they are uneducated, misinformed and unevangelized," he added.
Lopez, who has a background in digital communication, said "misinformed" Catholics are being exploited by Duterte's "operatives" on the internet. He said these Catholics look for other sources of information because of the Church's failure to serve as "mater et magistra", or mother and teacher, to them.
"The Church has abandoned the teaching of the faith. I have seen it personally...Ask any of the youth leaders about the basics of the faith and you'll get a smile in return," Lopez said.
RELATED: Duterte agrees to stop talking about Catholic Church in meeting with CBCP
'Church not absolute authority on faith'
Despite the Catholic schools' efforts to teach catechism, not all students are absorbing it.
"John (not his real name)," a 24-year old law student who studied in three Catholic institutions, believes that the teachings of the Church are not absolute.
"There were valuable takeaways from their lessons but I believe they too possess lots of faults that I acknowledged a long time ago," he said.
"John" said he stopped practicing the Catholic faith when he was 16. He still hears Mass from time to time but thinks the Church is not the "absolute authority" on faith.
Because he does not regularly practice Catholicism anymore, "John" is not affected by the president's tirades against the Church.
"They should just let all (the insults) go," he said.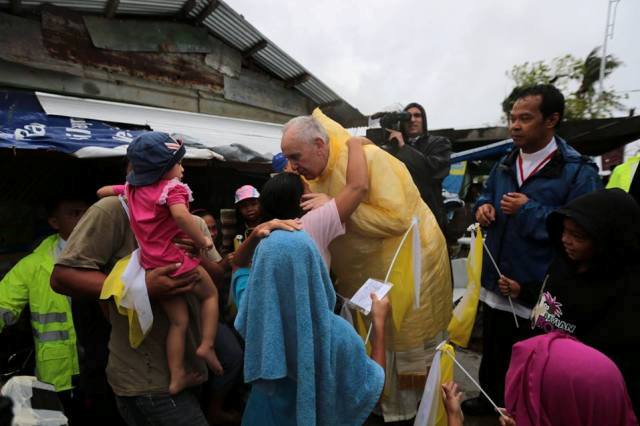 Pope Francis greets a victim of Supertyphoon Yolanda in Leyte on Saturday, Jan. 17, 2015. Malacañang Photo Bureau, file
'Education should be integrated with social issues'
Jesuit priest and anthropologist Fr. Albert Alejo said Christian education should be integrated with immersion with the "real world" and critical thinking. He said theories taught in the classrooms are useless if they are not applied in the real world.
"Christian education should place the students and the teachers very much in touch with the real… not just with virtual avatar, icons. What does it mean? Getting grounded with the (issues)," Alejo, who teaches theology in Ateneo, said.
"(Educators) need to form human beings holistically not just (their) cognitive development, skills, and formation of conscience," he added.
Alejo said discussing relevant social issues inside the classroom is crucial because it would help in the values formation of students. He admitted that Catholic education has been competing with new technologies but is "out of touch with reality."
"When it comes to engagement, there are a lot of things to do for your religion, for your institutions," Alejo said.
"The Catholic education system should not just be reactive… It has to form our young people, our faculty members, teaching or (non)-teaching (personnel), for a more solid grasp of our (reality)."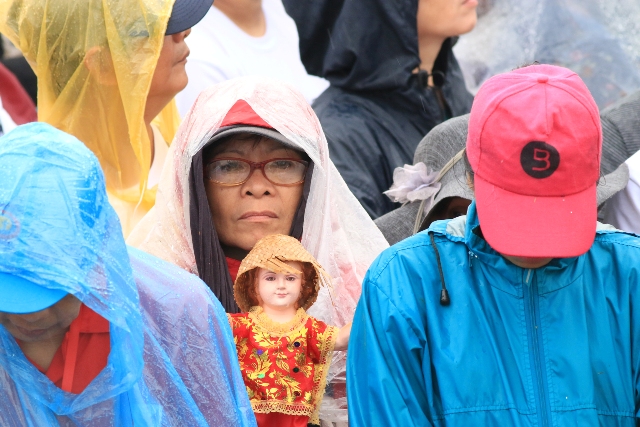 A pilgrim holds the image of the Christ Child, whom Filipino call Santo Niño, at the papal Mass in Rizal Park on Sunday, Jan. 18, 2015. Philstar.com/RP Ocampo, file
Education beyond theories
Fr. Butch Bombase, who served as religious affairs director of Angelicum College in Quezon City, echoed this, saying education should go beyond theories.
"Actions speak louder than words…This job of teaching values is a job of every Catholic, not only of the teacher of religion," Bombase said.
Bombase believes deepening value formation in all institutions is the key to countering Duterte's attacks against the Church. Duterte had criticized the Church for allegedly doing nothing to help the poor and for its supposed failure to resolve the complaints against priests accused of sexual abuse.
Bombase also called on Catholic educators to be "serious" in evangelizing through the use of multimedia platforms. Pabillo agrees, saying ordinary Catholics, not just priests and educators, should use social media to defend the Church and to "tell the truth."
"We are not talking against Duterte. We are talking (about) the believers so they won't be lost," the bishop said.
Michael San Juan, a communications expert at De La Salle University, said it is important for the Church to maintain an online presence but the "real discussion" happens offline.
"As long as they have an online presence, it's okay. It's fine. What's more important is for the Church, for us, to go beyond social media platforms because it's more important to convince people beyond social media… That's where the real discussion lies," he said.
San Juan admitted that Duterte's influence in social media is difficult to counter because his administration is "good in propaganda."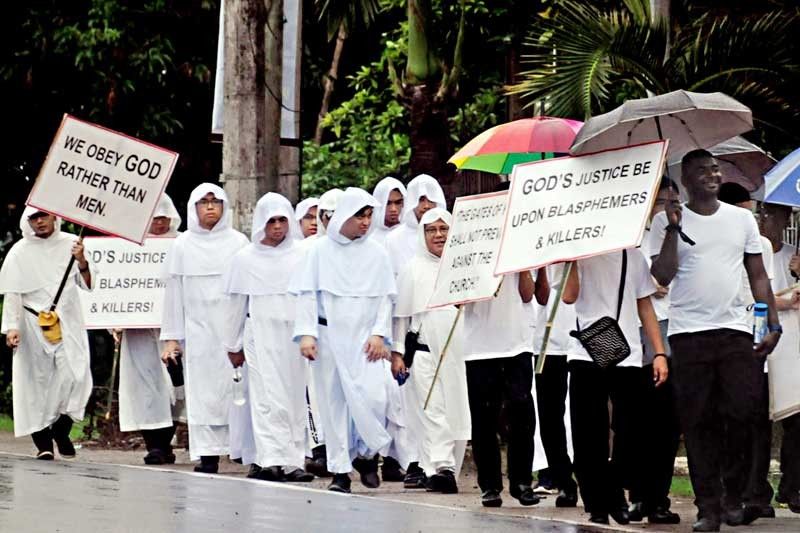 Seminarians and members of the clergy carry slogans in a penitential pilgrimage from San Jacinto Church in San Jacinto, Pangasinan to the Minor Basilica of Our Lady of Manaoag during a 'Day of Reparation' over the murder of Fr. Richmond Nilo. File photo
Unaffected
Despite the perceived shortcomings of Catholic education, the Church can take consolation from the fact that some of its products are unaffected by the negative views against their faith.
"We should not be swayed by the false claims about the church that are being circulating in social media," dela Cruz said.
"Though we know there is no such thing as a perfect Church, (the Catholic Church) is focused on teaching compassion and love for one's neighbor," she added.
Dela Cruz said Catholics should just ignore Duterte's tirades against the Church.
Senior high school student Melle Justine Manuel views the president's controversial remarks as a form of disrespect.
"It's not always his (Duterte) opinion that matters. Just because he has the power to say anything he wants, he would say it because it can hurt Catholics," Manuel said.
Katrina Grajo, another Catholic school student, said the controversy made her question her decision to support Duterte in 2016.
"Nothing could make me change my values and my beliefs as a Catholic," she said.
Eugene Aboy, a third-year ecclesiastical faculties student at the University of Santo Tomas, remains loyal to his faith but believes the Church needs the "shake up" caused by Duterte.
"If the Church is to maintain her authority in the country, it is important for her to speak up and provide some answers. I think this would be a great chance for the Church to prove her worth," Aboy said.
Alejo believes the Catholic Church, which withstood a lot of persecutions and trials, should consider the issue as a "humbling moment."
"The Church should take the whole situation as a wake-up call, as a learning moment… (a) call for self-reflection and self-flagellation… It's a moment of admission, repentance, and transformation," he said.
"We should be humble enough to accept we're flawed people and we belong to a flawed institution (that) will lead (us) also to faith."
—
Job Manahan is a journalism intern from the University of Santo Tomas