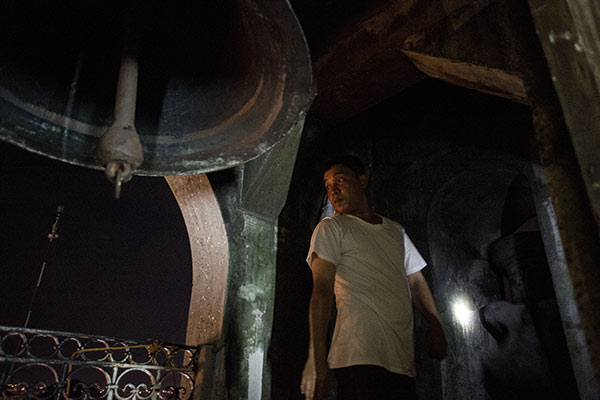 A bell ringer looks out from the San Roque Cathedral in Caloocan in east of Manila on September 14, 2017, as he rings the bells of the church.
Noel Celis/AFP
Duterte breaks from rant vs priest to honor church bells
(Philstar.com) - June 20, 2018 - 8:10pm
MANILA, Philippines — Church bells tolled while President Rodrigo Duterte was attacking priests in a speech in Iloilo on Wednesday, prompting him to pause for a few seconds.
Duterte was talking about a communist hit squad during the distribution of Certificates of Land Ownership Award when he suddenly asked his audience whether the bells were for the Angelus, a prayer that some Catholics recite every 6 p.m.
"Is that the Angelus? Do you pray it here? We Catholics should pray here. The priest might get angry," the president said in Filipino.
Duterte went on to criticize Catholic priests whom he said have illicit affairs. He joked that some priests end up baptizing their own children.
"I do not want to (talk about it) because I have with me the papers," the president said. It is unclear whether he meant that he has intelligence reports on priests.
"The priest... you are the ones throwing a party for his child. He will be the one to baptize and also the one throwing the party," he said.
Duterte, whose brutal war on illegal drugs has been criticized by Catholic bishops, then talked about a priest who was killed because of his affairs with married women.
The president did not name names but he was apparently referring to Fr. Mark Anthony Ventura, who was killed in Cagayan province last month. Duterte previously claimed that Ventura had romantic affairs with eight women.
"The first one who was killed, if you had an affair with the police, if you had an affair with the wife of the vice mayor, if you had an affair with moneyed businesswomen, you will really get killed," Duterte said.
Archbishop Sergio Utleg, archbishop of Tuguegarao, said in response to the allegations in May that "we do not want to speculate on what the reasons are for his death. Neither do we want that the investigation be muddled by spreading of unfounded rumors and malicious insinuations."
Aside from the alleged affairs, Ventura had also reportedly been opposed to mining in Cagayan province and was an advocate for indigenous people's rights.
Bells toll, president pauses
While Duterte was lambasting the priest, church bells tolled for the Angelus. Duterte, who is known for his tough talk and cursing, paused and fell silent for 46 seconds.
Duterte then joked that the tolling of the bells took too long and asked the "bell boy" to be quiet.
"I am a Christian. I believe in God. I respect the tolling of the bells," the president said.
Duterte then claimed that the bells are tolling for illegal drugs and corruption, social ills that he vowed to end during his term.
"For whom does the bell tolls? It tolls for thee," the president said. "For whom does the bell toll? It tolls for you. Drugs. Corruption."
Intentionally or not, the president was quoting from a poem by John Donne that goes: "[A]ny man's death diminishes me, because I am involved in mankind, and therefore never send to know for whom the bells tolls; it tolls for thee. — Alexis Romero with a report from Job Manahan