Duterte starts SONA with speech staples: Drugs, corruption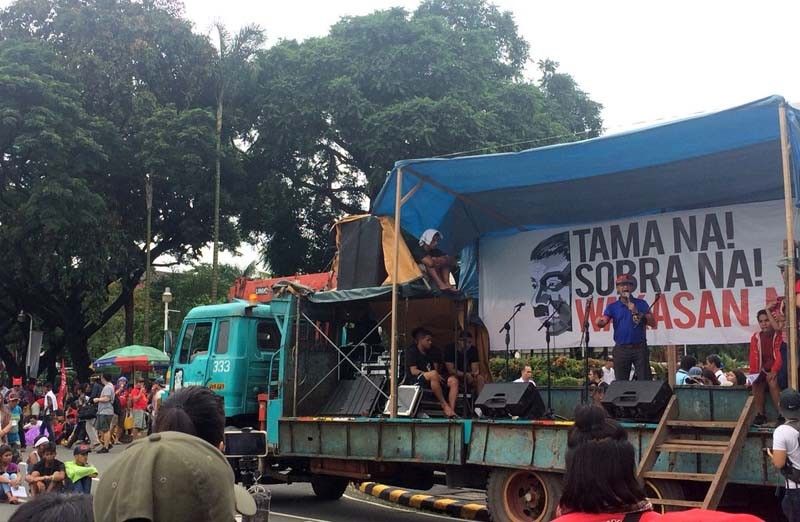 MANILA, Philippines — President Rodrigo Duterte at his State of the Nation Address on Monday again took aim at two of his favorite targets: drugs and corruption.
Duterte opened his speech by addressing criticism of the government's war on drugs, which has killed more than 4,200 people in acknowledged anti-drug operations.
The Philippine National Police in June said it has also recorded 22,983 cases of killings that were classified as deaths under inquiry since the war on drugs was launched in July 2016.
Human rights groups and administration critics attribute more of the killings to the campaign against drugs.
Duterte said his critics have "laughed at and pilloried" law enforcement over the killings but have not similarly directed their protests against "druglordism" and the drug trade. He said that the "misdirected" protests will not deter him from the goverment crackdown.
"[The] war against illegal drugs will be relentless, chilling," he said.
"Your concern is human rights, mine is human lives," he said, repeating an often repeated but inaccurate dichotomy that support for human rights is support for crime suspects.
READ: 'Without rights, a return to rule by tyrants'
In a Philstar.com story in June, Carlos Conde of the Human Rights Watch Asia Division said that it has become a challenge to communicate that human rights are not exclusively for citizens or for suspected criminals.
"The public needs to realize that the institutions for justice and human rights work to their favor… They need to realize, for instance, that every time they are questioned by the police without basis, or arrested without warrant, those erode not just their rights but also of others," he said then.
Commission on Human Rights spokesperson Jacqueline De Guia said the agency has also been working to help the public understand that human rights are non-partisan and is not anathema to government. She said the public should understand that rights "[work] to provide more meaning to our life [as] it guarantees existence and ensures our freedom."
"You worry about the present, I am concerned of both the present and the future. I worry about the future because I know what crimes can happen in the country if it does not stop," Duterte said in his SONA.
Corruption drains funds, morale
Duterte also brought up corruption in government, which he likened to a leech that drains government funds for services and projects and "saps morale of honest government workers."
He said that with the passage of the Ease of Doing Business Law, government agencies should make sure that their services are truly customer friendly since "the people deserve nothing less."
The president also said that he has friends in government whom he has "dismissed or forced to resign."
Although the president did not name names, among the most recent to leave government service are Wanda Tulfo-Teo, the former Tourism secretary who resigned under a cloud of questions from the Commission on Audit over an advertising deal with state-run PTV-4 that benefited the media company of her boradcaster brother Ben.
The COA has since flagged more irregulaties, including the withdrawal of items from Duty Free Philippines and "unneccesary and excessive" travel expenses by Tourism officials.
"I value friendship but it has its limits. This is a lonely place I am in. Do not make it lonelier by making me end our friendship by giving me a reason to end it," he said.
The Duterte administration has, however, also been criticized for "recycling" officials who have been implicated in controversies. Among those are former Customs Commissioner Nicanor Faeldon and Jose Gabriel "Pompee" La Viña.
Faeldon had been implicated in the entry into the country of P6.5 billion in shabu in 2017 but has since been reappointed to the Office of Civil Defense.
La Viña, meanwhile, has been appointed to the Department of Tourism and then to the Agriculture department, despite the Palace saying his contract at the Social Security System in June had not been renewed due to "abuse of funds."