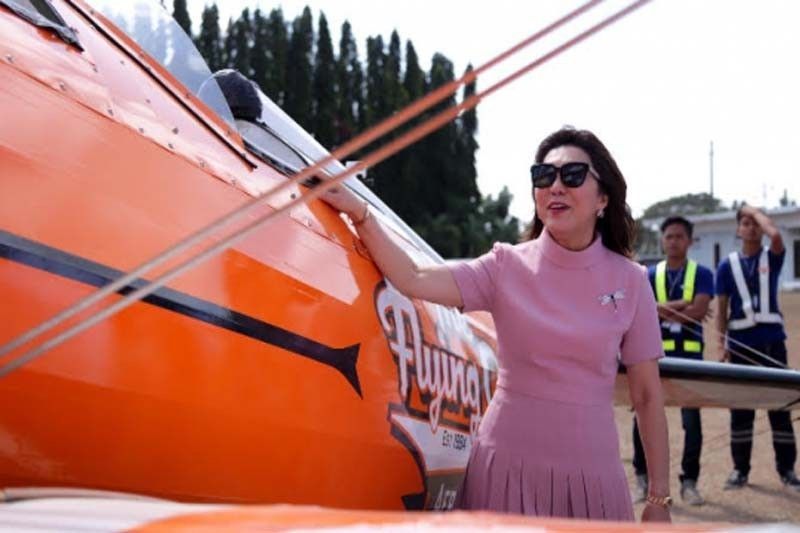 Secretary Wanda Tulfo-Teo, who was a former flight attendant, poses with the Flying Circus' Boeing Stearman biplane during a DOT press conference on the Hot Air Balloon Fiesta in Clark, Pampanga, Feb. 7, 2018.
DOT/Released
COA warns DOT: Prevent 'excessive and extravagant' foreign trips
MANILA, Philippines — The Commission on Audit has flagged the "lack of specific guidelines" on foreign trips of officials at the Department of Tourism, which could lead to "excessive and extravagant" travels abroad on the public purse.
In a report, the state audit agency released a list of 94 officers and employees of the DOT that joined various tourism-related activities overseas last year, with travel allowances aggregating to more than P19 million.
The Tourism Act of 2009 allows DOT officials to travel abroad to promote the Philippines' tourism industry.
Included in the COA's list was former Tourism Secretary Wanda Teo, who received cash advances amounting to P863,961.95 for her trips to Berlin, Bangkok, Istanbul, Singapore and South Korea last year.
Also in the list were former DOT spokesperson Frederick Alegre and DOT Undersecretary Katherine Chloe De Castro, who has been placed in limbo after new Tourism Secretary Bernadette Romulo-Puyat ordered several high-ranking DOT officials to file their courtesy resignations.
List of DOT officials & employees who received cash advances in 2017 for foreign trips; COA says DOT should have specific guidelines on foreign travel to avoid "excessive and extravagant" spending @PhilippineStar pic.twitter.com/rdwcCzgNJh

— Elizabeth T. Marcelo (@marcelo_beth) July 12, 2018
"Due to the considerable number of travels abroad of the DOT-central office personnel, we consider it necessary for the DOT to issue specific guidelines for foreign travels to exercise prudence and prevent any excessive and extravagant travels," COA said.
"We recommended and [the DOT] management agreed to create a committee that will study and formulate the specific guidelines for foreign travels," it also said, adding that a department order was issued on January 10, 2018 to "prevent unnecessary, excessive and extravagant travel expenses."
Last May, President Rodrigo Duterte, who has boldly declared he won't tolerate even a "whiff of corruption," accepted Teo's resignation after state auditors found that a DOT advertisement worth P60 million was placed in a television program hosted by her brothers for state-run network PTV4.
Teo's brothers said they will return the money.
In an interview with CNN Philippines last month, Ombudsman Conchita Carpio-Morales said her office is investigating Teo.