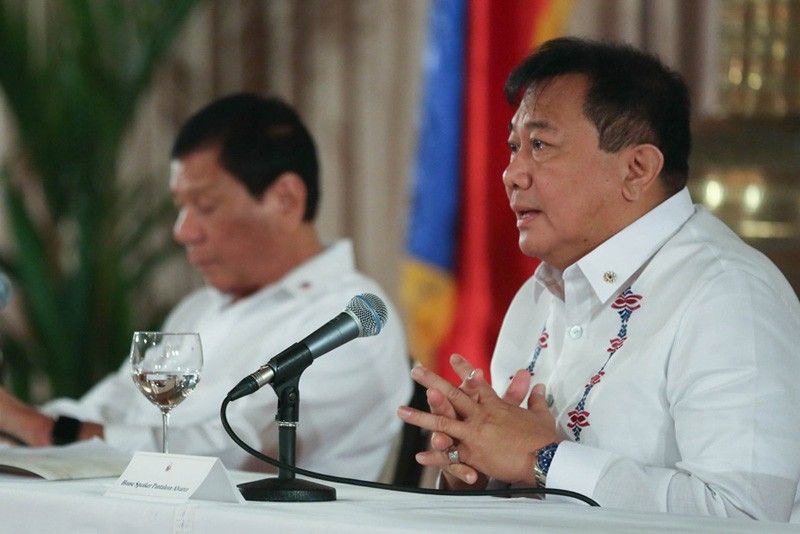 In this March 13 photo, House Speaker Pantaleon Alvarez speaks with reporters together with President Rodrigo Duterte at the Palace.
PPD/Toto Lozano, File photo
Palace defers to House on internal matter amid talks of Alvarez ouster
MANILA, Philippines — Malacañang said on Monday that it would defer to the House of Representatives on matters internal to the chamber, amid talks that Speaker Pantaleon Alvarez is about to be ousted as its leader.
Multiple media reports quoted sources who said that the plan to remove Alvarez and replace him with Rep. Gloria Arroyo (Pampanga) was finalized over the weekend.
The reports said that the plan was led by President Rodrigo Duterte's daughter, Davao City Mayor Sara Duterte-Carpio, through her political surrogates.
Carpio slammed Alvarez several months ago for supposedly saying that her regional party in Mindanao was part of the political opposition.
Carpio said that her father would be in a better position if Alvarez was removed.
When asked to comment on the said plans to replace Alvarez, presidential spokesperson Harry Roque told Philstar.com, "We defer to the House on their internal matter."
Alvarez was picked by the president to lead his majority coalition in the House when he was elected in 2016.
Alvarez has been at the forefront of some of the important legislative fights for the president.
If he survives, the speaker will lead the House in deliberating on proposed changes to the 1987 Constitution and the possible shift to a federal form of government.
He said that a postponement of the 2019 midterm elections was needed in order for Congress to have ample time to discuss the proposal.
The palace distanced itself from the comment and stressed that Duterte would like the 2019 polls to push through.
Meanwhile, Roque said that the speech of the president might last for around 40 minutes, a little higher than the initial estimate of 35 minutes.
Last week, it was said that the president would like to limit his speech to a little more than half an hour.
He said that Duterte, who practiced his speech on Sunday, was in good spirits as he was about to deliver his annual address later on Monday.