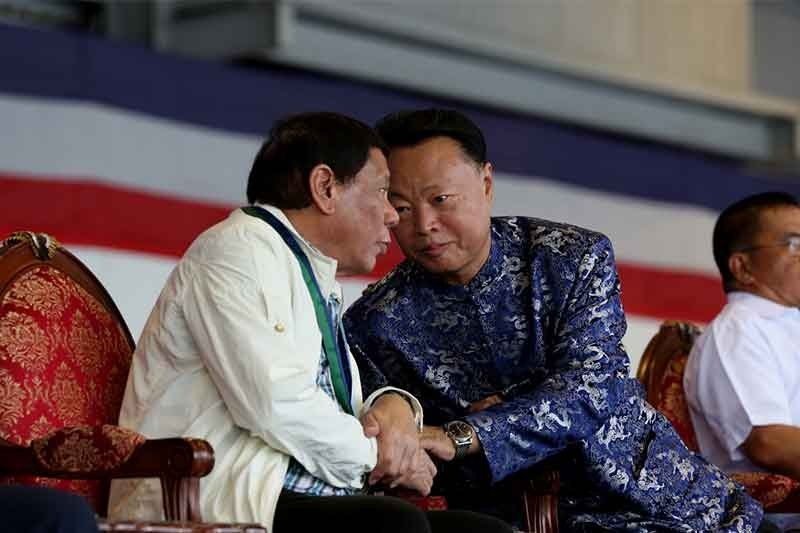 Chinese envoy to the Philippines Xiao Jinhua, right, said that the Philippines was not and would not be a province of China.
Presidential Photo/Simeon Celi Jr., File
Chinese envoy: Philippines not our province, not now, not ever
MANILA, Philippines — The Philippines has never been and would never be a province of China, the Chinese ambassador to the Philippines said on Tuesday, as President Rodrigo Duterte stressed that Beijing did not ask Manila to cede even "one square" of its territory in exchange for its help.
Chinese Ambassador to the Philippines Xiao Jinhua said that the recent posting of tarpaulins introducing the country as a province of China to visitors was a "vicious attack" on the two countries' relations and Duterte's so-called independent foreign policy.
"It has never been any part of China. As a matter of fact you know," Xiao told reporters when asked about his comment on the posting of the banners.
"No, not now, not ever," the Chinese envoy said.
Tarpaulins bearing the words, "Welcome to the Philippines, province of China" were seen hanging from several footbridges in Metro Manila on Thursday last week, the second anniversary of the country's victory over Beijing in its arbitration case filed before a Hague-based tribunal.
The banners had the Chinese flag and Chinese characters.
This also came when Duterte himself "joked" before an audience which included the Chinese envoy that the country could become a province of its northern powerful neighbor.
"He (Xi Jinping) is a man of honor. They can even make us 'Philippines, province of China,' we will even avail of services for free," Duterte said. "If China were a woman, I'd woo her."
Although they were "bad," the banners were not offensive to China, Xiao clarified.
He also stressed that Chinese aid and loans to the Philippines would not snare Manila in its "debt trap" as these were based on "mutual agreement."
The Chinese envoy said that the Philippines would not be indebted to Beijing because of its aid, adding that the government's economic team is "smart enough."
"That is simply the decision by your government to use the soft loans and the infrastructure project will be undertaken by a Chinese company through limited bidding process. There is no mention or no avenue for ownership, your government will own all those projects. So there will be no question of putting yourself in debt," Xiao said.
The chief executive meanwhile stressed that his Chinese counterpart, Xi Jinping, did not ask for the Philippines to surrender its territorial claims in exchange for China's help.
He emphasized that both sides would discuss the 2016 arbitral award which invalidated much of China's expansive claim to the South China Sea "in some other time."
"Allow China, we will allow them the sufficient period to sort out things. China will be fair, the equity will be distributed," the president said.