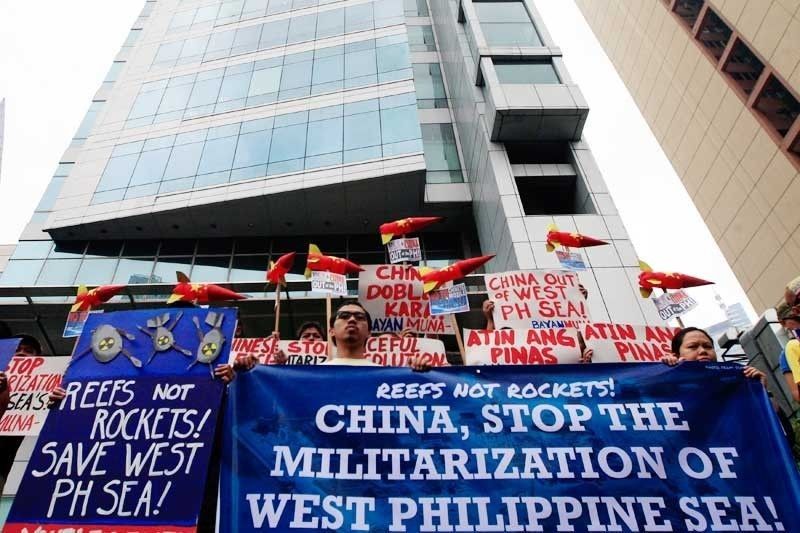 President Duterte drew criticisms of abandoning the Philippines' maritime claims after earlier vowing to temporarily set aside the ruling to improve Manila-Beijing relations.
The STAR/Edd Gumban, File
Palace dares critics of Duterte's South China Sea policy to file a court case
(philstar.com) - July 12, 2018 - 10:36pm
MANILA, Philippines — As the Philippines commemorated the second anniversary of its arbitral victory against China Thursday, Malacañang vowed to continue asserting the country's claims in the West Philippine (South China) Sea and dared critics to challenge its handling of the dispute before the court.
China claims about 90 percent of the resource-rich South China Sea but this was invalidated by a Hague-based arbitral tribunal in 2016.
The tribunal's decision stemmed from a case filed by former President Benigno Aquino III's administration, which described China's claim as "exaggerated" and "excessive." China refused to recognize the ruling, calling it "illegal since day one."
President Rodrigo Duterte has vowed to temporarily set aside the ruling to improve the Philippines' ties with China, drawing flak from critics who accused him of abandoning Manila's maritime claims in exchange for aid from Beijing.
Presidential spokesman Harry Roque said allegations that Duterte has given up on the Philippines' maritime claims is "farthest from the truth."
"It is the second anniversary of our win in the arbitration before the Permanent Court of Arbitration, and we assure the public that on the second year of the anniversary, we will continue to assert what is ours while we move on with our bilateral relations with China," Roque said in a Palace press briefing Thursday.
"The president has repeatedly said we would continue to stand by our claims but until the issue is not resolved, we will let our relationship with China move forward in other fields especially in the economy," he added.
Duterte previously said the Philippines would not declare a war with China because it would only lead to a "massacre" of Filipino soldiers. Insisting on the Philippines' maritime claim in the West Philippine Sea would lead to "trouble," the president added.
In a recent speech, Duterte joked that the Philippines might be able to impose its maritime claims on China in the year 4001.
"We continue to assert our sovereignty and sovereign rights. But we are decided to move on issues which are non-controversial because we know that the final resolution, particularly on the issues of sovereignty on the disputed islands, will take many, many, many years to resolve since this was not a subject of the arbitral ruling that we won two years ago," Roque said.
'We will meet them in court'
Roque challenged critics of Duterte's West Philippine Sea policy to file a case before the court.
Former Solicitor General Florin Hilbay has claimed that there are groups planning to file a case before the Supreme Court to compel the Department of Foreign Affairs to disclose its diplomatic actions against China's military build-up in the South China Sea.
"It is a free country, they can file it. And we will meet them in court," Roque said.
Roque said he has already revealed details of some of the government's diplomatic actions on the maritime row during his previous press briefings.
"I have said that we are discussing this in the bilateral mechanism that we have in China, which also has the effect of a protest. The president has publicly protested in some instances and I know of formal protests filed directly with the embassy upon [the] expressed direction of the president," the presidential spokesman said.
"So we have said all this; we are not hiding what we have been doing to protect our sovereignty and sovereign rights in the disputed areas of the West Philippine Sea," he added.
Hilbay has also claimed that the government's alleged failure to act on China's militarization constituted a betrayal of public trust but Roque was unfazed by the remark.
"He (Hilbay) should file impeachment if you wants, he's welcome; it's a free country," Roque said.
Palace hits Del Rosario
Roque also lambasted former Foreign Affairs Secretary Albert del Rosario, who called the Philippines a "willing victim" of China under the Duterte administration.
He said Del Rosario, who had accused the Duterte administration of refusing to enforce the Hague ruling, did not understand the nature of arbitration.
"I don't know what makes him (Del Rosario) an authority to give that view... I'm not sure what they mean by enforcing an arbitral decision, because an arbitral decision is binding on parties thereto. It clearly underscores the fact that some individuals including the former Secretary of Foreign Affairs does not fully comprehend the nature of arbitration," Roque said.
"He (Del Rosario) is calling for enforcement when arbitration is clearly binding on the parties thereto... Whether or not China will acknowledge it, China is bound by it; because that's the nature of arbitration."
Roque insisted that the Philippines is benefiting from Duterte's friendship with China.

"We do not agree with those who lost control of territory by their confrontational hubris. Instead, the president has forged friendship which has obtained benefits for our people, boosted investment and trade for our economy, reduced the threat of conflict, and opened the door to confidence-building talks between ASEAN (Association of Southeast Asian Nations) and China," he said.
"When there are issues, we dialogue as friends, not argue as adversaries. All this time, we are building up our capabilities to eventually assert our sovereign rights and interests. That is the policy that works for our nation," he added.
Palace: Enemies of gov't behind tarpaulins
Roque also described as "absurd" the hanging of tarpaulins stating that the Philippines is a province of China.
"I'm sure it's the enemies of our government behind it. So to them: try again, you need a better gimmick than that," the presidential spokesman said.
Asked to identify the "enemies of the government" who produced the tarpaulins, Roque replied: "I don't know but certainly we have nothing to gain by hanging those tarpaulins."
Roque said those who displayed the tarpaulins "are obviously propagating a lie that we have given up on our national territory."
Asked if the Palace wants the tarpaulins taken down, Roque said: "Well, we won't do anything but I'm sure some people want to get those tarps and use them. Perhaps they can be used to wipe the floor or place them in the bathroom. It's up to them."
Duterte joked about the Philippines becoming a province of China in a speech last February.
"Gusto niyo, gawin niyo na lang kaming province (If you want, you can make us your province)... Philippine province of China. E di wala na tayong problema, bwisit. Libre na lahat (We won't have problems anymore. Everything will be for free)," he said during the 20th anniversary of the Chinese-Filipino Business Club in Manila last February 19. — Alexis Romero