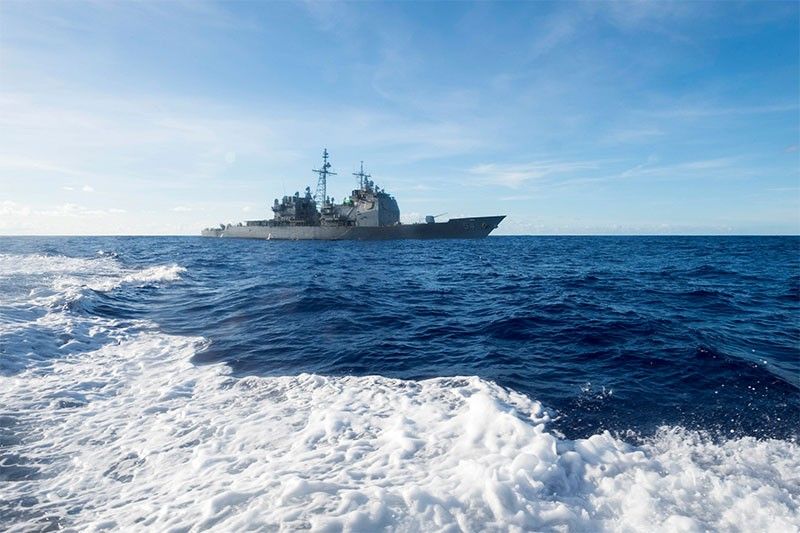 In this March 10, 2018 photo, the guided-missile cruiser USS Antietam (CG 54) transits the Philippine Sea during MultiSail. MultiSail is a bilateral training exercise improving interoperability between the US and Japanese forces.
US Navy photo by Mass Communication Specialist 3rd Class Sarah Myers/Released
China confronts US warships in South China Sea
MANILA, Philippines (Updated 10:28 p.m.) — China has sent warships to ward off US warships sailing near the Paracel Islands in the South China Sea, the Chinese Ministry of Defense confirmed on Sunday.
The US Navy's guided missile cruiser USS Antietam and guided-missile destroyer USS Higgins sailed within 12 nautical miles of the Paracel Islands, according to a report from The New York Times.
The US warships, which were conducting freedom of navigation operations, passed within 12 miles of four islands—Tree, Lincoln, Triton and Woody.
RELATED: China insists 'inherent right' to military activities in South China Sea
Chinese Ministry of National Defense spokesperson Wu Qian said that the two US warships entered Beijing's territorial waters without permission.
"The United States once again dispatched warships to enter the territorial waters of the Xisha Islands without authorization and violated China's laws and relevant international laws," Wu said.
"Chinese military took immediate actions by dispatching naval ships and aircrafts to conduct legal identification and verification of the US warships and warn them off," Wu also said.
Beijing stressed that the Paracel Islands, which are also being contested by Vietnam, are "Chinese indigenous territory."
Wu accused Washington of violating Beijing's sovereignty, undermining strategic mutual trust between the American and Chinese military and undermining peace, security and good order in the region.
"China firmly opposes this. The Chinese army is determined to strengthen the preparations for sea and air combat readiness, raise the level of defense, defend national sovereignty and security, and maintain the determination of regional peace and stability," Wu said.
The US Navy ships' passing through the islands came days after the US disinvited China from the 2018 Rim of the Pacific Exercise, the world's largest international maritime warfare exercise.
The Pentagon's withdrawal of its invitation to Beijing was an "initial response" to the latter's increasing militarization of the South China Sea.
On May 18, China's People's Liberation Army Air Force announced that it had landed an H-6K strategic bomber on Woody Island, China's largest outpost in the Paracels.
Following the landing of a bomber aircraft on Woody Island, China reportedly deployed HQ-9 surface-to-air missile systems on the island, according to independent think tank Asia Maritime Transparency Initiative.
According to the Washington-based think tank, the new weapons were probably placed on the outposts during the Chinese military's drills last May 8.
Related video: