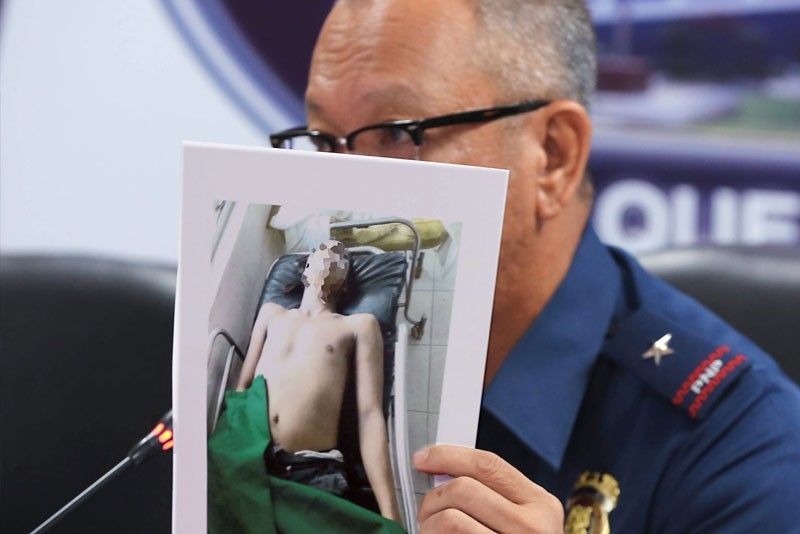 QCPD director Chief Superintendent Joselito Esquivel holds an autopsy photo of the slain detainee during a press conference at Camp Karingal.
Boy Santos, file
Reso seeks Senate inquiry into 'tambay' roundup, Argoncillo's death
MANILA, Philippines — Sen. Paolo Benigno "Bam" Aquino IV wants the Senate to look into the government's crackdown on loiterers and into the death of Genesis "Tisoy" Argoncillo in police custody.
In filing Senate Resolution 772 on Monday, Aquino urged the Committee on Public Order and Dangerous Drugs to investigate the campaign which he called, "untenable, discriminatory and anti-poor."
"There is a need to assess whether the PNP's anti-tambay campaign, as well as the local ordinances on which they are supposedly based, are consistent with national law and the Constitution," Aquino said.
The National Capital Region Police Office said over the weekend that its personnel have been ordered not to bring in "tambays" unless they violate ordinances and the Philippine National Police has promised to cooperate with the Commission on Human Rights' investigation into Argoncillo's death.
Duterte himself has disavowed the campaign, saying last Friday of the widely criticized move: "I never said arrest them."
Duterte's spokesmen defended the campaign, however, with his chief legal counsel Salvador Panelo saying it was "only a measure in enforcing the law and deterring crimes that may be instigated by these potential mischief-makers."
Presidential spokesperson Harry Roque said Duterte "was just citing the need to implement the ordinances because it is important to watch the loiterers closely to prevent the commission of crime."
Argoncillo's death in police custody
Sen. Aquino filed the resolution days after Argoncillo died in the custody of the Quezon City Police District. Argoncillo, whom police accosted for being shirtless, was arrested for allegedly causing alarm and scandal.
Authorities earlier said that that the 25-year-old man died after he complained of shortness of breath. But the autopsy report showed the cause of death was multiple blunt force trauma to the neck, head, chest and upper extremities.
The QCPD on Friday filed murder charges against Argoncillo's fellow detainees, who allegedly mauled him.
"He would not have died if the policy targeting the poor was not implemented," Aquino said in Filipino.
Rights group Karapatan said the recently ramped-up roundup of tambays is reminiscent of the situation during martial law.
Vagrancy was decriminalized in 2012 although local governments can and have enacted ordinances against loiterers.
READ: What you should do if cops pick you up in Duterte's 'tambay' crackdown