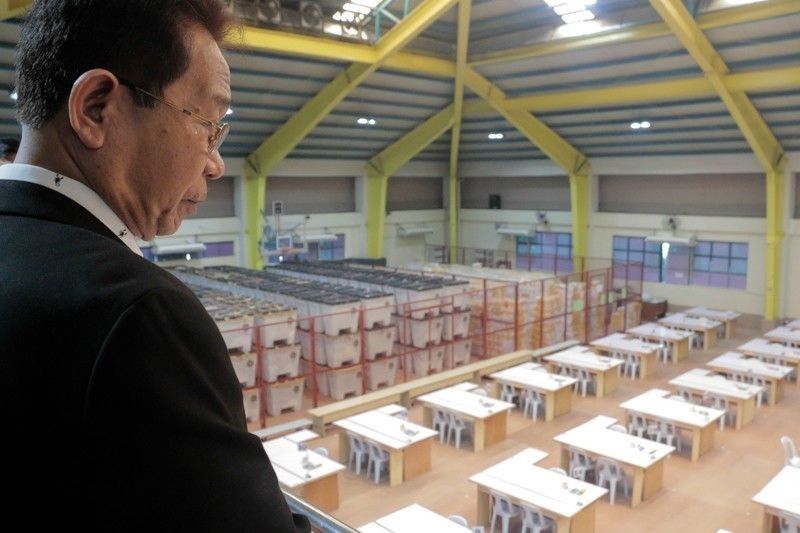 Presidential Electoral Tribunal AdHoc committee member Edgar Aricheta oversees the venue for the ballot recount scheduled on April 2.
Philstar.com/Efigenio Toledo IV
Robredo files manifestation vs Marcos' staff bringing prohibited item in recount area
MANILA, Philippines — The camp of Vice President Leni Robredo has filed a manifestation before the Presidential Electoral Tribunal over the alleged bringing in of a prohibited item by a "revisor" of former Sen. Ferdinand "Bongbong" Marcos Jr.
In a six-page manifestation of grave concern, Robredo, through her legal counsels Romulo Macalintal and Bernadette Sardillo, said that Nestor Borromeo brought a magnifying plastic lens inside the revision area.
The incident happened in the morning of June 14, according to Robredo's lawyers. They added that both camps were told that only papers could be brought inside the revision area.
Revisors are the persons in charge of recounting the contested ballots from the pilot provinces in the recount.
The Supreme Court-Court of Appeals gymnasium was converted into a revision area for the recount of the vice presidential elections that started on April 2. Lockers were also provided for the revisors' belongings.
READ: PET readies for VP ballot recount
Each table has a three-member revisor committee, composed by an independent head revisor hired by the PET, and one revisor each from the camps of Robredo and Marcos.
Robredo's lawyers noted: "Worse, when confronted, Borromeo said that he was instructed to stray more valid ballots for protestee Robredo even after Head Revisor of the Honorable Tribunal has segregated the ballots."
The vice president's camp reiterated that "rules laid down by the Honorable Tribunal must still be observed."
In a separate statement, Sardillo said Borromeo was found in possession of the magnifying glass "during the ongoing revision, recount and re-appreciation of ballots."
She also noted that this is already the second time that a person from the camp of Marcos was reported due to unruly conduct in the area.
Sardillo said that Marcos' party supervisor, Joan Padilla, was told off by the tribunal for approaching head revisors and instructing them "not to counter-check the votes acquired in the election returns."
Marcos, the son of the ousted Philippine dictator Ferdinand Marcos, has accused Robredo of cheating her way to the second highest office in the land. He lost to the former Camarines Sur representative and human rights lawyer by a slim margin of about 260,000 votes in the 2016 national elections.
Earlier this week, Marcos was reportedly mulling returning to politics: This time, he will be gunning for the highest seat of the land.
He was quoted in a report as saying:"My career is politics, and, in fact, you aspire to as excessive a stature inside your chosen area as you can possibly obtain—and that might be president in my case."