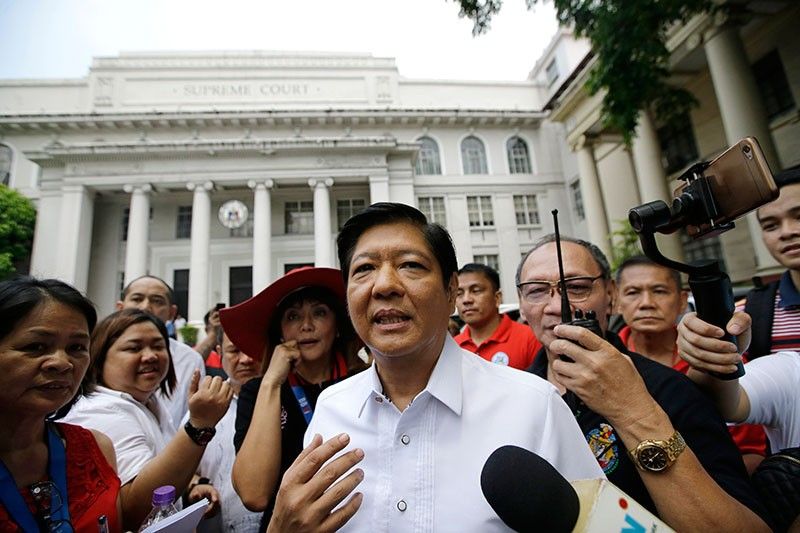 In this April 2, 2018, former Senator Ferdinand "Bongbong" Marcos Jr. shakes hands with supporters gathered outside the Philippine Supreme Court in Manila, Philippines.
AP/Aaron Favila
Bongbong mulls returning to Malacañang as president
(Philstar.com) - June 21, 2018 - 10:32am
MANILA, Philippines — Ferdinand "Bongbong" Marcos Jr. is eyeing a return to Malacañang, more than three decades after his dictator father was ousted from office—this time as the country's president.
In an interview with London-based newspaper Financial Times, Marcos expressed his desire to run for the presidency when the term of President Rodrigo Duterte expires.
"My career is politics, and, in fact, you aspire to as excessive a stature inside your chosen area as you can possibly obtain—and that might be president in my case," Marcos told FT.
But the younger Marcos said the presidency "is not something that I wake up in the morning and plan on."
The former senator told FT of building a "more egalitarian system of government."
"In my father's administration, I kept hearing 'nation-building,' and I do not hear that phrase anymore," he said.
Marcos added that the Philippines must "come to some kind of modus vivendi" with China.
"With the Philippines being such a strategic place and with your traditional strong relationship with the US and China as an emerging superpower, it puts us in a very difficult spot," he explained.
The defeated vice presidential candidate also said that his platform might include supporting civil servants and teachers and making appointments based on merit instead of political loyalty, taking a slight swipe at Duterte, who he said, "has adhered very strictly to the policy of not hiring or appointing someone he does not know."
"Because he's now in the national area, he must take advantage of the talent that's available out there," Marcos said
Regional background and loyalty to the Marcoses rather than talent or distinguished track record mattered more for his late father in terms of appointment and promotion of government officials.
Marcos, who narrowly lost the vice presidency in 2016 to Leni Robredo, challenged the hotly contested poll, which led to a recount that began in April.
Critics fear that if the recount were to go his way, it would be another step toward the rehabilitation of the Marcos family, which has been in national politics since he was elected to the Senate in 2010. His sister, Imee, has been the governor of Ilocos Norte since 2016, while his mother, Imelda, has been serving as the representative of the second district of Ilocos Norte.
According to the estimates of Amnesty International, 70,000 people were imprisoned, 34,000 were tortured and 3,240 were killed during the martial law that his father had implemented. — Gaea Katreena Cabico