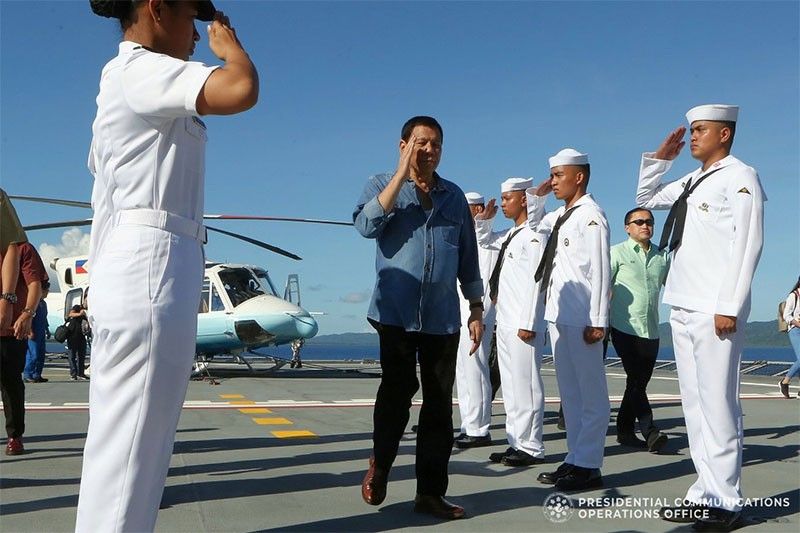 President Rodrigo Roa Duterte is accorded sideboy honors upon boarding BRP Davao del Sur on May 15, 2018.
Presidential Photo/Albert Alcain
Palace spins Duterte's staying behind as scientists sail to Benham Rise
MANILA, Philippines — Sailing through the waters above Benham or Philippine Rise would not have any significance, presidential spokesperson Harry Roque said Wednesday.
The Malacañang spokesman made this remark despite the jet ski stunt of the president's son Sebastian Duterte and the president's aide Bong Go through the waters of Casiguran, Aurora on Tuesday.
Roque stressed that Duterte only went to Casiguran, the jumpoff point to Philippine Rise, to send off the all-Filipino team that would be conducting marine scientific research in the underwater plateau until November.
The president had earlier said he would sail to the area to assert the country's sovereignty over the uncontested Philippine Rise.
"Next week, I'm going to the Benham Rise. And I will make a statement that nobody but nobody owns this place including the continental shelf, the underground landmass that extends under the sea," the president had said in late April.
READ: Jet ski cruise through Philippine Rise moves closer to shore
"We were always saying that this was symbolic... We were launching scientists, which we did... We are installing a buoy, which we did and we're asserting our claim to it so, to me, there is no significance where we reach Point 'X' where the Philippine Sea begins," Roque told reporters.
He added that the media should not have taken Malacañang statement that Duterte would go to the Benham Rise literally as it was unreachable.
The Philippine Rise is the soil and subsoil underneath the Philippine Sea, which is part of the country's continental shelf. Even so, the president could have sailed above the waters of the area to assert sovereignty.
"If you want to go there, you need a submarine. So do you have to be literal about it? No one can reach it," Roque said.
"The whole thing was a continuous voyage so I thought we did as we said. Would it really have mattered if he sailed above it?" he added.
Asked when asked why Duterte's son and aide rode a jet ski through the waters of Casiguran Bay given its supposed insignificance, Roque said to defer the question to the Special Assistant Go himself.
RELATED: Critics hit 'Benham Rise' publicity stunt in Casiguran
Meanwhile, Rep. Gary Alejano (Magdalo party-list) said that Duterte's presence over Philippine Rise would have "shown the world that Philippine Rise is ours and we are determined to protect it."
The jet ski show, however, appeared to be a mere publicity stunt which missed its target in purpose and execution, the lawmaker said.
"However, such an event loses its significance in light of our inaction in the West Philippine Sea, where the real incursion to our territory has been happening... It is clear that Duterte tried to project an image that he is asserting our territorial rights. This plan failed because people can see through this administration's foreign policy performances," Alejano said.