China: Missiles in Spratlys target no one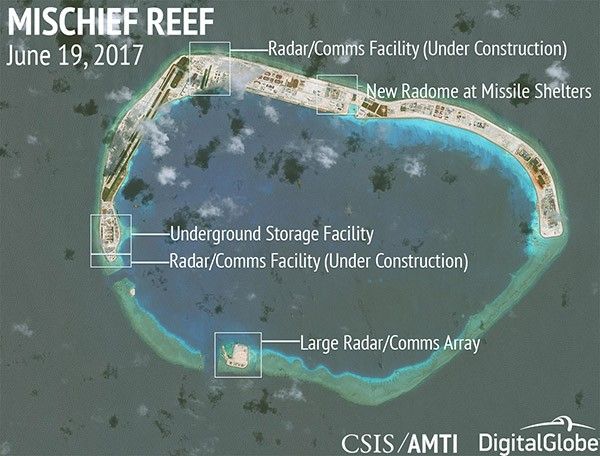 MANILA, Philippines — Downplaying reports that Beijing has installed missile system in the Spratly Islands, the Chinese Foreign Ministry said that such deployment "targets no one."
CNBC earlier reported that Beijing has quietly deployed anti-ship cruise missiles and surface-to-air missiles on Fiery Cross Reef, Mischief Reef and Subi Reef in the West Philippine Sea or South China Sea.
Insisting indisputable sovereignty over the Spratly Islands in the contested waters, Beijing reiterated that the defense facilities were meant to "safeguard China's sovereignty and security."
READ: China's missile system on Philippine-claimed reefs a step closer to airspace control
"Anyone with no invasive intention will find no reason to worry about this. We hope that the relevant party could view this matter in an objective and calm way," Chinese Foreign Ministry Hua Chunying said Thursday.
Beijing reiterated that it is entitled to conduct "peaceful" construction activities in the region as a sovereign state.
"I must stress that China is a big country in terms of trade, and also a staunch champion of regional peace and stability. We will continue to work with all countries to maintain peace and stability in the South China Sea," Hua said.
The United States, meanwhile, warned China of the consequences for its militarization of the South China Sea.
White House Press Secretary Sarah Sanders said that Washington had directly raised concerns with the Chinese regarding the matter.
"And there will be near-term and long-term consequences. And we'll certainly keep you up to date," Sanders said in a press conference.
The Philippine government has yet to comment on the recent developments in the three artificial islands. Mischief or Panganiban Reef is within the Philippines' exclusive economic zone.
China's YJ-12B anti-chip cruise missile can strike surface vessels within 295 nautical miles while the HQ-9B long-range surface-to-air missile can target aircraft, drones and cruise missiles within 160 nautical miles of the artificial islands, according to the CNBC report.
It also reported that missile systems have also been spotted on Woody Island in the Paracel Islands.