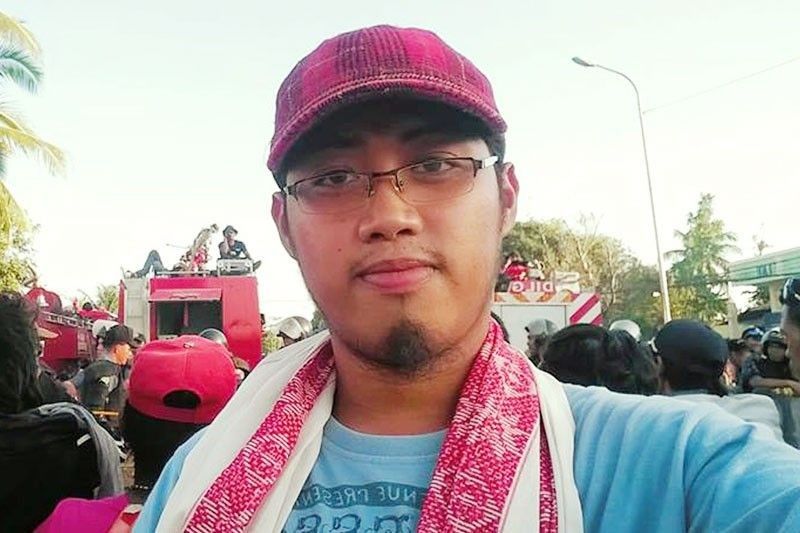 Facebook photo shows Jerome Aba during the 2016 Kidapawan protests.
File
Int'l groups slam alleged torture of Filipino activist by US authorities
MANILA, Philippines — A coalition of international non-governmental organizations fighting torture condemned the alleged ill-treatment of a Moro human rights activist by the United States authorities.
The Geneva-based Observation for the Protection of Human Rights Defenders called on the US government to guarantee the right to freedom of movement, peaceful assembly and association of all human rights in the country after rights and peace advocate Jerome Aba was allegedly tortured by US authorities.
"The Observatory further urges the Government of the Philippines to ensure that Mr. Jerome Succor Aba will not be subjected to further acts of harassment in the Philippines," it said in a statement Friday (Manila time).
Aba, invited for a speaking tour by several church-based institutions in the US, was allegedly accused of being a terrorist combatant. He arrived in the Philippines Friday last week after being barred from entering the US soil despite having a valid visa.
The United Methodist Church, one of the religious institutions that invited Aba, also expressed alarm over the ordeal that he had experienced.
"That a human rights defender like Jerome Aba would be harshly mistreated and denied entry into the US with a valid visa underscores our concern about human rights everywhere," UMC General Secretary Thomas Kemper said in a statement.
He added: "As people of faith, we know that a threat to justice and dignity anywhere is a threat to us all and must be challenged."
Aba on Wednesday filed a letter to Foreign Affairs secretary formally demanding the DFA to conduct an independent probe into his torture and file a diplomatic protest against the US government.