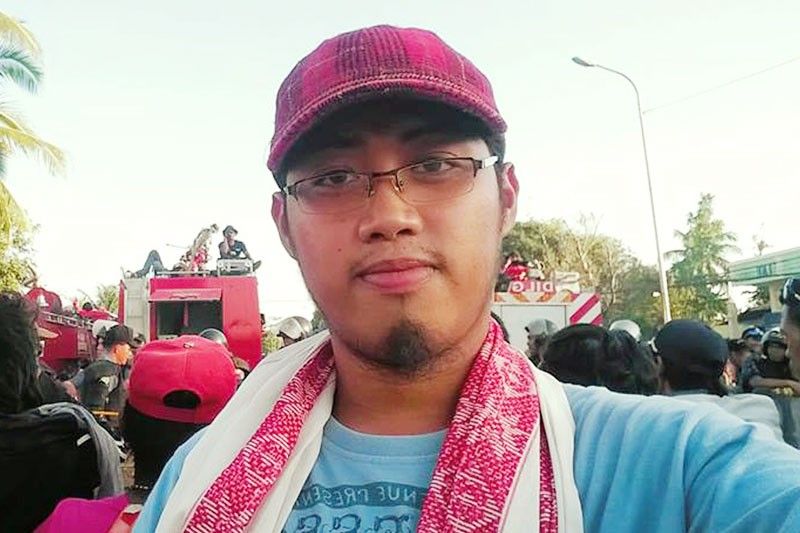 Facebook photo shows Jerome Aba during the 2016 Kidapawan protests.
Filipino Muslim activist barred from entering US
Jess Diaz
(The Philippine Star) - April 20, 2018 - 12:00am
MANILA, Philippines — The Philippines is not the only country deporting foreign activists. It seems that the United States is also not tolerating foreign activism.
Bayan Muna Rep. Carlos Zarate reported yesterday the detention of Jerome Aladdin Succor Aba, a Muslim activist, upon his arrival at the San Francisco International Airport at 8 p.m. Tuesday.
Zarate said Aba is co-chairman of Sandugo, which groups indigenous peoples and national minorities "fighting for their rights and ancestral lands."
Zarate said the International Coalition for Human Rights in the Philippines sent Aba to the US "to raise awareness about the human rights situation in Mindanao and the humanitarian crisis unfolding in the country, where thousands have already been killed in the two-year reign of President Duterte."
His itinerary includes meetings with religious and government officials, including members of the US Senate and House of Representatives, he said.
Zarate added that US immigration denied Aba's entry application "due to an unspecified problem with his visa – which is relatively common."
He further reported that as of 2 p.m. yesterday (San Francisco time), the Muslim activist was being held in a secured area of the airport with access to food, water and a restroom, while he waited for the next available flight back to Manila.
"Activists are under attack in the Philippines and in the US, with (Australian) Sister Patricia Fox being detained, peasant activists being killed and critics harassed. This just goes to show the striking fascist similarities between the Trump and the Duterte administrations," he said.
He urged people all over the world to condemn "these deplorable acts."
"What're the US and Philippine governments afraid of? Are they so paranoid and scared that the whole world would know the horrid human rights situations in their respective territories?" he asked.
Kristina Palabay, secretary-general of the human rights group Karapatan, said US authorities have not released any basis for Aba's denial of entry.
US officials, according to Palabay, also told Aba that he does not have any "good reason" to be in the US despite being granted a multiple entry visa valid for 10 years. – With Artemio Dumlao