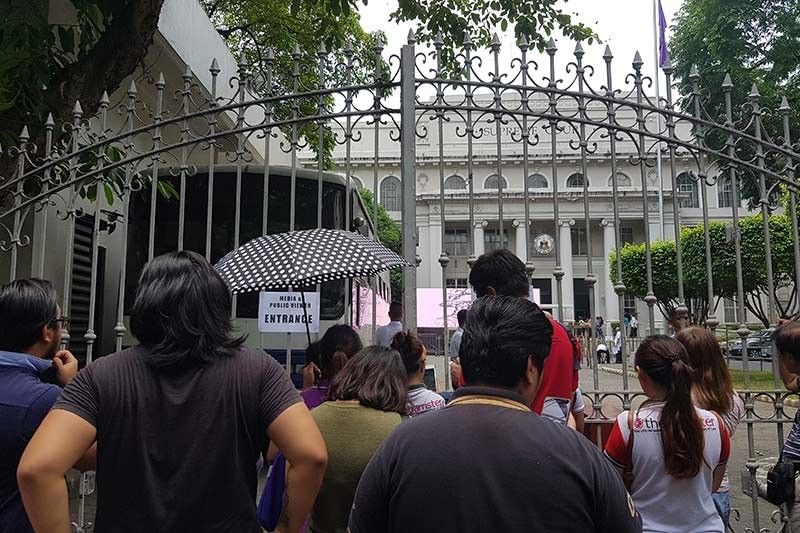 Aspiring lawyers waiting outside the Supreme Court compound for the results of the 2017 bar exams on Thursday, April 26, 2018.. The country has 1,724 new lawyers.
Erwin Cagadas
25.5% of examinees pass 2017 bar exam
MANILA, Philippines (Updated 2:23 p.m.) — The Philippines has gained 1,724 new lawyers. The Supreme Court said the 2017 bar exam posted a passing rate of 25.5%.
Associate Justice Lucas Bersamin, 2017 bar chair, announced the results past noon at the SC quadrangle in Padre Faura, Manila.
The magistrates held a special en banc session on Thursday morning to deliberate on the exams results.
There were a total of 7,227 law graduates who were allowed to take the bar exams.
The exams covered eight subjects: Political Law and Labor Law, Civil Law and Taxation, Mercantile Law and Criminal Law, Remedial Law and Legal Ethics and Practical Exercises.
A list of bar passers was posted outside the SC compound in Padre Faura, Manila. Names of successful examinees were also flashed on a screen inside the compound.
In the 2016 bar exams, 3,747 out of 6,344 exam takers passed the grueling four-day exam. It yielded a passing rate of 59.06%, one of the highest passing rates in recent history.