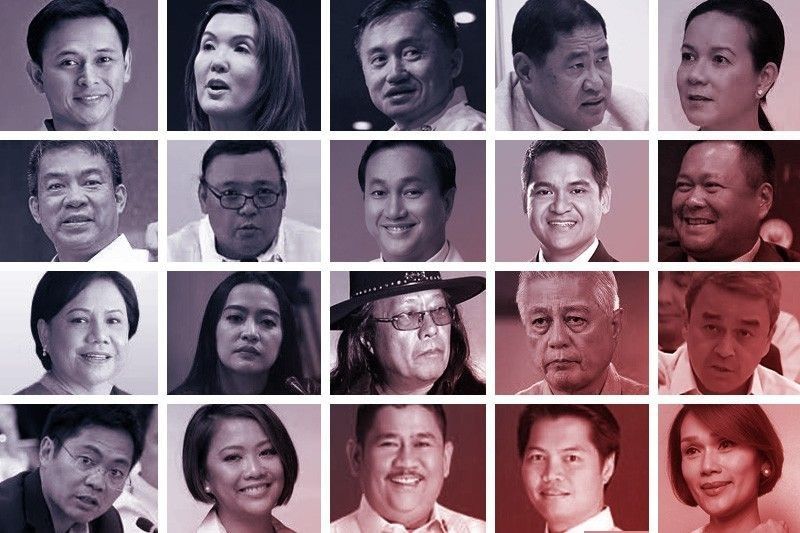 The combination photo shows the possible senatorial candidates of the ruling PDP-Laban party for the 2019 midterm elections.
Philstar.com/Jonathan Asuncion, File
Popular Duterte, resource-rich PDP-Laban mean tough times for opposition in 2019
MANILA, Philippines — A recent survey on preferred senatorial candidates underscores the challenge the political opposition faces in 2019 as it squares off with a very popular leader and an administration party awash with campaign resources.
This is according to a political analyst interviewed by Philstar.com after Pulse Asia released its senatorial preference survey results on Friday showing potential administration candidates dominating the poll.
The lone opposition figure to enter the so-called Magic 12 was Sen. Paolo Benigno Aquino IV of the formerly dominant Liberal Party.
According to Dennis Coronacion, the chairperson of the University of Santo Tomas Department of Political Science, it has historically been difficult for the opposition to form a slate for the midterm elections.
"Most candidates want to run in a party with the most resources. That's the administration party," Coronacion said.
Liberal Party: From ruling to 'resistance' party
The Liberal Party is no stranger to these realities.
While Benigno Aquino III was president, many politicians switched to the LP, and even during after the 2016 elections, it was en route to being the biggest political party in the House.
However, due to the country's weak party system, many local officials quickly abandoned LP and jumped to the new ruling group, PDP-Laban.
Despite its decimated ranks, the erstwhile ruling party said that it would field a "resistance coalition" in 2019 as it stressed the need for a genuine opposition lineup during next year's midterm elections, traditionally viewed as a gauge of voters' satisfaction over the performance of an administration midway through its six-year term.
Sen. Aquino, the former president's cousin, hinted in past interviews that the opposition would field candidates from a variety of sectors.
However, except for those who have openly been criticizing the administration, no new names have emerged.
This is in contrast to the case of the administration's PDP-Laban party, which has "an oversupply of" possible candidates that it recently floated 20 names who might be part of its 2019 slate.
Of the 15 who were given a statistical chance of making it to the top 12 in the Pulse Asia survey, seven names were in the list that PDP-Laban leader and Senate President Aquilipno Pimentel III announced.
Aquino was the only opposition figure to break into the group with a statistical chance of winning.
The Duterte connection
The others in the 15, such as Davao City Mayor Sara Duterte-Carpio, former PNP chief Ronald Dela Rosa and Ilocos Norte Gov. Imee Marcos, have close political ties to another factor that makes next year's elections all the more difficult for the opposition: President Rodrigo Duterte.
As shown by the recent polling results, Duterte remains massively popular among Filipinos and continues to enjoy historically high ratings.
This popularity, Coronacion said, may rub off on administration candidates.
"What makes it more difficult for the opposition is that the president continues to enjoy huge public support as shown in his recent trust and approval ratings," he said.
However, popularity doesn't necessarily translate into electoral preference, as also shown by the Pulse Asia survey.
For example, Presidential Communications Secretary Martin Andanar was quick to announce that Presidential Assistant Communications Secretary Mocha Uson would readily win next year if she would be chosen as a candidate.
Despite having more than 5.6 million "followers" on Facebook, Uson ranked only between 40 and 56 in the Pulse Asia survey.
Presidential spokesperson Harry Roque, who is known to 70 percent of poll respondents, was in the 27-36 bracket while presidential aide Christopher Go landed in the 28-38 bracket despite being known to 60 percent of the poll participants.
However, Coronacion cautioned that elections are still more than a year away, and the results of surveys, which are based on perceptions, could vary from time to time.
He said that the results of the survey do not mean that PDP-Laban will automatically enjoy an electoral landslide next year.
"Because surveys are based on public perception, these results will vary from time to time depending on the political issues of the day and the political aspirants' involvement and stand on those issues," he said.
These results, according to the political analyst, are useful in assessing a potential candidates' chances of winning.
Image issues?
In the case of Uson and Roque, Coronacion noted that their lack of electoral appeal, at least so far, could be attributed to their image.
"Mocha Uson is viewed by many as the 'purveyor of fake news,' while spokesperson Roque is portrayed by his former colleagues in the party-list organization as an ambitious trapo (traditional politician). In addition, as the presidential spokesperson, it is part of Roque's job to turn the president's off-the-cuff remarks into palatable news," he told Philstar.com.
Aquino said that talks were still ongoing about their line-up next year and stressed that more effort was needed for their candidates to have a chance.
"That only means that the opposition must double its efforts for them to be included in the Magic 12," he said on Monday.
Whether these efforts will pay off still remains to be seen.