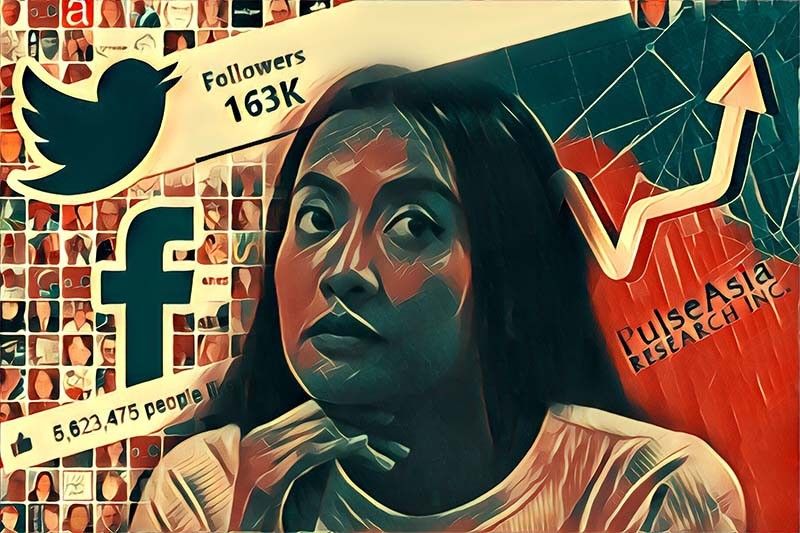 Communications Assistant Secretary Mocha Uson ranked in the 40-56 bracket, while presidential spokesperson Harry Roque placed in the 27-36 bracket.
Lead artwork by Rafael Philip Ocampo
Senatorial polls: When being known doesn't translate to being preferred
MANILA, Philippines (First published April 20; Updated April 23) — When the possible inclusion of Assistant Secretary Mocha Uson in the 2019 Senate slate of PDP-Laban was first announced last year, her boss, Martin Andanar, was quick to say that the former entertainer-turned-public official would win.
Uson's "no-brainer" winnability, Andanar said, can be attributed to her large social media following.
But Andanar's forecast seems to run in contrast with the result of the recent Pulse Asia's pre-election survey. Uson's 5.6 million "followers" on Facebook might not be of help to secure her a seat in the upper house.
She ranked in the 40-56 bracket.
Incumbent and former legislators who are seeking for another term dominated the polling firm's senatorial survey held from March 23 to 28.
Sen. Grace Poe topped the poll with 70.8 percent of the respondents saying they would vote for her, followed by Sen. Cynthia Villar and former Sen. Pia Cayetano, now Taguig City representative.
READ: Poe tops Pulse Asia senatorial survey Poe tops Pulse Asia senatorial survey
Public image
Pulse Asia Research Director Ana Maria Tabunda said that hopefuls must be known by at least 80 percent of the respondents for them to have a possibility of securing national posts.
The question probing awareness is: "Have you ever heard, read, watched anything about [name of person]?" the polling firm said.
Only 54 percent of the respondents know about Uson.
Other personalities from the administration such as presidential spokesperson Harry Roque—with 70 percent saying they know about him—is in the 27-36 bracket, while special assistant to the president Christopher "Bong" Go is known by 60 percent of the respondents and placed in the 28-38 bracket.
Roque and Go seemed to have started their publicity drives as fans, tarpaulins and mugs bearing their portraits and greetings are circulating even with the midterm elections more than a year away.
Andanar, on the other hand, has been heard, watched or read about by 66 percent of the respondents and ranked in the 27-37 bracket.
"So hindi pa sila gano'n kilala, tapos even those na nakakakilala sa kanila, maaaring hindi nila sure kung bagay [ba silang] maging senador," Tabunda said.
READ: Publicity for 2019 hopefuls starts mounting and all of it is legal
But for political analyst Dennis Coronacion, the failure of Uson and Roque to make it to the list can be attributed to their bad public image.
"Mocha Uson is viewed by many as the 'purveyor of fake news,' while spokesperson Roque is portrayed by his former colleagues in the party-list organization as an ambitious trapo (traditional politician). In addition, as the presidential spokesperson, it is part of Roque's job to turn the president's off-the-cuff remarks into palatable news," he told Philstar.com in an online exchange.
He also noted that Go should create an image of a "serious public servant" for him to be worthy of election in a national position. The president's right-hand man is known for his penchant for taking selfies.
Awareness
Even those who are known by many such as TV personalities and long-time politicians cannot rely on their popularity to be preferred by the public.
Actors Robin Padilla and Dingdong Dantes, news anchor Ted Failon, former Sen. Mar Roxas and former Manila Vice Mayor Isko Moreno Domagoso are known by more than 90 percent of the respondents but they failed to make it on the list.
Tabunda explained that being known does not necessarily spell being preferred.
"Hindi guarantee 'yung mataas ang awareness na ikaw ang iboboto. Pwedeng kilala ka nga pero di ka pinipili," she said.
Pulse Asia Research president Ronald Holmes also said that "awareness is important but [it is] not the only consideration that determines voting disposition."
But what are important considerations for Filipino voters? A poll by Pulse Asia in January 2016, two months before elections in May, offered a glimpse.
Filipinos were asked by the pollster to give the most important reason why they are voting for a particular presidential candidate and the top three results were: untarnished character or not corrupt, has a clear program or platform and has extensive experience in governance.