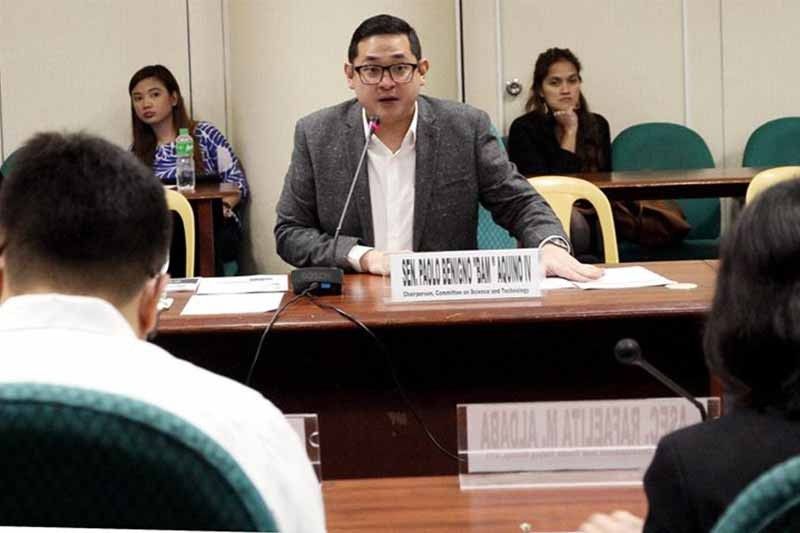 Sen. Paolo Benigno Aquino hinted on Thursday that individuals to be fielded by the opposition in next year's midterm elections would come from a variety of sectors.
Senate PRIB
New face of opposition: Bam Aquino hints at multisectoral senatorial bets
MANILA, Philippines — Liberal Party Sen. Paolo Benigno Aquino on Thursday hinted that the senatorial candidates of the opposition in next year's midterm elections would come from a variety of sectors as he recognized the difficulties of putting up an independent slate in the current political climate.
Aquino, who is widely known in the Philippines as "Bam," however declined to divulge specific names who could be included in the opposition slate, stressing that talks were still continuing.
"You'll be surprised because those involved are not traditional names. There are names from different sectors, from NGOs, the church and many more," Aquino said in Filipino in an interview with reporters.
He stressed that individuals who would run under the opposition banner should register their clear resistance to the policies of President Rodrigo Duterte and should fight for and represent the interests of the Filipino people.
"We need people who will stand up and will bravely fight for their issues. I think that can be included in the next opposition slate in 2019," he said.
Aquino also recognized the difficulties in efforts to put up an opposition lineup for next year's elections, saying that some are afraid to speak up and public show their disagreement with administration policies.
He said that these should not deter opposition politicians from fighting for the welfare of the Filipino people.
The mercurial Duterte, who has publicly blasted critics opposing many of his programs and initiatives such as the brutal crackdown on illegal drugs, remains highly popular.
Some of Duterte's critics are also facing charges and ouster moves, although Duterte has denied being behind these.
Based on the latest survey of the polling firm Social Weather Stations, Duterte received a "very good" net satisfaction rating from December 2017 to March 2018.
It said that 70 percent of Filipinos were satisfied with his performance, while only 14 percent were unsatisfied, for a net rating of 56 percent, down by two points from the score he got in December.
Duterte's top lieutenants at the PDP-Laban, Senate President Aquilino Pimentel III and Speaker Pantaleon Alvarez, have floated names who could be included in the administration's senatorial line-up although both stressed that nothing had been finalized yet.
Aquino said that figures who were publicly disagreeing before could also be part of their opposition slate.
"The new face of the opposition is the Filipino people not just the politicians," Aquino said.
Aquino belongs to the erstwhile ruling Liberal Party, the de facto opposition party although some of its members in the House of Representatives are part of its majority caucus.
It has seen its membership substantially dwindle as politicians previous allied with it transferred to PDP-Laban, Duterte's party, as political affiliation in the Philippines is based on convenience rather than on principles.