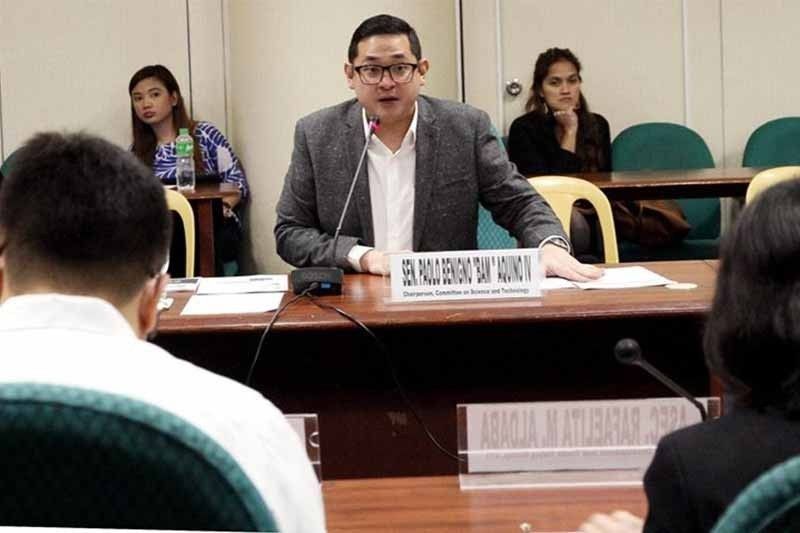 Sen. Paolo Benigno "Bam" Aquino IV expressed hope on Friday that more opposition candidates would make it to the list of candidates with a chance of winning a Senate seat.
Senate PRIB, File
Lone opposition in 'Magic 12': Bam stresses need to fight for people rights, democracy
MANILA, Philippines — Amid the strong performance of possible administration candidates in the latest senatorial election survey, Sen. Paolo Benigno "Bam" Aquino on Friday stressed that the political opposition would remain ready to speak out and oppose the government's policies it deemed as detrimental to the public.
Aquino also underscored the need for an opposition coalition willing to stand and oppose administration policies and fight for the rights of the Filipino people.
"We need an opposition willing to stand, despite knowing that it's not currently popular, to fight for the rights of the people and protect our democracy," Aquino said in Filipino in a statement.
"Many Filipinos have already lost their voice and cannot fight for their principles. The opposition is here to be their voice and defender," said the senator, whose term expires in 2019.
In the latest senatorial survey released by Pulse Asia on Friday, Sen. Grace Poe, who belongs to the Senate majority, was the top preferred senatorial candidate of almost 71 percent of the respondents.
She was followed by Sen. Cynthia Villar, another member of the Senate majority, with 55.6 percent and by Taguig City Rep. Pia Cayetano with 53.8 percent. Cayetano is the sister of Foreign Affairs Secretary Alan Cayetano, Duterte's losing vice presidential candidate.
Aquino, who is a member of Liberal Party, got a preference rating of 30.5 percent, which could land him between ranks 10 and 19.
Dominating the list are senators seeking reelection and individuals allied with President Rodrigo Duterte.
Landing in fourth place was Sen. Nancy Binay with 45.8 percent, followed by Sen. Juan Edgardo "Sonny" Angara, Davao City Mayor Sara Duterte-Carpio and Senate President Aquilino "Koko" Pimentel III.
Also having a chance of making it to the top 12 candidates are former Sen. Sergio Osmeña III, state TV newsreader Erwin Tulfo, former Sen. Lito Lapid, former police chief Ronald Dela Rosa, former Sen. Jinggoy Estrada, Ilocos Sur Gov. Imee Marcos, Aquino and Sen. JV Ejercito.
READ: New face of opposition: Bam Aquino hints at multisectoral senatorial bets
Pulse Asia said that only 15 out of 58 individuals included in the survey would have a statistical chance of winning a Senate seat.
Both Aquino and Angara thanked the public for their trust and for including them in their possible candidates for next year's midterm elections.
"With all humility, I would like to thank the public for their continued trust and confidence," Angara said in a statement.
He also said that these results should inspire them in pursuing "meaningful reforms that our countrymen truly deserve."
READ: Bam: Opposition slate needed in 2019 polls
"While I am grateful to our people and humbled by the outcome of the Pulse Asia poll, I would like to assure the public that I will continue to do my job as their senator—with or without the survey," he said.
Aquino expressed hope that the Filipino public would choose more candidates willing to fight against policies of the government.
Presidential spokesman Harry Roque, meanwhile, refused to comment on the latest results showing his failure to figure on the list of individuals with a chance of winning a place in the Senate.
Sen. Juan Victor "JV" Ejercito said that he hoped that his performance, track record and clean record would help him pull his rating up, adding that running with his half-brother, Estrada, would be a tough challenge.