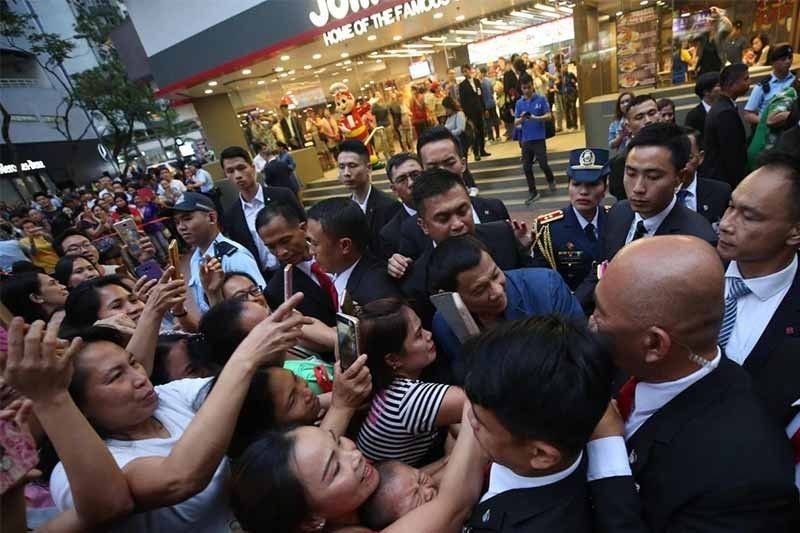 President Rodrigo Duterte makes an unannounced visit to a Jolibee outlet in Hong Kong before proceeding to Kai Tak Cruise Terminal where he was scheduled to attend the gathering with the Filipino community on April 12, 2018. Rep. Gary Alejano on Friday criticized this Hong Kong trip as a junket.
Presidential photo/Toto Lozano, File
Alejano slams post attributing anti-OFW comment to him
MANILA, Philippines — Rep. Gary Alejano (Magdalo) on Tuesday slammed a social media post of a Facebook page which quoted him as saying that visiting overseas Filipino workers was just an added expense without any benefit to the country.
Alejano said that the post, which was released by the Facebook page The Filipino News, was untrue and was just meant to distract from the main issue on the alleged junket of President Rodrigo Duterte in Hong Kong last week.
KASINUNGALINGAN!

Para lamang ilayo ang isyu ng junket travel ng pangulo ay naglalabas sila ng ganito.

HINDI ko sinabi na hindi mahalaga ang mga OFWs. I have friends and relatives who are OFWs. Alam ko ang hirap nila. In fact, Magdalo has international chapters composed of OFWs. pic.twitter.com/AQhhbS1pJp

— Rep. Gary C. Alejano (@AlejanoGary) April 17, 2018
The congressman's criticism of a Facebook post comes as the social network announced that it was tapping VERA Files and Rappler as fact-checkers in the Philippines.
This was met by criticisms by critics of the news outlets who said that the two were partial and biased against the president, an assertion they denied. Some supporters of the president also threatened to leave Facebook and migrate to a Russian social media network.
Alejano reiterated that Duterte's trip to Hong Kong, on which he was joined by some of his officials and family, was just a junket and his meeting with overseas Filipino workers was just a "jibe."
"Duterte is mad at junkets but he himself is guilty of these," Alejano said in Filipino on Twitter.
The opposition congressman last week labeled Duterte as a "hypocrite" for firing government officials supposedly because of imprudent trips overseas but in engaging in a junket to Hong Kong himself.
Alejano alleged that the Philippine leader did not achieve anything to benefit the Filipino people on his "working visit" to the Chinese territory aside from giving a speech to some Filipinos and eating in a fast-food chain, which he claimed was just for public relations purposes.
Duterte has fired several officials for engaging in numerous unnecessary trips.
Early this year, Duterte fired Patricia Licuanan as chair of the Commission on Higher Education for engaging in excessive travels.
He also fired Maritime Industry Authority Marcia Amaro III, Presidential Commission on the Urban Poor head Terry Ridon and Dangerous Drugs Board chief Dionisio Santiago for the same reason.
Duterte also vowed last year to impose a "starvation diet" on foreign trips for members of the executive department.
In his arrival speech on Friday, Duterte said that he met some Hong Kong OFWs and updated them about the developments in the country.