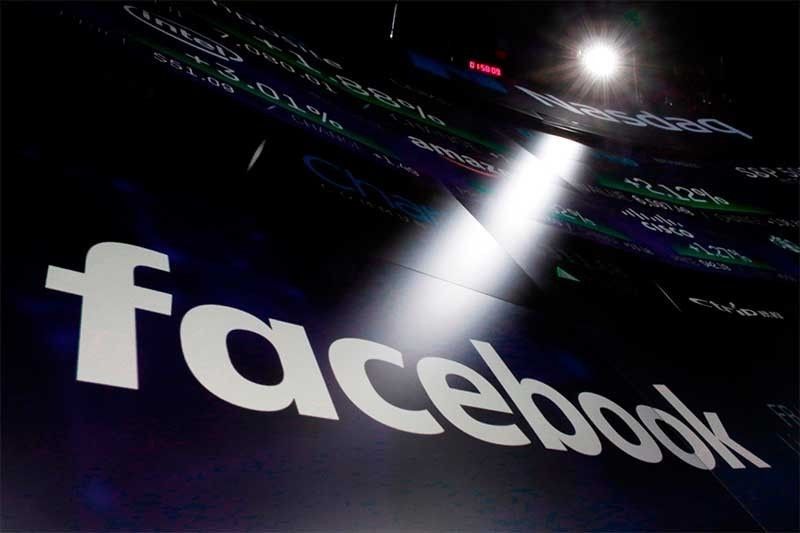 In this March 29, 2018, file photo the logo for Facebook appears on screens at the Nasdaq MarketSite in New York's Times Square. Facebook made $40 billion in advertising revenue last year, second only to Google when it comes to its share of the global digital advertising market. Even with a recent decision to stop working with outside data brokers to help advertisers target ads based on things like offline purchases or credit history, this number is expected to grow sharply this year.
AP/Richard Drew, File
Vera Files, Rappler highlight membership in International Fact Checking Network
MANILA, Philippines — News outlets that Facebook has tapped for its fact-checking program said that they are bound to follow guidelines set by the International Fact Checking Network of the Poynter Institute.
News sites Rappler and Vera Files, in separate statements on Monday night, pointed out that members of the network are vetted against the IFCN's "rigid and structured guidelines" before being verified as a signatory.
According to the IFCN, accredited "fact-checkers must exhibit a commitment to nonpartisanship and fairness, transparency of sources, transparency of funding and organization, transparency of methodology, and a commitment to open and honest corrections."
Presidential spokesperson Harry Roque earlier Monday raised questions on the fairness of the two news organizations that had been tapped as fact-checkers.
Although he recognized that Facebook's fact-check program was a better "solution" to the problem of so-called fake news populating its network than legislation, Roque said that he sympathizes with users who are unhappy with its partnership with VERA Files and Rappler.
Roque said that "there are those who are complaining who said that the chosen 'police of truth,' so to speak, are sometimes partisan themselves. That is the problem with truth. It can be subjective depending on your political perspective."
"There should be a more partial arbiter of truth," he said in media briefing at the presidential palace.
IFCN accreditation
VERA Files, early Monday evening, pointed out that it is IFCN accredited. "One of the requirements for an IFCN accreditation is non-partisanship and fairness," Ellen Tordesillas, Vera Files president, said in a statement.
Rappler, in its own statement, also pointed out its accreditation. "It's a responsibility, not a privilege. We accepted it because, along with you, we've seen how lies have ripped us apart as a society, fomenting hate and anger," it also said.
"This partnership is meant to open the door to other groups and communities that are equally committed to facts," Rappler also said.
Vera Files' and Rappler's membership in the International Fact Checking Network was cited by Facebook in its press release announcing the role the two media firms would have.
The partnership to weed out spurious stories on the social media network comes as it faces intense criticism over its handling of the spread of so-called fake news on its platforms and the influence it has had on Facebook users.
Over the weekend, several websites, including those identified to be publishing fake articles about President Rodrigo Duterte, were taken out.
Some of Duterte's officials, such as Assistant Communications Secretary Mocha Uson, have also been criticized for publishing wrong information online.
Duterte, his officials and his supporters have blasted Rappler for its supposedly unfair coverage of the president's programs and some Cabinet members.
The Securities and Exchange Commission has also ordered Rappler's business registration cancelled over findings that it had violated a constitutional prohibition on foreign ownership of media. Rappler has disputed this and has brought the matter to the Court of Appeals.
The Palace recently barred Rappler's reporter from entering the presidential complex and from covering Duterte's events, a move the news website said is part of efforts to muzzle the press.