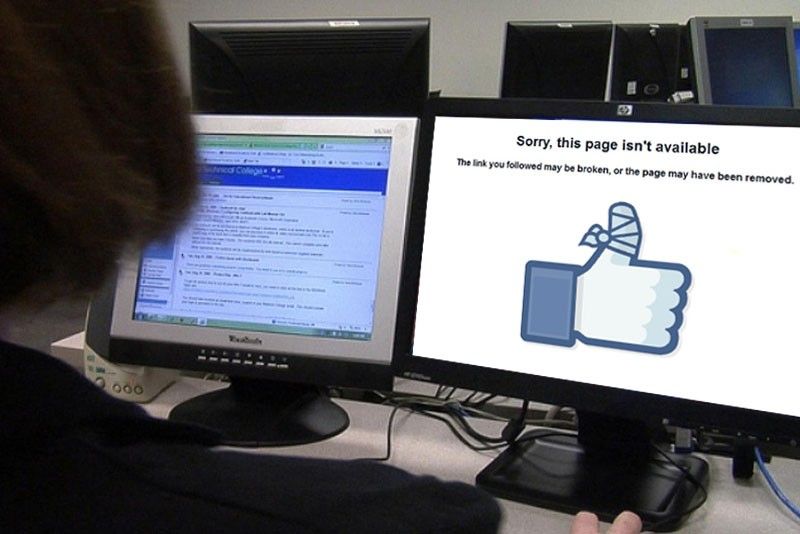 Users sharing content from the blocked websites would encounter messages informing them of security issues or violation of community standards.
Philstar.com/File
Facebook cracks down on Philippines fake news sites
Janvic Mateo
(The Philippine Star) - April 16, 2018 - 12:01am
MANILA, Philippines — Several websites that contain false information have been blocked on Facebook as the social media giant began implementing stringent measures against the proliferation of fake news.
These include pages previously identified to have published fake articles about President Duterte and the Philippines, such as Duterte News Today, Duterte News Info, FilipiNews, HotNewsPhil and PhilNewsPortal.
The STAR over the weekend confirmed that a number of fake news websites in the Philippines have been blocked access on the social media site.
Users sharing content from the blocked websites would encounter messages informing them of security issues or violation of community standards.
"We removed this post because it looks like spam and doesn't follow our community standards," one message read.
"You can't post this because it has a blocked link. The content you're trying to share includes a link that our security systems detected to be unsafe," read another.
The automatic blocking feature received mostly positive feedback from Filipino netizens, based on reports released by The STAR on its social media accounts on Saturday.
But some questioned the process on how websites are identified as "fake news websites."
"While I agree that Facebook should do this kind of filtering, but how do they determine which ones have fake news (since) everyone has their own biases?" one comment read.
The fake news sites blocked by Facebook were among those included in the list of fake news websites earlier identified by the Catholic Bishops' Conference of the Philippines.
They also appear in the list on Wikipedia, which includes references on instances when the sites published fake news.
Collins Dictionary, which chose fake news as word of the year for 2017, defines the term as "false, often sensational, information disseminated under the guise of news reporting."
Facebook last week announced that it tapped Vera Files and Rappler for a third-party fact-checking program in the Philippines to address the spread of false news among Filipino users of the social media platform.
"We are committed to fighting the spread of false news and misinformation on multiple fronts by employing a variety of tools and tactics," said Clair Deevy, Facebook's director for community affairs for Asia Pacific.
"They include disrupting financial incentives, taking action against fake accounts, applying machine learning to help diminish spam, and reducing the posts people see that link to low-quality web pages by providing people with easier access to additional perspectives and information," she added.
Under the initiative, the two media organizations will be tasked to review news stories flagged by users as possibly containing false information.
"Stories that have been rated false by a fact-checker will be placed lower in your news feed, significantly reducing the chances of you seeing it," said Facebook. "Pages that repeatedly share false news will see their distribution reduced and their ability to monetize and advertise removed."
Users and page administrators will also be informed if they shared stories that are rated as false.
Lawmakers weigh in vs fake news
Senators also urged media companies, social media users and technology companies to exert concerted efforts to combat fake news and disinformation.
Senate Majority Leader Vicente Sotto III said legitimate media organizations in the country should work closely with Facebook to help counter fake news.
He cited the National Press Club, the Kapisanan ng Brodkaster ng Pilipinas, the Publishers Association of the Philippines, and the National Union of Journalists of the Philippines.
"The more groups filtering what is fake or not will help in preventing the spread of misinformation," Sotto said in his Twitter account.
During a hearing of the Senate committee on public information last March, Facebook executives testified that fake news is harder to spot and stop than posts supporting terrorism.
Facebook vice president for public policy for Asia Pacific Simon Milner told the panel, chaired by Sen. Grace Poe, that fake news is a complex phenomenon that the company is trying hard to address.
He said Facebook is trying to find a balance between how to help its users access accurate information and disrupt the purveyors of disinformation and fake news, all without undermining freedom of expression.
"And that is why this is an issue which is more difficult, frankly, than other issues we try to tackle including bullying, harassment, terrorism and other problems. This is a more complex issue. It's one that is much more nuanced… what we can be absolutely certain of is there is no silver bullet, there is no one solution that will fix this problem," Milner said.
He said Facebook has put a significant number of people to work on this effort, which uses a multifaceted approach that they call the "4 Ps."
The 4 Ps involve having in place policies to disrupt the proliferation of fake news on Facebook; addressing the products offered on its platform; educating people on how to spot false information and strengthen their critical thinking and empathy; and entering into partnerships with government and non-government organizations to help spread all the necessary information.
Milner acknowledged there are Facebook users whose intent in spreading false information is to sow division, but stressed the company is taking steps to stop them from using the Facebook service.
Opposition Sen. Leila de Lima made a similar call and expressed hope that the nation can rise above fake news, especially now that more people are increasingly becoming aware of how their perception of truth and reality has been manipulated by the spread of bogus information online.
"What gives me hope, at least, is that more and more people are becoming increasingly aware of how their perception of truth and reality has been manipulated by the spread of fake information through social media," De Lima said.
"(But) until we find an effective way or ways to neutralize and counter them, we cannot begin to hope to repair the damage they've already caused and to ensure that they can never hijack our democratic way of life ever again," she added.
The detained senator believes the tide of fake news against her was part of the orchestrated campaign to discredit her for her vocal opposition to the Duterte administration's bloody war on drugs that saw the death of thousands of suspected drug offenders.
"I've always known that it was the product of an orchestrated effort to discredit me and my efforts to advocate for human rights and accountability in the face of specific, heinous acts of an administration that seemed to think that resorting to extrajudicial killings is an acceptable tool for governance," she said.
De Lima also lamented some purveyors of information – whom she did not name – have "unscrupulously allowed themselves to be used by sinister groups in disseminating fake news and in brainwashing ordinary people through their malicious manipulation."– With Paolo Romero